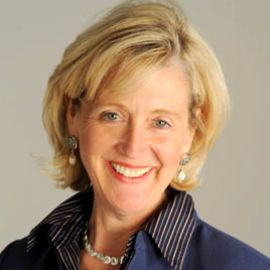 Lynne Lancaster
Co-founder of BridgeWorks; Generational Expert & Co-Author of "When Generations Collide"
Are you struggling with generational gaps in recruiting, retention, or communication? Do you need to engage the newly-hired Millennials in the room without turning off the Generation Xers and Baby Boomers? Are you looking for an insightful presentation on the hottest talent trends accompanied by practical, applicable solutions? Savvy, engaging, and entertaining, Lynne Lancaster delivers sparkling keynotes and workshops tailored to your strategic issues.
Lynne Lancaster is one of the nation's foremost generational experts and cultural translators. With clients that range from AT&T to Best Buy, Cisco, General Mills, the National Security Agency, and U.S. Bank, Lynne was recently named a Top Five Speaker for 2010.
Lancaster is part of Bridgeworks, a multigenerational team of experts and speakers devoted to helping corporations and organizations find the actionable, practical solutions to the mixing of generations in the workplace. The co-author of When Generations Collide and The M-Factor: How the Millennial Generation is Rocking the Workplace, she has the firsthand research and experience to help your organization bridge the generational gap.
Speech Topics
---
Succession: Creating the workforce of the future
Lancaster speaks about establishing a better synergy of the ideas, demographics, and working styles that exist among the varied age groups that make up modern employee structure.
Workplace: Recruiting and retaining four generations
Lancaster addresses the differences in work habits and employment life cycles of recent graduates, Baby Boomers, and Traditionalists.
Leadership: Bringing out the best in every generation
Lancaster seeks to bridge the gaps between the age groups, and finds ways to forge strong business relationships among them. She works on bringing them together to work toward the same goals.
Managing Four Generations in Turbulent Times
Four distinct generations are working shoulder to shoulder in today's business and nonprofit organizations—each with a unique set of attitudes, values, and work styles. It used to be that older workers were bosses and younger ones took orders. Now, roles are all over the map and rules are being re-written. Organizations are feeling the strain of generation gaps as they struggle to manage productivity and morale while maintaining high standards of quality and service in a challenging economy.
"Managing Four Generations in Turbulent Times" demonstrates not only why it's important to understand what shaped the generations and why they behave the way they do, but the challenges they face during an economic downturn. Learn about ClashPoints, areas at work where the generations are bumping up against each other and causing problems; find out how generation gaps hit the bottom line; learn what to do about the approaching talent gap; grasp the keys to retaining the generations you need the most; and discover how to convert this form of diversity from an obstacle into an opportunity.
Leadership: Bringing Out the Best in Every Generation
Leading today is more complicated than ever. Besides greater employee diversity, factors such as rapidly changing technology, an uncertain economy, mergers, closings, and layoffs have made today's workplace more challenging than in the past. Leadership is not necessarily determined by one's position on an organization chart or by what's on a resume. With roles constantly changing, being a leader can simply mean being reliable and responsible, regardless of age or rung on the corporate ladder.
From attitudes about loyalty to staying on the cutting edge, each generation brings unique leadership traits to work. While some try to figure out which generation's way of leading is best, the reality is that no generation is better or worse than another. "Leadership: Bringing Out the Best in Every Generation" will help you identify the obstacles and opportunities for leadership within each generation and understand the potential impact everyone can make as a leader.
Make Way for Millennials
American business is in the early stages of being rocked by the arrival of a new and powerful generation. Who are these kids? Millennials (born 1982 to 2000), the first generation to rival Baby Boomers in population size, are showing up at work with their own set of attitudes, expectations, and values. Techno savvy, demanding, and ambitious, they're bringing with them an entirely new way of doing business. How prepared will Gen X-ers, Baby Boomers, and Traditionalists be to manage them?
"Make Way for Millennials" offers strategies for recruiting, retaining, and motivating this influential new workforce. Companies that are forewarned and forearmed will reap the rewards of the millennial generation's talents and creative and pragmatic approach to the world of work.
Marketing & Selling to Four Generations
The best marketing teams and salespeople need an arsenal of tools to help them reach potential buyers and finalize sales. Among these is a clear understanding of who the generations are in today's marketplace, how they differ, and how their unique needs and desires play out in the sales process. How do you find the "hot buttons?" What messages will appeal to each generation?
These questions and more are addressed in a highly entertaining program that helps energize marketing gurus and salespeople and teaches surefire strategies for sharpening your generational edge in the marketing and selling arenas. It shows audiences how generational insights can transform marketing campaigns and sales efforts. Generation gaps are everywhere and businesses can gain a distinct competitive edge if they get to know who the generations are, what makes them tick, and how to make every generational connection count.
Getting to Give
Foundations and other nonprofit organizations suffer the same frustrations and face the same workplace problems as profit-making companies. To be effective, nonprofits need good leadership, strong management systems, marketing savvy, and an ongoing commitment to excellence. They also need to understand what motivates four generations of staff, volunteers, and donors to give their time and their money.
Awareness of generational differences is crucial to organizations that must compete for well-qualified and loyal workers when resources are limited. What messages will attract skilled workers to the nonprofit world? What does it take to make connections with Traditionalists, Boomers, Gen X-ers, and Millennials so that they not only donate but also keep giving? How does acknowledging donors of each generation differ? Board members, staff, and hands-on service providers will learn to reach across generation gaps and build lasting bridges.
Attracting & Retaining Four Generations of Association Members
Associations exist primarily to serve their members. But serving is tougher today as key resources are shrinking and the government has taken a diminished role in funding programs. In addition to these challenges, today's associations are made up of four diverse and outspoken generations. While Traditionalists and Baby Boomers have been loyal attendees for a long time, Gen X-ers and now Millennials are proving tougher to attract and retain. Putting on a great conference or convention is no longer enough.
The key is figuring out the right scale and combination of services needed to satisfy each generation. How do the expectations of each generation differ on working relationships, time commitments, and returns they should expect from association membership? The ability to capitalize on each generation's energy, expertise, and leadership potential has never been more critical.
Customer Service & the Generations
The best customer service providers understand what "service" means to each generation. Whether on the phone, online, or face to face, attitudes and biases can be reflected in what you say and how you say it, as common courtesies often are interpreted differently by different generations. An organization's strategies must reflect the changing face of a multigenerational customer base.
Gain a distinct competitive edge by teaching your customer service reps who the four generations of customers are and how to communicate more effectively with each one. Learn through humorous sketches and real-life examples how to avoid patronizing behaviors and capitalize on emotional connections to make every customer's experience a positive one.
Related Speakers View all
---
David Stillman

Generational Expert, GenZ Guru & Best Selling Author

Libby Gill

Leadership Expert, Executive Coach & Award-Winning A...

Doug Lipp

Former Head of Training at Walt Disney University & ...

Dr. Jackie Freiberg

Corporate Culture & Leadership Strategist, Best-Sell...

Polly LaBarre

Founding Member of the Fast Company Magazine, Co-Fou...

Cheryl Cran

Future of Work & Change Leadership Expert; Author of...

Tim Sanders

Bestselling Author, Technology Pioneer, Expert on Co...

Tony Alessandra

Premier Communications Expert; Author of "The Platin...

Garrison Wynn

Comedian & Motivational Business Expert

Kelly McDonald

Multicultural Marketing & Business Trends Expert

Liz Nead

Executive Business & Life Coach

Seth Mattison

Co-Founder & Chief Movement Officer of Luminate Labs...

Mark C. Thompson

Executive Coach & Author

Don Peppers

Marketing and Sales Futurist; Customer Experience Th...

Cam Marston

Workforce Dynamics Consultant; President & Founder o...

Joseph Grenny

New York Times Bestselling Author; Leading Social Sc...

Amanda Gore

CEO of The Joy Project; Author & Psychologist; Emoti...

Dr. Kevin Freiberg

World-Wide Best-Selling Author, Speaker & Advisor

Richard Florida

Leading Urbanist, Economist & Author of "The Rise of...

Keith Ferrazzi

CEO of Ferrazzi Greenlight, Inc. & Bestselling Autho...
More like Lynne