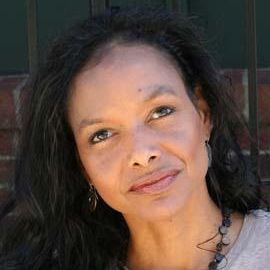 Maggie Anderson and her family made history and dominated headlines as national media covered their real-life case study in self-help economics in the black community. The Anderson family lived exclusively off black business and talent and bought only black-made products for an entire year. It was called The Empowerment Experiment (EE) and resulted in a landmark study conducted by Northwestern University's Kellogg School of Business. Since the completion of their experiment, Anderson has become the voice of American consumers of all backgrounds who want to make sure their buying power positively impacts struggling minority communities.
A sought-after speaker, Anderson has appeared on CNN, MSNBC, Fox News, C-SPAN, PBS Newshour, and CBS Morning News, among many other national television and radio shows. She is the author of the critically acclaimed book about EE, Our Black Year, presented by William Morris Entertainment and Public Affairs Books. Publishers Weekly called Anderson's experiment and book "a dynamite subject" and "an effective probe into how African Americans spend so much money that overwhelmingly leaves their communities."
Her message is that everyone, especially African Americans, can do their part to counter the social crises that disproportionately impact black people and underserved urban neighborhoods simply by supporting quality black businesses every day. She says this practice recycles black wealth, decreases unemployment, and creates more local role models for black youth. Anderson uses her growing platform and celebrity to explain that buying black is not racist, while issuing a call to action for increased self-help economics in the black community.
Videos
---
Speech Topics
---
The Empowerment Experiment: My Year of Buying Black
In 2009, the Andersons - an Ivy league-educated, professional suburban couple with two young daughters - made history when they carried out a public pledge to completely live off black business for an entire year. It was called "The Empowerment Experiment." Via press coverage, the compelling story of the Andersons' stand and sacrifice, and the credibility of the landmark experiment, the family was able to articulate and prove the importance of self-help economics in the black community as well as increase awareness of how the lack of support for black businesses and professionals leads to the social crises that disproportionately impact black families and neighborhoods.
In this speech, Maggie Anderson shares the lessons learned from her book, Our Black Year, delivering an inspirational and intelligent message about homespun economic empowerment and "conscious consumerism." Her expertise in entrepreneurship, consumerism, economic empowerment, community stewardship, activism, supplier diversity, and self-help economics fuels this fascinating speech.
Conscious Consumerism: Make a Difference with Your Dollars
There are 60 KFC franchises in the Chicago Area and not one of them is black-owned. Companies ranging from fast food chains to Polo Ralph Lauren make enormous amounts of money off the black dollar, yet none of it is divested back to that community by engaging black-owned businesses. While marketing and HR have finally extended their reach to include African Americans - even prominently featuring black individuals in their ad campaigns, for instance - the same is not reciprocated in supply and management.
Maggie Anderson has become the leader of a self-help economics (or "conscious consumerism") movement that brings together business owners, consumers, corporations, and professional and activist groups to make sure that more quality minority-owned businesses get supported - as stand-alone entities and as suppliers, vendors, and franchises. Conscious consumerism, she explains, is all about supporting businesses that empower struggling communities. In this talk, Anderson rallies conscious consumers and progressive corporations alike to support and grow quality minority businesses in order to put the community's wealth back into its underserved neighborhoods, and explains why this outlook is so important - not just to minority communities, but to America as a whole.
Race & the Economy
In today's economy, one of the nation's primary goals should be to create more jobs for minority groups disproportionately affected by the financial downturn. In so doing, we would not only begin to bridge the economic gap between white and ethnic communities, but also invest traditionally troubled communities with empowered leaders engaged in the market economy who youth could look up to, instead of turning to drug lords and gang heads for guidance.
In this speech, Maggie Anderson covers such fascinating and underexplored topics as America's racially divided economy, the lack of supplier diversity in corporate America, economic disenfranchisement of minority groups, buying power vs. business/economic power, and self-help economics in ethnic communities. Specifically, on this last subject, she discusses whether or not it is racist for specific ethnic groups to exclusively support their communities' businesses, and whether public opinion on this matter changes with regard to the black community versus other groups. This message is perfect for college audiences of any color to inspire them to become those leaders who will improve their communities.
A Call to Women: Find Your Cause
First and foremost, Maggie Anderson considers herself a mom - an "everyday mom," she says. But however "everyday" she may be, she found one cause dear to her heart and spurred by a conviction that she could do something about it, created a transnational movement.
In this inspirational presentation, Anderson urges all women to find their cause. Whether they are mothers, housewives, professionals, or working moms, women should not feel constricted to solely caring for their families or immediate social spheres, but should feel empowered to act for the good of the greater community. After all, the ultimate legacy of The Empowerment Experiment is to prove to individuals from all walks of life that a single person can make a difference, just as Anderson did. This message is perfect for women's groups and college students.
Related Speakers View all
---
Marc Lamont Hill

Temple University Professor, BET News Correspondent,...

Donna Brazile

Veteran Political Strategist, Bestselling Author, Fo...

Majora Carter

Real Estate Developer, Peabody Award-Winning Broadca...

Reverend Al Sharpton

African-American Preacher & Activist; Foremost Civil...

Diane Nash

Civil Rights & Peace Activist

Alan Page

Retired Minnesota Supreme Court Justice & Former Pro...

Victoria Rowell

Classically Trained Dancer, Actress on "The Cosby Sh...

Angela Davis

Feminist, Social Activist, Professor & Writer

Rosa Clemente

Community Organizer; Journalist; Political Activist;...

Mary Frances Berry

Professor, Author & Historian; Former Chairperson of...

Kemba Smith

Criminal Justice Advocate, Author of "Poster Child,"...

Chris Mburu

Human Rights Activist

Clarence B. Jones

Former Adviser and Speechwriter for Martin Luther Ki...

Jurnee Smollett

Actress & Singer

Sheryl WuDunn

Pulitzer Prize-Winning Journalist; Co-author of Half...

Jalen Rose

ESPN Analyst & Former NBA Player

Kevin Powell

Writer, Humanitarian, President of BK Nation

Wes Moore

CEO of Robin Hood Foundation, Best-Selling Author & ...

Malaak Compton

Activist & Philanthropist

Isaiah Washington

NAACP Image and SAG Award Winning Actor and Activist...
More like Maggie