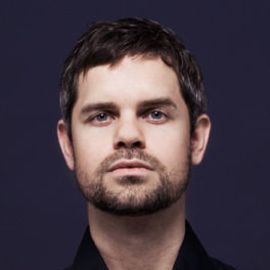 Magnus Larsson
Sustainable Architect & TED Talker; Seeks to Turn Harsh Landscapes into Habitable Structures
Born in Sweden in 1976, Magnus Larsson now lives and works in both Stockholm and London. With a BA (hons) in architecture from the Oxford (Brookes) School of Architecture, he is currently finishing off his diploma studies at the Architectural Association.
With a background in journalism and advertising, Larsson has contributed as a writer to publications including Frame, The Wire, Another Magazine, Kultureflash and Bon International, and he has written features in his native tongue for magazines and newspapers including Dagens Nyheter, Expressen, Arkitektur, Rum and Forum. He has supplied copy for brands such as Apple, Absolut Vodka and Sony Ericsson, and he won a bronze cyber lion at the advertising festival in Cannes for a campaign he came up with and wrote while being Senior Copywriter at London interactive agency, Abel & Baker.
Before that, he founded and became the editor-in-chief of the Swedish literature magazine Mono, worked as editor of several magazines and websites, including one on the underground music and clubbing scene in Stockholm: DiscoSthlm.com. He started the hip hop club, Backspin, was headhunted to become the Nordic Editor of boom, the infamously never-published international webzine of equally infamous dot.com failure boo.com - a position that brought him to London in the late 1990s.
Larsson has translated books from Swedish to English, written a book on color theory for boutique hotel Nordic Light and worked for a year in the office of Swedish architect, Erik Andersson. In parallel with his architecture studies, he's designed a wine bar for an upmarket restaurant in Stockholm, as well as an office space for a travel agency in London.
At the Architectural Association, he's designed with surface equations in diploma unit 5 under the tutelage of George Legendre and proposed a 6,000km long wall made of solidified sand in diploma unit 16, which won him a 2008 'Next Generation' Holcim Award, as well as some recognition from the likes of BLDGBLOG, Wired and Slashdot. He is currently trying to rethink iconicity in diploma unit 9 (Natasha Sandmeier and Monia De Marchi), through the implementation of a 180m tall loadbearing brick skyscraper hotel in Manhattan, based on the corner as spatial generator.
Videos
---
Related Speakers View all
---
Jeff Speck

City Planner & Urban Designer; Advocates for Smart G...

Timothy Beatley

Professor of Sustainable Communities at the Universi...

Kate Orff

Sustainable Landscape Architect; Founder of SCAPE

Shelley Poticha

Managing Director of NRDC's Healthy People & Thrivin...

Jaime Lerner

Governor of Parana, Brazil and Urban Planner; Former...

Carlo Ratti

Architect & Engineer; Director of MIT's SENSEable Ci...

Dan Phillips

American Designer and Builder; Founder of The Phoeni...

Joshua Prince-Ramus

Architect & Principal of REX Design Firm

Frances Anderton

Host of "DnA: Design and Architecture"; Producer for...

Jeanne Gang

President & Founder of Studio Gang Architects

Greg Lindsay

Expert on Globalization, Cities & Innovation

Lori Cheek

Architect; Entrepreneur; Founder & CEO of Cheekd

Cameron Sinclair

World-Class Visionary; Co-Founder of Architecture fo...

Paola Antonelli

Senior Curator at the Museum of Modern Art in the De...

Reed Kroloff

Architectural Critic; Principal of Jones/Kroloff

Chris Castro

Eco-Entrepreneur; Director of Sustainability for the...

Yves Behar

Founder of fuseproject; Chief Creative Officer of Ja...

Deanna Van Buren

Design Director & Co-Founder of Designing Justice + ...

Peter Calthorpe

Architect, Urban Designer & Urban Planner; Author of...

Thom Mayne

Widely Regarded as One of the World's Most Provocati...
More like Magnus