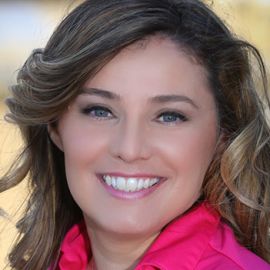 Maja Kazazic
Entrepreneur, Strategist & Genocide Survivor
Maja (My-a) Kazazic is an internationally recognized motivational speaker.
Originally from former Yugoslavia, Maja's home was destroyed by genocide that killed 250,000 people and injured millions.
When she was only 16 years old, while sitting with 5 of her friends a rocket propelled grenade exploded killing all 5 of her friends. Maja was severely injured.
This event set off decades long journey filled with obstacles Maja had to face on a daily basis. From having her leg amputated without anesthesia and surviving without food or running water to re-learning how to walk and run, and learning English by watching TV. And even though she left her home without her parents to get medical treatment, with only a teddy bear, t-shirt and rock, Maja was able to build a new life. She finished high school and college, and eventually started a very successful software company whose regular clients were Fortune 500 companies. The systems, strategies, and innovative action plans she developed have helped companies significantly increase profitability and productivity.
She has taken the lessons of a life forever altered by what could have been catastrophic wounds of war and parlayed them into a vision and passion for providing the solutions and insights people and organizations need to create positive, inspired change in their personal and professional lives.
As a sought after speaker and media spokesperson, she brings her expertise in motivating team members, raising revenues, and breaking through barriers and debilitating mindsets to the topics and tools she delivers to organizations worldwide.
From there she shares the building blocks of RESILIENCE. COURAGE. HOPE. TENACITY. TEAMWORK. And PERSPECTIVE. And those things?
Help make lives better. More balanced. More fulfilled.
Maja has been featured in Reader's Digest, Good Housekeeping Magazine, Fox News, BBC News, Discovery Network, the Philadelphia Inquirer, LA Times and more and has delivered her timely messages to clients from organizations big and small all over the world.
Videos
---
Related Speakers View all
---
Anthony McCarley

Successful Entrepreneur & Triple Crown Marathon Swimmer

Dr. Franklin Chang Díaz

Former NASA Astronaut, CEO of Ad Astra Rocket Compan...

Kristie Kennedy

Women's Worth & Wellness Expert, TEDx Audacious Lead...

La'Darius Marshall

Cheerleader at Navarro College, Featured on Netflix'...

Michelle J. Lamont

Influential Entrepreneur, Founder & CEO of Lamont PR...

Sonja Crosby

Actor, Voice Talent, Model, Host, Entrepreneur, Emce...

Matt Paknis

Anti-Bullying Activist, Consultant, Former College F...

Tiki Davis

Award-Winning Entrepreneur, Successful Businessman, ...

Kendal Netmaker

One of Canada's Leading Entrepreneurs & Author

Benjamin Raymond

CEO of Raymond Insurance Agency & Bestselling Author...

David Rutherford

Motivational Speaker, Former Navy SEAL Medic & Behav...

Adam Markel

Reinvention & Accelerated Results Expert; Best-Selli...

Hiroki Takeuchi

CEO of GoCardless

Frederick Hutson

Founder & CEO at Pigeonly

Brian Fleming

Combat-Wounded Veteran, Resilience & Leadership Speaker

Paula McDade

Women's Empowerment & Leadership Speaker, Bestsellin...

Tim Harris

Public Speaker, Athlete & Restaurant Entrepreneur; F...

Kyle Carpenter

Retired U.S. Marine, Youngest Living Medal of Honor ...

Heath Calhoun

Alpine Skier & Veteran of the United States Army

Carey Lohrenz

First Female F-14 Fighter Pilot in the U.S. Navy, T...
More like Maja