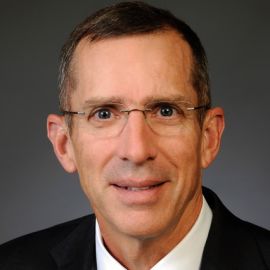 Brett T. Williams, Major General USAF (Ret.)
Thought Leader, Start-Up Founder, Cybersecurity Expert & Fighter Pilot
Brett Williams is a co-founder and the Chief Operating Officer at IronNet Cybersecurity. IronNet delivers the power of collective cybersecurity to defend companies, sectors and nations. Their advanced cyber detection solution leverages behavioral analytics, artificial intelligence and machine learning to protect against the most advanced threats. As COO, Brett supports strategic planning, business performance management, leader development and thought leadership in support of marketing and sales.
During his time as an Air Force General Officer, Brett served in four senior executive leadership positions. As the Director of Operations (J3) at U.S. Cyber Command, he led a team of 400 people responsible for the global operations and defense of all DOD networks as well as the planning and execution of authorized offensive operations. Prior to this position, he served as Director of Operations (A3O), U.S. Air Force, where he led the largest Air Staff directorate consisting of more than 1300 Airmen and civilians stationed world-wide. In this role, he developed and justified the operations component of the annual $120B Air Force budget. General Williams also served as the Director of Communications (J6) for U.S. Pacific Command. His 150-person directorate executed an annual budget of $57M and was responsible for the design, implementation and operation of all command and control networks supporting DOD's largest geographic warfighting command. Finally, as the Inspector General for Air Combat Command, he led the inspection, audit and compliance process for all U.S based combat flying organizations.
Operationally, General Williams led a variety of large, complex organizations ranging in size from 300 to over 9000 personnel. In his most significant leadership position as 18th Wing Commander in Okinawa, Japan, he led the largest combat wing in the Air Force. General Williams was responsible for relationships with Japanese political and business leaders in a highly volatile community environment. He executed an annual budget in excess of $100M to support a community of over 25,000 U.S. service members, their families and Japanese employees. In this significant leadership role, he delivered success across a wide variety of mission areas to include aircraft operations, aircraft maintenance, logistics, civil engineering, security and policing, community support, human resources, financial management and medical services. Brett is an F-15C fighter pilot with over 28 years of flying experience, including more than 100 combat missions.
Brett is a highly regarded keynote speaker, leadership coach, and cybersecurity expert. He has appeared several times on national television, testified before the Senate Armed Services Committee and is a sought-after subject matter expert. Brett has served as a faculty member with the National Association of Corporate Directors Board Advisory Services as well as a guest professor at Duke University. He has served on the Defense Science Board and on a variety of corporate advisory boards. Brett holds a BS in Computer Science from Duke University and three graduate degrees in management and national security studies.
Speech Topics
---
Cybersecurity – Cost, Risk or Asset?
The answer is all three. Companies today must look at cybersecurity in a very holistic manner; it is not just an IT issue. Cybersecurity is a cost to be controlled and in this speech, Brett offers a model for thinking about how much "cyber stuff" is enough and how to avoid spending money without increasing capability. Cybersecurity also represents a risk that must be managed, and it must be managed within the company's overall risk framework. Brett discusses cyber risk in relation to overall business success. Finally, cybersecurity must be considered an asset. Increasingly customers are going to evaluate product and service providers along the lines of cybersecurity. Sound cybersecurity practices provide a competitive advantage and therefore generate revenue in today's market. A major challenge for today's senior executive is understanding enough about the technical nature of cyber to make appropriate strategic level decisions. In this presentation, Brett offers a plain language overview of cyberspace—what it is and how to put it in context with the rest of your enterprise.
Freedom of Maneuver in Cyberspace
You have freedom of maneuver in cyberspace if you can operate in cyberspace at a known and accepted level of risk. Most companies don't understand their current level of risk, so they cannot determine if it is acceptable. The current approach usually involves a variety of network security measures following guidelines such as the National Institute of Standards and Technology (NIST) Framework for Improving Critical Infrastructure Cybersecurity and the SANS 20 Critical Security Controls. While these actions are necessary, they are not sufficient to handle the advanced persistent threat that is becoming more prevalent every day. In this presentation, Brett Williams provides a detailed operating concept he has adapted for the private sector from his work at the DoD as the director of operations for U.S Cyber Command. He discusses a process for ensuring that the right decisions regarding cyber security are made at the right level in an organization. Williams explains how training and wargaming are critical components of cyber defense and offers tips for getting the best training from your red team. This presentation is focused on senior executives to mid-level managers who already have a good understanding of cyber defense and are looking for ways to become an adaptive cyber-defense organization.
Fighter Pilot to Cyber Guy: Leading with Credibility Outside Your Area of Expertise
I had just completed the first 28 years of my Air Force career and achieved a modicum of success as a fighter pilot, culminating with my fourth and largest command, the 18th Wing on Kadena Air Base in Okinawa, Japan. That's when I got the call: "Williams, you are going to be the Director of Communications at U.S. Pacific Command." And just like that, I went from a job where I had extremely deep experience and credibility to one where I could barely speak the language and my subordinates greeted me with great skepticism as well as preconceived notions about what to expect from a "fly-boy" coming into their IT world. As it turned out, everything I knew about leading and managing crossed over directly to my new job but it took a lot of work to become an accepted and valued member of my new team. As cyber security moves steadily from being a stovepipe function of the IT department to a key element of the overall business organization, it is becoming increasingly common to see managers with little technical, much less cyber background, being put into positions of responsibility for cyber risk. This presentation is geared toward leaders and managers at all levels and focuses on Major General (Ret) Brett Williams's lessons learned from leading a variety of large, diverse organizations
Related Speakers View all
---
Brian Krebs

Leading Cybercrime Journalist & New York Times Bests...

Eric O'Neill

Cyber-Security Expert & Former FBI Counter-Terrorism...

Pablos Holman

Technology Futurist, Inventor, World-Renowned Hacker...

Dr. Eric Cole

Technology Visionary, Author, Security Expert, Found...

Keren Elazari

Cyber Security Analyst, Author & Senior Researcher a...

Elizabeth Dixon

Principal Strategy Lead, Service & Hospitality at Ch...

Ben Wizner

Legal Advisor to NSA Whistleblower, Edward Snowden; ...

Adam Levin

Nationally Recognized Cybersecurity, Privacy & Ident...

Mark DeVolder

Change Management & Employee Engagement Expert

John Sileo

America's Top Identity Theft Expert, President & CEO...

Mike Abrashoff

Former Commander of USS Benfold & Author of "It's Yo...

Clint Watts

Distinguished Research Fellow & Author; Security Co...

Edgar Perez

Quantum Computing, Artificial Intelligence, Deep Lea...

Parisa Tabriz

Senior Engineering Director at Google; Expert in Cyb...

Mitch Lowe

Former Co-founding Executive of Netflix; Former Pres...

Nada Bakos

Former CIA Analyst & Targeting Officer

J.R. Martinez

Actor, Best-Selling Author, Motivational Speaker, Ad...

Josh Linkner

Five-Time Tech Entrepreneur; Hyper-Growth CEO; NY Ti...

Scott Steinberg

CEO of TechSavvy Global, Strategic Innovation Consul...

Dr. Michio Kaku

World-Renowned Futurist & Theoretical Physicist
More like Brett