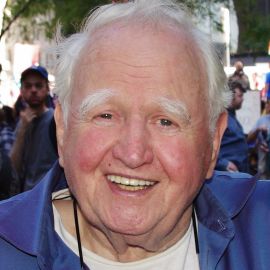 Malachy Mc Court, born in Brooklyn, raised in Limerick, Ireland. Managed to fail every subject in school except English and recess. Returned to the U.S. in '52, worked as a longshoreman, dishwasher and laborer. Became an actor and then established the first singles bar in America.
He began a tumultuous radio career in 1970 on WNYC, WMCA and WBAI. They said he was outrageous and opinionated and a disgrace to the Irish which was quite true. Aside from some temporary stints on WABC, WOR and WNYC, he has not been asked to do a regular show since he got fired in 1976 which celebrates the two hundredth anniversary of free speech in America.
Malachy has appeared on stage in plays such as DA, The Hostage, Mass Appeal, Inherit the Wind and A Child's Christmas in Wales. On television he was a semi regular on the Tonight Show with Jack Paar and Merv Griffin. He appeared in the soap operas Ryan's Hope and One Life To Live as well as the Dain Curse and other made for TV movies. On screen he can be seen in She's The One, The Devil's Own, Reversal of Fortune, Greencard and The Molly Maguires. A Couple of Blaguards which he co-wrote with his brother Frank has been produced all across the U.S.A. as well as Australia and the U.K.
Malachy is the author of A Monk Swimming, Singing By Him Song, Danny Boy, Voices of Ireland, Harold Be Thy Name: Lighthearted Daily Reflections for People in Recovery, The Claddagh Ring and Bush Lies In State which is now available.
He is happily married to Diana, is the proud father of five children, and the grandfather of three. Lives in New York Ciy where he also writes a weekly column for The West Side Spirit Sez I To Myself.
Malachy McCourt is a wonderful Irish raconteur/storyteller – A funny, warm, impassioned, celebrated author, New Yorker, playwright, actor, legendary bartender, NYC radio and television host
Videos
---
Related Speakers View all
---
Calvin Trillin

Author, Columnist, Humorist & Political Satirist

David Gray

David Gray is an English singer-songwriter known for...

Graham Hill

Founder of Life Edited & TreeHugger.com

Moby

Musician, DJ, Photographer

John Legend

EGOT Winning Musician, Producer & Philantropist

David McCullough

Historian and Bestselling Author

Parag Khanna

Leading Geo-Strategist & Author

Ken Burns

Historian & Award-Winning Filmmaker

Dan Ariely

Behavioral Economist; Professor at Duke University; ...

Thom Browne

Founder and Head Designer, Thom Browne Menswear

Paul Muldoon

Pulitzer Prize-winning Irish Poet

James Zemaitis

Senior Vice President & Head of 20th Century Design,...

Zac Posen

Fashion Designer

John Harbison

Composer; Institute Prof. of Music, MIT

Jimmy Conrad

Retired Soccer Defender; Former Captain of the Kansa...

Rob Huebel

Actor, Comedian & Writer; Known for his Role in "Chi...

Neil Giuliano

Gay Rights Activist & President and CEO of Greater P...

Patrick Byrne

Founder & CEO, Overstock.com

Rob Riemen

Founder, Nexus Institute

Adam Platt

Restaurant Critic, New York Magazine
More like Malachy