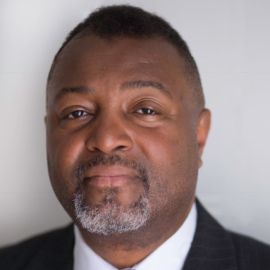 Malcolm Nance
U.S. Intelligence Veteran, MSNBC Chief Terrorism Analyst & Best-Selling Author
Malcolm Nance is a counter- terrorism and intelligence consultant for the U.S. government's Special Operations, Homeland Security and Intelligence agencies. He's also a counter-terrorism analyst for NBC News/MSNBC and the author of the NYT's Bestseller: "The Plot To Destroy Democracy," which is a sequel to "The Plot to Hack America." His most recent book is "The Plot To Betray America: How Team Trump Embraced Our Enemies, Compromised Our Security and How We Can Fix It."
Over 34 years, Nance participated in field and combat intelligence activity including experience as an Arabic-speaking special intelligence collections operator, field interrogator as well as providing both covert and clandestine anti & counter-terrorism support to national intelligence agencies and assets. A former Navy intelligence operator, he deployed on numerous clandestine anti-terrorism and counter-terrorism intelligence, special reconnaissance operations in the Balkans, Middle East and sub-Saharan Africa in direct support or seconded to the principle agencies of the Special Operations and Intelligence Community on land, ship and submarine. He has eye witnessed numerous terrorist incidents and/or participated in response operations from the American Embassy and US Marine Barracks bombing in Beirut, Lebanon; the TWA 847 hijacking; the Achille Lauro Marjacking, the Libyan Air Raid, combat operations against the Iranian Navy, the first Gulf War, the War in the Balkans, the millennium bomb plot, the attack on the USS Cole, the September 11th attacks, the Libyan revolution and served as an intelligence contractor and advisor in both Iraq and Afghanistan. He served his last four years in the US Navy as a master training specialist and instructor at the US Navy Survival, Evasion, Resistance and Escape (SERE) School in Coronado, California. He led resistance to interrogation teams including leading and supervising over 700 waterboardings. He conceptualized and implemented the Advanced Terrorism, Abduction and Hostage Survival school (ATAHS) in resisting torture, exploitation and escaping terrorist captivity from 1997-2001. At ATAHS he created and led the terrorism training team formed to simulate the Al Qaeda organization and its attacks for Tier-1 National Mission Units and select members of the US Intelligence community in the pre-9/11 era.
He assisted in the investigation of the World Trade Center attacks. Post 9/11 he provided support to the special operations and Intelligence community in analysis of Al Qaeda and global Jihadi tactics, techniques and procedures. He has trained and advised numerous international and government agency personnel in terrorist tactics and countering extremist ideology including the US Department of Defense and US Department of Homeland Security.
Abroad he has served as an intelligence contractor in Afghanistan, Libya, and in Iraq as a security director for the Iraq Economic Redevelopment Program at the Republican palace under the Coalition Provisional Authority in Baghdad as well as the acting security director for the United Nations inter-NGO security committee for Iraq. For ten years he was the president and chief expatriate advisor of the UAE-based Fearless Security Group including Fearless Arabia, Fearless Iraq and Fearless North African Resources a private security contractor consortium that trains and leads local security forces in Iraq, Libya, Yemen and Gulf States.
Malcolm is author of several books on global terrorism including "The Terrorist Recognition Handbook: A Practitioner's Manual on Predicting and Identifying Terrorist Activity;" "The Terrorists of Iraq: Inside the Strategy and Tactics of the Iraq Insurgency 2003-2014;" "An End to al-Qaeda: Destroying Bin Laden's Jihad, Restoring America's Honor;" and "Defeating ISIS: Who They Are, How They Fight and What They Believe."
A recognized expert on the dynamic of terrorism in geopolitics he has taught at the Defense Intelligence Agency, Macquarie University (Australia), Victoria University (NZ). He is a member of the Board of Advisors at the International Spy Museum in Washington DC.
Nance is a graduate of New York Excelsior University with a Bachelor of Science degree in Arabic.
Videos
---
Speech Topics
---
Cyber Warfare Takes Center Stage
Russian hacking of the election changed the course of political history and demonstrated the power and sophistication of state-sponsored attacks. Malcolm Nance takes us inside the plot and its implications for every organization
Related Speakers View all
---
J.R. Martinez

Actor, Best-Selling Author, Motivational Speaker, Ad...

Mike Abrashoff

Former Commander of USS Benfold & Author of "It's Yo...

Rorke Denver

Navy SEAL Commander & Best-Selling Author

Carey Lohrenz

First Female F-14 Fighter Pilot in the U.S. Navy, T...

Clint Watts

Distinguished Research Fellow & Author; Security Co...

Brian Krebs

Leading Cybercrime Journalist & New York Times Bests...

Randi Zuckerberg

CEO & Founder of Zuckerberg Media; Bestselling Autho...

Daymond John

"Shark Tank" Investor; Founder & CEO of FUBU; Presid...

Nada Bakos

Former CIA Analyst & Targeting Officer

Bob Woodward

Legendary Pulitzer Prize-winning Journalist/Author a...

FC (Freaky Clown)

Ethical Hacker & Social Engineer

Sarah O. Ladislaw

Co-Director and Senior Fellow, Energy and National S...

Oliver North

Combat-Decorated Marine, Best-Selling Author & Forme...

Ty Smith

Retired Navy SEAL, CEO & Founder of Vigilance Risk S...

Michele Rigby Assad

Former C.I.A. Agent, Counterterrorism Specialist & A...

Mark Geist

Co-Author of "13 Hours", Member of Benghazi Annex Se...

Jocko Willink

Retired Navy SEAL Officer & Author of "Extreme Owner...

Cady Coleman

Former NASA Astronaut; Retired U.S. Air Force Office...

Marcus Luttrell

Decorated Navy SEAL & Bestselling Author of "Lone Su...

George Mitchell

Global Diplomat, Peace Negotiator & Leadership Exper...
More like Malcolm