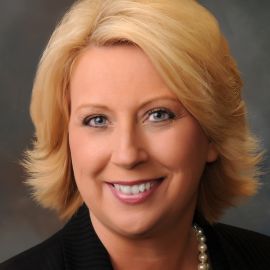 Maleia M. Evans
"When life gives you lemons, put them in a beautiful vase, use it as a centerpiece and throw a huge party!" Maleia Evans is a national speaker whose stories of struggles, with a humorous twist, will inspire and motivate you to strive for success in reach
Maleia is a national, regional, and local speaker in areas of professional development, workplace motivation, healthcare administration, women's inspirational topics, and prison ministry/recidivism coaching. She is an entrepreneur, an educator, and practices what she preaches. Maleia believes that there are no greater learning experiences in life than "life lessons". She believes an education is essential to maximize potential, but experience is critical to success. Maleia's personal stories of struggles and successes are inspiring, humorous, and motivating for any professional seeking to do their best at their chosen career. Her messages are delivered in an entertaining, while thought-provoking, format.
After long successful careers as both a Litigation Paralegal and a Healthcare Administrators, Maleia joined the TN Small Business Development Center network and the Dyersburg State Community College family in Sept 2010 as Director of the TN Small Business Development Center. She currently serves a seven county territory, in which she educates, counsels, and trains business owners from all walks of life on how to start, grow, and sustain a business.
In 2012, Maleia was named the National State Star for TN at the annual conference of the American Association of Small Business Development Centers. In 2013, for recognition of her achievements and dedication to economic development, especially in women and minorities, Maleia received a legislative appointment from Gov Bill Haslam to serve a six year term as the Northwest TN representative on the Board of Directors for the Tennessee Economic Council on Women.
In her spare time, Maleia founded Second Saturday Success, a non-profit organization whose mission is to educate, inspire, and nurture professional and personal develop in women and minorities of NW TN. Since its inception in 2012, the program has recently expanded it services to offer business coaching and job skills training to displaced workers, as well as former convicted felons, male and female alike.
Maleia holds a Masters in Business Administration from Bethel University, resides with her husband in northwest TN, is the proud mother of a daughter and the "coolest mother-in-law on the planet". Quite simply, Maleia loves life because what's there to hate about it?
Speech Topics
---
"Ignorance Really is Bliss"- A humorous look at life's common mishaps and how we choose to let them shape us.
"Mars, Venus, and Planets Unknown"- Communication skills for a diverse workplace and Coping skills for those who just can't handle it.
"To Spanx or not to Spanx"- A hilarious look at why women care what other women think, why we really shouldn't, and tips for learning to just love ourselves so we can effectively love others.
"You Had Me from Hello"- Professional Etiquette Training for the Workplace, aka Customer Service Skills at their Best
"Welcome to My Tea Party"- Life is all about choices and our choices are all about our priorities. Aligning your priorities with what you really do want out of life.
Related Speakers View all
---
Martyn Dawes

Founder of UK-Based 'Coffee Nation,' Author and Entr...

Jim Sullivan

CEO Sullivison & Best-Selling Author

Jordan Goldman

Named "One of the top young entrepreneurs in America...

Delores Bunch-Keemer

Philanthropist

Janet Chung and Ann Chung Mellman

Founders of Korean Delights

Afra Raymond

Afra Raymond is President of the Joint Consultative ...

Farnoosh Torabi

Personal Finance Expert, Money Strategist, Author, S...

Andre Dan

Networking guru, social networks, Web 2.0, cooperation

Clay Laugier

Social Entrepreneur & Start-Up Mentor

Biagio W. Sciacca, PhD

Author, Speaker, Higher Education Professional

Jose Feliciano, Jr.

Jose Feliciano has been achieving the impossible for...

Shawn Achor

Harvard Professor, Researcher & Positive Psychology ...

Elaine L. Chao

Distinguished Fellow, The Heritage Foundation; 24th ...

King Peggy Bartels

King of Otuam, Ghana Co-Author, "King Peggy: An Amer...

Dr. Jim Loehr

Co-Founder & Vice President of Applied Science and P...

R "Ray" Wang

Founder, Chairman & Principal Analyst at Constellati...

George Kohlrieser

Organizational, Clinical & Police Psychologist; Form...

Laurent Combalbert

Decision making tactics from a former RAID negotiator

Curt Tueffert

Curt Tueffert understands that motivation and knowl...

Judy Carter

Master Teacher, Author, and Humorous Speaker
More like Maleia