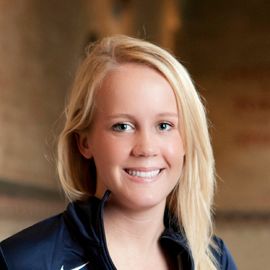 Mallory Weggemann
Paralympic Gold and Bronze Medalist, World Record Holder, ESPN ESPY Winner & Motivational Speaker
Mallory Weggemann has been a competitive swimmer since the age of seven. In 2008, she went to the hospital to receive her third and final epidural injection that she was receiving to help treat back pain caused by postherpetic neuralgia. The epidural injections that were supposed to help with the debilitating pain instead left Weggemann a paraplegic with complete loss of movement from her abdomen down.
Just three months after her injury at the age of 18, Weggemann chose to return to the pool. In April 2008, her older sister found an article in the local newspaper discussing the Paralympic Swimming Trials at the University of Minnesota. Through the encouragement of her family, Weggemann attended the meet as a spectator with her sister and met several of the US National Team coaches, as well as her former coach, Jim Andersen. Still coping with her new disability, Weggemann found one thing unchanged, her love for swimming.
Less than a year and a half later, Weggemann broke her first set of world records at the 2009 Can Am Speedo Para Swim Meet. Over the next four years she broke 34 American Records, 15 World Records, becoming a twelve time World Champion and became a two Paralympic Medalist at the London 2012 Games – one gold, the other bronze. Weggemann's Gold Medal race has been deemed one of the most memorable moments of the 2012 London Games, inspiring audiences around the world. Although the London 2012 Games weren't the end for Weggemann's swimming career.
Following the London 2012 Games, Weggemann launched her career as a highly sought after motivational speaker and began her training for the Rio 2016 Paralympic Games. Although, in 2014 fate would leave Weggemann with another twist in her athletic journey after she sustained permanent nerve damage to her left arm. Faced with the reality of potentially having to retire Weggemann decided that she wasn't willing to give up on her dream of the Rio 2016 Games without a fight.
Weggemann returned to the water, her sanctuary and looked to the black line as she fought her way back. With the support of her coach, Steve Van Dyne, she began her comeback. Weggemann is now a two-time Paralympian and will be training for the 2020 Tokyo Paralympic Games.
Videos
---
Speech Topics
---
Personal Story: Everything Happens for a Reason (includes moving anecdotes from personal journals)
Mallory Weggemann discusses the day she became paralyzed back in January 2008, and her initial struggles to cope with the fact that everything she knew for nearly 19 years of her life changed in literally the blink of an eye. After months of self-reflection, Mallory slowly started to find her own answers to her number one question—why? It slowly became very evident to her that everything happens for a reason and she shares this very rare emotional journey with the audience by sharing her personal journals from throughout each of her experiences. Mallory's story sends the audience through their own self-reflection as she challenges everyone to realize their own journey and insists that no odds are too large to overcome.
"You're the Best, You Can Make a Difference and You Can Change the World"
The phrase spoken to Mallory Weggemann and her sisters by her father every night before they went to bed is something which Mallory lives by every day. Mallory emphasizes that everyone goes through struggles and everyone has some sort of "disability," some of them just not as obvious as hers. Yet, everyone has the ability to overcome their "disabilities" and make a difference (big or small) in the world. With her unique ability to speak to a packed house, and yet make every individual feel as if they are involved in a personal conversation, Mallory presented a challenge to her audience while speaking at the United Nations in September 2013: "Live your life with passion, with heart, free of fear, hate and judgment, be courageous, and know that in any given moment you can make a difference and you can change the world by your simple actions."
Baby Steps: An Intimate Discussion on the Basic Forms of Leadership
Mallory Weggemann breaks down the pillars of leadership into a more simplistic form—baby steps. As she insists that the only way to take a daunting task, a looming challenge, a seemingly unsurmountable obstacle and conquer it is through baby steps themselves. In October 2008, Mallory found her own personal life was focused on change. Through her journey and self-reflection, she discovered that one of the greatest qualities leaders can present is the ability to adapt to change. Mallory's story appeals to anyone seeking a genuine and, at times, raw examination of one young woman's journey through grief to the top of the Paralympic medal platform, from being confined to a chair to learning to walk again. Even though her spine will never heal, her spirit is active, captivating and unstoppable.
Everything Happens for a Reason
In this touching and poignant presentation, Mallory Weggemann recounts the day she became paralyzed, her initial struggles to cope with her new condition, and how she soon realized she now had a platform to raise awareness for swimmers with disabilities. Weggemann shares moving anecdotes from her personal journal, including how she changed the life of a young girl who was also paralyzed - an incident that allowed her to fully understand why "everything happens for a reason."
Related Speakers View all
---
J.R. Martinez

Actor, Best-Selling Author, Motivational Speaker, Ad...

Shannon Miller

Olympic Gold Medalist, Health Advocate & Cancer Surv...

Shawn Johnson East

Olympic Gold Medalist in Gymnastics, "Dancing with t...

Jim Abbott

Former One-Handed Major League Baseball Pitcher

Erin Gruwell

Inspirational Educator & Author of "The Freedom Writ...

Bethany Hamilton

Professional Surfer & Shark Attack Survivor; Inspira...

Vince Papale

Former NFL Player & Inspiration for the Movie "Invin...

Erin Brockovich

Consumer Advocate, Author, TV Host & Environmental A...

Lisa Leslie

WNBA Champion, Olympic Gold Medalist & Author of "Do...

Sadie Robertson

Motivational Speaker, Bestselling Author, Owner of C...

Shiza Shahid

Entrepreneur, Technologist, Investor, Impact Leader ...

Amy Van Dyken-Rouen

Six-Time Olympic Gold Medalist Swimmer

Linda Alvarado

CEO of Alvarado Construction & National Women's Hall...

Lizzie Velasquez

Motivational Speaker; Author of "Lizzie Beautiful" &...

Jim Morris

Known for His Brief MLB Career & Subject of Disney's...

Pat Williams

Motivational Speaker & Sports Executive; Senior Vice...

Temple Grandin

World-Famous Animal Scientist, Autism Self-Advocate ...

Laurie Hernandez

Olympic Gold Medal Winning U.S.Gymnast & Winner of S...

Inky Johnson

Sports Motivation Expert & Author; Former Collegiate...

Nastia Liukin

Olympic Gold Medal Gymnast
More like Mallory