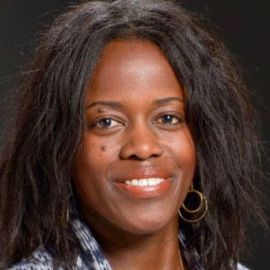 Dr. Mandë Holford is as an Associate Professor in Chemistry at Hunter College and CUNY-Graduate Center, with scientific appointments at the American Museum of Natural History and Weill Cornell Medical College. Her joint appointments reflect her interdisciplinary research, which goes from mollusks to medicine, combining chemistry and biology to discover, characterize, and deliver novel peptides from venomous marine snails as tools for manipulating cellular physiology in pain and cancer.
She has received several awards including being recently named a New Champion Young Scientist by the World Economic Forum, the prestigious Camille Dreyfus Teacher-Scholar Award, an NSF CAREER Award, and named a 21st Century Chemist in the NBC-Learn, Chemistry Now series.
Dr. Holford is actively involved in science education, advancing the public understanding of science, and science diplomacy. She is the co-founder of KillerSnails.com, a learning games company that uses extreme creatures, like venomous marine snails, as a conduit to advance scientific learning on a global scale.
She is also co-founder of RAISEW.org, an NSF project to increase women in science. Dr. Holford codeveloped a premier Science Diplomacy course at The Rockefeller University to encourage early career scientists to think globally about the impacts of their research as it pertains to international relations.
Dr. Holford is a Life Member of the Council of Foreign Relations, and a AAAS Science &Technology Policy Fellow. Dr. Holford received her PhD in Synthetic Protein Chemistry from The Rockefeller University.
Related Speakers View all
---
Timnit Gebru

Co-Founder, Black in AI; Working to Increase Diversi...

Tyler Allen

Cancer Researcher & Ph.D. candidate at North Carolin...

Dr. Tierney Thys

Marine Biologist, Educator & Filmmaker

Carlotta Berry

Professor of Engineering & Consultant

Valeisha Butterfield-Jones

Chief Diversity, Equity & Inclusion Officer at The R...

Lisa W. Wardell

President & CEO of Adtalem Global Education; Only Af...

Y-Vonne Hutchinson

Founder & CEO of ReadySet; Co-Founder of Project Inc...

Lauren Simmons

Youngest Member of the New York Stock Exchange & Sec...

Candi Castleberry-Singleton

Vice President of Diversity & Inclusion at Twitter

Caroline Wanga

Interim-CEO, Essence Communications; Former VP of Di...

Maurice Cherry

Marketing, Design & Communications Lead at Glitch & ...

Zena Howard

Managing Director of Perkins + Will, NC ; Senior Pro...

Michelle Saahene and Melissa DePino

Co-Founders of From Privilege to Progress

Dr. Saundra McGuire

Professor, Author, Theorist & STEM Advocate

Adrienne Trimble

President and CEO of the National Minority Supplier ...

Latondra Newton

SVP & Chief Diversity Officer at The Walt Disney Com...

Candice Morgan

Equity, Diversity & Inclusion Partner at Google Vent...

David Sengeh

Chief Innovation Officer, Government of Sierra Leone

Sheila C. Johnson

Entrepreneur, CEO of Salamander Hotels and Resorts, ...

Gabrielle Union

Actress, Voice Artist, Activist, Author
More like Mandë