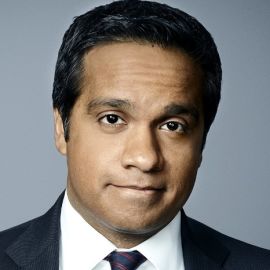 Manu Raju
American Journalist & Senior Congressional Correspondent at CNN
Manu Raju is a senior congressional correspondent at CNN, covering Capitol Hill and campaign politics. Raju is a veteran reporter in Washington, having previously served as a top Capitol Hill correspondent at Politico for seven years. Prior to his time at Politico, Raju reported for The Hill newspaper, Congressional Quarterly and Inside Washington Publishers. He has long been a frequent guest on political talk shows on TV and radio.
Raju has won multiple journalism awards for his reporting on the major battles consuming Washington and his coverage of campaign politics. In 2012, Raju was part of a team of four reporters who won the White House Correspondents Association's prestigious Merriman Smith award for presidential reporting under deadline pressure for their coverage of the debt ceiling crisis. In 2015, Raju also was awarded first prize by the Society of Professional Journalists in D.C. for beat coverage of the 2014 midterm elections, and a Folio: Eddie Award for a feature profile on Senator Elizabeth Warren.
Raju has developed a reputation as a reporter who can find out what politicians are privately discussing out of the public's view. And he is well known for his sharp and skillful questioning of politicians, a skill he showcased in 2014 when he moderated debates in two of the biggest races in the country -- for a key Senate seat in Colorado and a hotly contested governor's race there as well.
Raju got his start in media working at the student newspaper The Badger Herald at the University of Wisconsin-Madison, his alma mater. And his writing roots extend to his late grandfather, Gopalakrishna Adiga, a legendary poet from South India who wrote in the language of Kannada. Raju is a long-suffering Chicago sports fan and a native of the Greater Chicago area.
Related Speakers View all
---
Chris Cuomo

Journalist, New Anchor & Host of "Cuomo Prime Time" ...

George Howell

News Anchor & Correspondent for CNN

Peter Baker

Chief White House Correspondent for The New York Tim...

Graham Ledger

Emmy Award-Winning Television Newsman, Host of "The ...

Elle Reeve

Technology Correspondent for "VICE News Tonight"

Lisa LaFlamme

Chief Anchor & Senior Editor of CTV "National News W...

Richard Lui

Anchor of NBC News' "Early Today Show"

Herb Greenberg

TheStreet, CNBC

Juju Chang

Emmy Award-Winning Co-Anchor of ABC News' "Nightline"

Bob Woodward

Legendary Pulitzer Prize-winning Journalist/Author a...

Leslie Dodson

Reporter & Videographer Covering International Finan...

Lester Holt

Anchor of NBC's "Nightly News" & "Dateline NBC"

Jim Acosta

CNN's Chief White House Correspondent

Lawrence B. Jones III

Conservative Commentator and Editor-in-Chief, Campus...

Dylan Byers

Senior Reporter at CNN; Media & Politics Journalist

Joe Johns

Political News Correspondent (CNN)

Robert Costa

National Political Reporter at The Washington Post &...

Joy-Ann Reid

MSNBC Correspondent, Political Author & Former Host ...

Dante Chinni

Journalist & Author of "Our Patchwork Nation: The Su...

Carla Babb

Carla Babb / International Broadcaster at Voice of A...
More like Manu