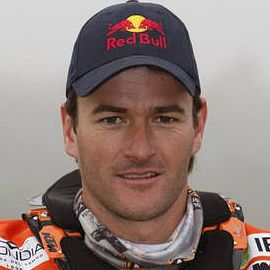 Marc Coma has won the Dakar Rally in the motorcycle category in 2006, 2009 and 2011. He has also won the Rally of the Pharaohs on five occasions; the Rally Raid of Sardinia (three times); the Rally of the Pampas (three times), the UAE Desert Challenge (2007) and the Rally of Morocco (2006). He also won the Rally Raid World Championship four times. In the 2010 edition he won every races in the championship. His story of success, based on his talent and perseverance, is full with examples of how to overcome adversity, important set backs and serious falls.
Coma, who has always been an example of competitiveness and camaraderie, achieved his last Dakar Rally with Team Red Bull KTM after assisting the pilot Olivier Pain from the Yamaha team. This action made him loose 11 minutes and 20 seconds which, later were subtracted from his final time as a reward for his spirit of sportsmanship.
Coma, who also achieved a second place in the Rally Dakar 2012, began his racing career in the trial world after switching to enduro. In this category he achieved his first victories in his otherwise successful career. In 1995 Coma became Junior Champion of Spain in the over 175cc category with a 250cc KTM. After that championship, Coma entered the Spanish National Enduro Team, with which he won the following year the silver medal at the World Enduro Championship.
This favorable outcome was followed by other brilliant achievements in the coming years, like the fourth place in the Senior Enduro European Championship in the 175 cc category; the World Enduro Championship U23; the UN World Enduro Championship, and the third position in the Enduro World Championship for National Teams.