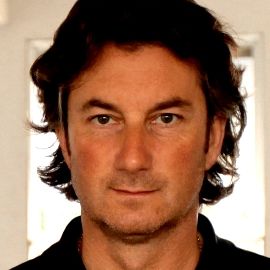 Marc Koska is a highly successful businessman and social entrepreneur who has helped to save more than 14 million lives. Despite years of rejection, Marc persisted in developing his revolutionary disposable syringe, the iconic K-1 syringe, the world's first 'auto disable' syringe for the curative market. He was awarded an OBE for his 'Contribution to Global Healthcare'.
Marc is a highly motivational and charismatic speaker, someone who has fought ignorance, bureaucracy and vested interest every step of the way to create a highly successful and dynamic company, and whose sole motivation is to save lives by eradicating the spread of a killer virus. Marc's genuine lack of financial motivation is inspirational, moving and an admirably unique quality rarely seen in a thriving entrepreneur.
One child dies every 24 seconds as a result of unsafe injections. The World Health Organisation estimate 3,500 dies each day as a result of unsafe injections, which is the equivalent of 10 jumbo jets crashing each day! Syringes intended to be used once are reused in developing world healthcare systems on average seven times, passing on blood borne diseases such as HIV/AIDS and Hepatitis from one patient to another.
Today hundreds of millions of his syringes are sold annually and the invention has saved more than 14 million lives and prevented 10 million cases of disease transmission. All injections given with a K1 syringe, Marc's revolutionary invention, are sterile and safe. They protect the patient, and the next patient, and their families, because the K1 syringe cannot be reused – it locks and breaks after one use. The design of his ground-breaking syringe took three minutes. The implementation of his plan took 17 turbulent and disheartening years of sacrifice, rejection, disappointment and finally a rewarding and revolutionary triumph. Marc Koska can tell his inspiring story and how he founded Star Syringe and the charity Safepoint Trust.
Nearly 2 decades after inventing the iconic K-1 syringe, the world's first 'auto-disable' syringe for curative market use, Marc has worked with the World Health Organisation and instigated their only third ever global health initiative – a mandate on needle safety, which will end the blight of 1.3 million deaths a year due to dirty needs and hundreds of millions of dollars wasted on avoidable illness and cross-infections. By 2017 all health systems in the world will have to switch entirely to auto-disable syringes.
Marc has been awarded the Innovation Health Award by The Tech Awards – an international awards programme that honours innovators from around the world who are applying technology to benefit humanity, as well as The Economist Innovation Award for Social and Economic Innovation - making him one of the best health innovators in the world today. In 2015 he was selected as a Schwab Foundation Social Entrepreneur of the Year Awardee – joining a global network and being fully integrated into the World Economic Forum.
He is a very popular speaker at TED conferences worldwide, and he has spoken at Google Zeitgeist, The Daily Beast Innovators Conference, Intelligence Squared, The Ink Conference, Peace One Day and The Global Health and Innovation Conference to name just a few.
His recent campaign in India reached a staggering 508 million people in just one week – a world record, raising awareness and educating the whole nation through TV ads, radio broadcasts, cinema screenings and newspaper articles – delivering a groundbreaking campaign to ensure that all medical injections are given safely. He achieved an historic breakthrough, resulting in plans for all injections to be made with auto disable syringes and thereby saving literally millions of lives in the coming years.
Marc has addressed many audiences with keynote speeches and motivational talks,, including the British Medical Association, British Healthcare Business Intelligence Association, Bioport Atlantic Conference, Life Scan, Bristol Myers Squibb, the Innovation Summit, Boehringer Ingleheim, the Entrepreneurs Forum, Bio Process International, the Annual Drug and Delivery Partnership Conference, Leadership in Diabetes Nursing, the Sussex Business Awards launch, Rotary Clubs, Sussex Enterprise Business Conference, Young Enterprise groups, schools and colleges. Films about his work have been shown in many countries, as well as at the Royal Albert Hall as part of "Peace One Day". He even featured on the film that accompanied The Jubilee Song in 2012.
Related Speakers View all
---
Daniel Kraft, M.D.

Physician-Scientist; Founder of Exponential Medicine...

Sir Richard Branson

Businessman & Founder of Virgin Group

Dan Ariely

Behavioral Economist; Professor at Duke University; ...

Read Montague

An American neuroscientist and popular science autho...

Clay Shirky

Expert on New Technology & Social Media, & How They ...

Ray Kurzweil

Chairman of Kurzweil Technologies; Inventor; Futurist

Dan Buettner

National Geographic Writer, Renowned Explorer & Auth...

Tim O'Reilly

Founder & CEO of O'Reilly Media

Lakshmi Karan

Executive Director, Genentech Foundation and Directo...

David Bornstein

Author, Fixes column in The New York Times and Found...

Seth Berkley

CEO of Gavi, the Vaccine Alliance; Medical Doctor Sp...

Shawn Achor

Harvard Professor, Researcher & Positive Psychology ...

John Legend

EGOT Winning Musician, Producer & Philantropist

Ralph Nader

Former Presidential Candidate for the Green Party, C...

Alfie Kohn

Author & Speaker on Human Behavior, Education, & Par...

Ian Goldin

Director, Oxford University's 21st Century School, V...

Giovanni Colella

Co-Founder & CEO at Castlight Health

Alex Nicholls

Lecturer in Social Entrepreneurship, Skoll Centre fo...

Mark Kramer

Co-founder of FSG, Author & Co-Creator of Shared Val...

John Merris Coots

Director, California Career Resource Network, Califo...
More like Marc