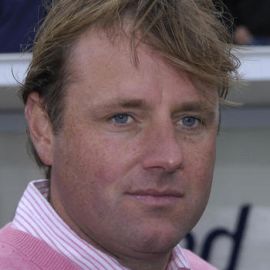 Marc Lammers
Former head coach of the Dutch women's national field hockey team.
"Too often we want to improve our weaknesses, but it might be wiser to... train our strong sides for 75 percent and our weak sides for 25 percent. Try it and you will notice that everybody is starting to feel better. That is the point where you start distinguishing yourself from other people."
Marc Lammers is an example of a modern type coach. He is the former head coach of the Dutch women's national field hockey team. Earlier, at a relatively young age, he was the national coach of Spain and a rather good hockey player himself. Marc played just five international games with the national men's team. As a coach he prepared 'his' ladies' team for more than 280 international matches.
During his stay in Spain he has led the Spanish team from the twentieth to the fourth place at the world ranking-list at the 2000 Sydney Olympic Games.
His team won silver at the 2002 World Championships after a breathtaking final that was lost after penalties. In 2003 the Dutch women's national field hockey team won the European Championships in Barcelona. The team finished second at the 2004 Olympic Games in Athens, after it lost the finals in a very exciting game against Germany. A complety new team won the Champions Trophy and the European Championships in Dublin, 2005. A year later the Netherlands won the Champions Trophy again. At the Olympic Games in Beijng in 2008 his team won the golden medal by beating guest land China in the finals.
Marc is well-known for his innovations. There was even a verb named after him: lammering. He uses a lot of technology in his modern style coaching, such as video glasses, analysis software, new hockeysticks, heartbeat meters and earphones.
Marc's presentations are innovating, visual, interactive, lively and emotional. Examples derived from practical experiences provide a perfect link to other branches of industry. Coaching has changed tremendously over the last years. Marc has his own clear vision on the new developments.
He is specialised in the following presentations:
Sports innovation: Failing to change means a standstill. Stay ahead of the competion by developing yourself continuously by means of technology and studies.

Coaching is co-operating. The way of coaching has changed: more attention to performance, situational leadership, inspiration and competence management.

Team building and willing to break new grounds. The Dutch women's national field hockey team consists of 18 players a 8 coaches. All of them have to be willing and able to break new grounds. That is the only way they can work successfully as and team and reach their goals.
Topics
Sports innovation

Coaching is co-operating

Team building and willing to break new grounds

Looking for details

Communication

Goals

Ambition

Leadership