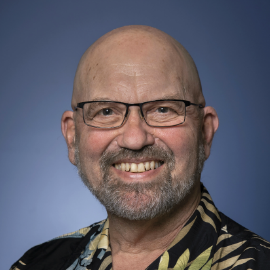 Marc Raibert was Professor of Electrical Engineering and Computer Science at MIT and a member of the Artificial Intelligence Laboratory from 1986 through 1995. He is co-founder and President of Boston Dynamics Inc, (BDI), which is located near MIT in Cambridge.
Raibert's research is devoted to the study of systems that move dynamically, including physical robots and animated creatures. Raibert's laboratory at MIT, the Leg Lab, is well known for its work on systems that move dynamically, including legged robots, simulated mechanisms, and animated figures. The Leg Lab created a series of laboratory robots including one-legged hoppers, biped runners, a quadruped, and two kangaroo-like robots. Taken collectively, these robots travel along simple paths, balance themselves actively, climb a simple stairway, run fast (13.1 mph), run with several gaits, and do rudimentary gymnastic maneuvers. A couple of years ago two robots (and 3 students) appeared in Rising Sun with Sean Connery and Wesley Snipes. The Leg Lab also created On The Run, a computer-generated cartoon in which all the characters were animated using simulation and control. Work at Boston Dynamics on automated characters and physics-based dynamic simulation are outgrowths of research done by Raibert's group at MIT.
Raibert received a B.S. degree in Electrical Engineering from Northeastern University in 1973, and a Ph.D. from the Massachusetts Institute of Technology in 1977. His Ph.D. thesis, entitled "Motor control and learning by the state space model", used robotics techniques to model biological behavior. He worked on robot sensing and control at the Jet Propulsion Laboratory and Caltech from 1977 through 1980. He was on the faculty of Carnegie-Mellon University Computer Science Department and the Robotics Institute from 1981-1986. He is author of "Legged Robots That Balance" published by MIT Press, is on the Editorial Board of the International Journal of Robotics Research, was guest editor of two issues of IJRR devoted to legged systems, and is a fellow of the AAAI.
Videos
---
Related Speakers View all
---
Max Tegmark

Cosmic Explorer & MIT Professor of Physics

Ray Kurzweil

Chairman of Kurzweil Technologies, Inventor & Futuri...

Terry Jones

Digital Disruptor, Author & Venture Capitalist

Marc Randolph

Entrepreneur, Netflix Co-Founder, National Best-Sell...

Amber Case

Cyborg Anthropologist & Founder of Geoloqi, Inc.

Marshall Van Alstyne

Expert on Network Business Models; Questrom Chair Pr...

Dag Kittlaus

CEO and Co-Founder of Viv Labs, Vice President of Sa...

R "Ray" Wang

Founder, Chairman & Principal Analyst at Constellati...

Dr. Michio Kaku

World-Renowned Futurist & Theoretical Physicist

Jennifer Marsman

Principal Software Development Engineer at Microsoft

Maurice Conti

Chief Innovation Officer at Alpha; Former Director, ...

Andrew Ng

Vice President & Chief Scientist of Baidu; Co-Founde...

Jared Cohen

President, Jigsaw (previously Google Ideas) & Chief ...

Larry Page

CEO of Alphabet & Co-Founder of Google

Barney Pell

Entrepreneur, Investor & Advisor in AI and Deep Tech...

Simone Giertz

Inventor, Robotics Enthusiast & TV Host

Adam Cheyer

Top Technology and AI speaker, Co-Founder & VP Engi...

Uri Levine

Entrepreneur & Co-Founder of Waze

Iyad Rahwan

Associate Professor @ MIT Media Lab -- Expert on: AI...

Mitch Lowe

Former Co-founding Executive of Netflix; Former Pres...
More like Marc