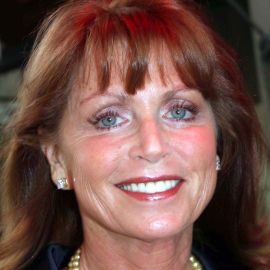 Marcia Strassman
Best known for her role as Julie Kotter in the iconic 1970s TV series Welcome Back Kotter and as the eponymous "Honey" in the Honey I Shrunk the Kids movies,
Best known for her role as Julie Kotter in the iconic 1970s TV series Welcome Back Kotter and as the eponymous "Honey" in the Honey I Shrunk the Kids movies, Marcia Strassman has been acting on the stage, big screen, and television since the age of 14, with her very first role replacing Liza Minelli in the Off Broadway show Best Foot Forward. Her diverse and extensive television resume ranges from a recurring role on the first season of MASH, to guest starring parts on such shows as Murder She Wrote, Touched By an Angel and the Tracey Ullman Show, to arcs on The Rockford Files, Providence and Third Watch. Strassman's most recent projects include featuring as a series regular on the SyFy program Tremors, and starring opposite John Lithgow on his series Twenty Good Years.
Strassman's life underwent a dramatic change in 2007 when she received the diagnosis of Stage IV metastatic breast cancer that had spread to her bones. However, in her own words, "It may sound strange, but cancer has been one of the greatest gifts I have ever received. It has shown me that I have strength and a zest for life I never imagined I had, and given me a chance to fight for a cause worth fighting for."
Strassman has been the spokesperson for Zometa, which is the bone medication she is taking, for the past year and a half. As someone who was given a prognosis of 4 1/2 years to live, three years ago, her latest scans show that her cancer has not changed since the day she was diagnosed in 2007, and does not show any signs of progressing. Strassman will live with cancer for the rest of her life, but for her the main word is "live". She considers her cancer a chronic disease, like diabetes or high blood pressure, and continues to be vigilant about taking her medication and keeping up with her regular doctor's visits.
Invigorated by a passion for life that is only matched by a passion to share her story, Strassman informs her audience that cancer is not the "Big C" anymore. You can become your own advocate and take control of your disease, by asking questions, being informed and never giving up or giving in. If you can't beat your disease, you most certainly can live a long and productive life with it, as she is proving every day. By not being afraid to talk about it, and getting out and speaking to as many people as she possibly can, Strassman is hopeful that she can change some minds about how you can live a long life with cancer.
Instead of a "cancer survivor," Strassman considers herself a "Cancer Warrior," in for the fight of her life and willing to take on anything to win this battle, and take as many women along with her as she possibly can!
Topics
Mind & Medicine
In 2007 Marcia Strassman was diagnosed with stage IV metastatic breast cancer that had already spread to her bones, specifically her pelvis. The prognosis was grim. As a single mom with a daughter away at college, she knew she had to be strong, change her way of thinking and be her own advocate – there were too many things she wanted to accomplish and she fully intended to do it all!
She says, "When you're first diagnosed with cancer your brain simply stops! It might be for a minute, it might be for an hour or it might be for a lot longer, but then you have to take control of your life. Along with the right medical protocol, the most important tool you have toward recovery is a healthy mind."
Strassman has now been living with cancer for three years, has never felt better and considers the disease one of the greatest gifts she has been given. It has shown she has an incredible inner strength she never knew she had. Not for one minute has she given herself up to the disease – and she has felt this way in her heart and in mind from the day she received her diagnosis. With the help of her wonderful doctors and the power of the mind and spirit, Strassman continues to live a long and productive life toward recovery.
Her honest, funny and courageous account of facing down the disease is both inspiring and entertaining. Anyone who has gone through, is going through, or knows someone going through a similar experience will love her message of hope, healing and humor.
Cancer is Not the "C Word" Anymore
There have been so many changes in the way cancer is treated, from medical options to alternative choices, that if the patient takes control of their own disease, the possibilities change from "why me" to "what can be."
Staying "You," Not Letting Cancer Define You
Many times, when a woman or man gets their diagnosis, they feel like they cease being themselves, and become "cancer patients." It is important to retain your dignity and sense of self, and to not let "cancer" become your middle name as you fight to win your battle against this disease.
Breast Cancer & Your Bones
This presentation deals with how important it is to talk to your doctor about bone medication when given a breast cancer diagnosis. If a woman gets breast cancer and it spreads, in 65-75% of cases it will go to the bones first, so when you first get a breast cancer diagnosis it is critically important to be put on bone medication immediately. This subject also involves taking care of your teeth as well.
The Healing Power of Friends
When you receive a cancer diagnosis, the best way to heal is to have a close circle of friends. You will be able to lean on them when you need to and laugh with them when you want to laugh.
How to Dress Black Tie Wearing a Sports Bra
Many women, after a lumpectomy or mastectomy, have many months where they are either in bandages or a sports bra, or losing her hair until they have healed enough to progress to the next stage of their treatment. Women need to know that during this defining time in their recovery that you can still go out, still be yourself, and still be beautiful! Strassman shares the tricks and lessons she has learned on how how to feel feminine while undergoing cancer treatment.
The Doctor Checklist
While undergoing cancer treatment, Strassman at first got used to being told what she could and could not say, and now feels liberated to say what she wants and how she feels. When evaluating a doctor, Strassman provides this checklist: Are they actually listening to you? Do they look you in the eye and make a connection with you? Do they encourage you to ask questions? Are they willing to show you your test results and discuss the results with you, until you're fully satisfied that you understand their meaning? Are you allowed to tape record your visit if you choose? Do they ask if you are interested in alternative therapies to complement your medical protocol? Do they offer other sources of education and support? Are they open and willing to to review new information that you bring them? Do they educate you on new medical trials or therapies? Do you feel that they are acting as your partner in your treatment and disease?
As time goes on and the shock of hearing your diagnosis wears off, and you start the day-to-day business of managing and living with your disease, if you feel that you've have chosen the wrong doctor, do not be afraid to audition new doctors. You may have an entirely new perspective later in your treatment than you did at the beginning and may need something more/new/different from your doctor.
Related Speakers View all
---
Shannon Miller

Olympic Gold Medalist, Health Advocate & Cancer Surv...

Amanda Russell

Digital Marketing & Branding Strategist, Professor ...

Marci Shimoff

Co-Author of "Chicken Soup for the Woman's Soul"

Mary LoVerde

International Work-Life Balance Expert

Shannon Fox

Shannon Fox is a successful licensed psychotherapist...

Christine Cashen

Hall of Fame Motivational Speaker; Author of "The Go...

Ariane de Bonvoisin

Founder and CEO of First30Days.com & Author, "The Fi...

Sierra Bender

Empowerment Coach and Visionary Healer for the Mind,...

Celeste Goodwin

Christian Presenter on Faith and Spirituality, Autho...

Loretta LaRoche

Author, Humorist, Stress Expert & TV Personality

Lisa Oz

Best-Selling Author, Producer, Host & Entrepreneur

Hoda Kotb

Broadcast Journalist, Television Personality, Author...

Dr. Judith Wright

Inspirational Speaker, Trainer, Life Coach & Best-Se...

Dr. Joyce E. Scott

Dr. Scott is a great motivational speaker, taking ca...

Cheryl Richardson

Personal Transformation Expert & Bestselling Author ...

Eileen McDargh, CSP, CPAE

Healthcare Consultant & Author of "The Resilent Spirit"

Juliet Funt

Founder, Owner & CEO of WhiteSpace at Work

Mimi Donaldson

Speech Coach & Author of "Negotiating for Dummies" a...

Linda Armstrong Kelly

Single Mother of Lance Armstrong; Philanthropist & A...

Deborah Norville

Two-Time Emmy Award-Winning Journalist; Anchor of "I...
More like Marcia