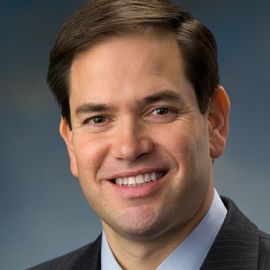 Marco Antonio Rubio is the senior United States Senator from Florida. A member of the Republican Party, he previously served as Speaker of the Florida House of Representatives (2007-2009).
Born to a family of Cuban exiles, Rubio was raised in Miami, Florida and Las Vegas, Nevada. He attended Tarkio College and Santa Fe College before graduating from the University of Florida. He earned his law degree from the University of Miami School of Law in 1996 while interning for U.S. Representative Ileana Ros-Lehtinen. In the late 1990s he served as a City Commissioner for West Miami. Rubio was elected to the Florida House of Representatives in 2000, representing the 111th House district. He was elected Speaker in November 2006.
Rubio announced a run for U.S. Senate in May 2009 after incumbent Republican Mel Martinez resigned. Initially trailing by double-digits against the incumbent Republican Governor Charlie Crist, Rubio eventually surpassed him in polling for the Republican nomination. Rubio won the Republican nomination after Crist opted instead for an independent run. In a three-way split against Crist and Democratic candidate Kendrick Meek, Rubio won the general election in November 2010 by a 19-point margin.
In April 2015, Rubio announced that he would not seek re-election to the Senate, instead choosing to run for president. He suspended his campaign for president on March 15, 2016, after losing the Florida Republican primary to the eventual winner of the presidential election, Donald Trump. On June 22, 2016, Rubio decided to run for re-election to the Senate, winning win a second term later that year.
Books
---
Related Speakers View all
---
Mitt Romney

Former Governor of Massachusetts, 2012 Republican Pr...

Bobby Jindal

Governor of Louisiana & the Vice Chairman of the Rep...

Bernie Sanders

U.S. Senator, Vermont; Longest Serving Independent M...

Mike Huckabee

Politician, Former Governor of Arkansas & Host of TB...

Frank Luntz

Political Pollster & Communication Expert

Dick Armey

Former House Majority Leader, Economist

Candace Owens

Political Activist, Conservative Commentator & Found...

Steve Largent

Retired American Football Player & Former Member of ...

John Kasich

Former Governor of Ohio

Ian Bremmer

Political Scientist, Author, Entrepreneur & Lecturer

Stephen Coleman

Stephen Coleman studies applied ethics, particularly...

Ted Cruz

34th U.S. Senator from Texas

Congressman Ron Paul

United States Congressman from Lake Jackson, Texas, ...

Bill McInturff

Partner and co-founder of Public Opinion Strategies

Kevin McCarthy

Majority Whip of the United States House of Represen...

Eric Cantor

Vice Chair & Managing Director of Moelis & Company; ...

Matt Kibbe

President and CEO FreedomWorks Foundation

David Addington

David Addington, a controversial former aide to Vice...

Mitch McConnell

Senior United States Senator from Kentucky.

Tim Pawlenty

Former Governor of Minnesota; Former Republican Pres...
More like Marco