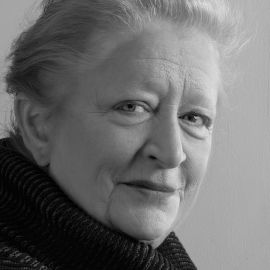 Margaret Heffernan
CEO, Entrepreneur, Columnist & Author of "A Bigger Prize: How We Can Do Better than the Competition"
Dr. Margaret Heffernan produced programmes for the BBC for 13 years. She then moved to the US where she spearheaded multimedia productions for Intuit, The Learning Company and Standard&Poors. She was Chief Executive of InfoMation Corporation, ZineZone Corporation and then iCast Corporation, was named one of the "Top 25" by Streaming Media magazine and one of the "Top 100 Media Executives" by The Hollywood Reporter.
The author of six books, Margaret's third book, Willful Blindness : Why We Ignore the Obvious at our Peril was named one of the most important business books of the decade by the Financial Times. In 2015, she was awarded the Transmission Prize for A Bigger Prize: Why Competition isn't Everything and How We Do Better, described as "meticulously researched…engagingly written…universally relevant and hard to fault." Her TED talks have been seen by over nine million people and in 2015 TED published Beyond Measure: The Big Impact of Small Changes. Her most recent book, Uncharted: How to map the future will be published in 2020. She is a Professor of Practice at the University of Bath, Lead Faculty for the Forward Institute's Responsible Leadership Programme and, through Merryck & Co., mentors CEOs and senior executives of major global organizations. She holds an honorary doctorate from the University of Bath and continues to write for the Financial Times and the Huffington Post.
Videos
---
Speech Topics
---
WILFUL BLINDNESS
The biggest mistakes we make in life and work aren't caused by total unknowns but by information we could have and should have but somehow manage not to have. The law calls this willful blindness because we had an opportunity for knowledge which was shirked. Examples are all around us: the banking crash, Deepwater Horizon, VW emissions, Wells Fargo, Boeing.
How does this happen? But there are also examples of willful blindness in which great opportunities for innovation were missed: how did Google miss social networking? Why didn't hotels take Airbnb seriously? Examples abound. So what are the forces at work, in us and in corporate cultures, that allow willful blindness to flourish – and what can we do to minimize it.
Using a wide array of real life examples, Margaret Heffernan dissects the causes of this ubiquitous phenomenon and identifies how we can all see better.
Wilful Blindness: How we ignore the obvious at our peril was shortlisted for the FT Best Business Book award and was described as "one of the most important books of the decade." Dr Heffernan has talked about this work to organizations as diverse as healthcare, financial services, schools, government bodies, pychologists, engineers and designers.
COLLABORATION: A BIGGER PRIZE
Around the world, organizations strive to develop a collaborative workforce. They know that diverse minds, working together, will see more opportunities and identify risk better. But collaboration is difficult. For the most part, we've been brought up to compete with each other – at school, university, for jobs – and great collaboration requires a great deal more than open plan offices. So what are the organizations that do this well and what are the routines and cultures that develop and enhance people who can work together effectively for years on end.
A Bigger Prize won the Transmission Prize in 2015 for the great communication of important ideas. Dr Heffernan has talked about this work to broadcasters, sports teams, large and small corporations, universities and business schools.
It turns out that hiring diverse people is the easy part. Keeping them diverse, creative and engaged is the hard part. In this provocative presentation, Margaret Heffernan outlines the social, neurological and psychological reasons why we so rarely get the best out of the smart people we hire. And she proposes numerous strategies for hiring the best and keeping them that way.
UNCHARTED: How to think about an unpredictable future
We are all brought up to plan: for families, careers, businesses. But planning requires that we can forecast the future – and today that is harder than ever. Experts in prediction argue that the very best they can do is forecast 400 days out. For those less gifted, the horizon is 150 days. Most forecasts are propaganda or wishful thinking. Models fail because they leave out what later matters and history doesn't repeat itself. So what do we do in the light of the fact that we don't know what the future holds?
Companies that don't want to be stuck in incrementalism do experiments, testing what the future could look like. In doing so, they find options and opportunities no amount of planning would surface. Imaginative scenarios of possible futures build a more robust culture and reveal possibilities. Institutions like CERN show how it is possible to run successful organizations even when mired in uncertainty and ambiguity. Artists build work that remains vital and meaningful across generations; we can learn from them. Survivors of existential crisis show the capabilities we must hold in reserve. In an age of uncertainty, preparedness is a more productive mindset than planning.
Uncharted is being published in February 2020 in the UK and September 2020 in the US. Be prepared….
HUMAN WORK
The world is awash with forecasts and predictions about the future of work. They all contradict each other, revealing how much we don't know about what the dynamic workforce of the future will need or look like. But there are fundamental mindsets and attitudes which will make organizations better able to be creative and responsive as the world changes. What does your company need to be trustworthy, relevant and capable of adapting to what cannot yet be seen.
This talk derives from all of Dr Heffernan's major work around collaboration, creativity, curiosity and the need for organizations of all kind to stay connected to the societies they serve.
Related Speakers View all
---
Randi Zuckerberg

CEO & Founder of Zuckerberg Media; Bestselling Autho...

Doug Lipp

Former Head of Training at Walt Disney University & ...

Billie Jean King

Former World #1 Professional Tennis Player & Sports ...

Fran Hauser

Media Executive, Startup Investor & Best-Selling Aut...

Peter Diamandis

Founder & Executive Chairman of the XPRIZE Foundatio...

Sallie Krawcheck

Founder & CEO of Ellevest; Author of "Own It: The Po...

Sheila C. Johnson

Entrepreneur, CEO of Salamander Hotels and Resorts, ...

Kay Koplovitz

Founder of USA Networks & The SyFy Channel; Game Cha...

Daymond John

"Shark Tank" Investor; Founder & CEO of FUBU; Presid...

Erin Gruwell

Founder & Executive Director of the Freedom Writers ...

Oprah Winfrey

CEO of Oprah Winfrey Network, Presidential Medal of ...

Sarah Ferguson

Duchess of York, Philanthropist, Author and Advocate

Kristie Kennedy

Women's Worth & Wellness Expert, TEDx Audacious Lead...

Pam Warhurst

Pam Warhurst cofounded Incredible Edible, an initiat...

Tania Luna

Leadership Trainer, Researcher, Author & Co-founder ...

Nancy T. Nguyen

Hit-and-Run Survivor; Crowned 2011 Miss Corporate Am...

Lynda Weinman

Co-founder, Lynda.com

Anna Maria Chávez

EVP & Chief Growth Officer of the National Council o...

Carla Harris

Vice Chairman, Managing Director and Senior Client A...

Nicole Yeary

Founder & CEO of Ms.Tech, A Company That Aims to Sup...
More like Margaret