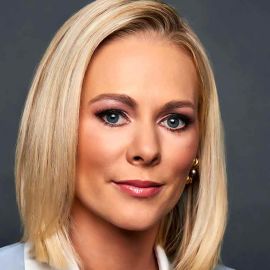 Margaret Hoover
Conservative Political Commentator, Political Strategist, Feminist, Gay Rights Activist & Author; Host of PBS's "Firing Line"
Margaret Hoover is an American conservative political commentator, political strategist, media personality, feminist, gay rights activist, author, and great-granddaughter of Herbert Hoover, the 31st U.S. President. She is the best-selling author of the book American Individualism: How A New Generation of Conservatives Can Save the Republican Party, published by Crown Forum in July 2011. In 2018, Hoover became the host of PBS's reboot of the longest-running public affairs show in television history, Firing Line.
Hoover also served as the White House Associate Director of Intergovernmental Affairs under President George W. Bush and as the deputy finance director for Rudy Giuliani's Presidential exploratory committee.
Using her political platform, Hoover has become an influential advocate for gay rights. In January 2011, she testified before the Maryland Senate on behalf of gay marriage and later, took an active role in the 2012 battle to win gay marriage in New York. She has served on the Advisory Board for the American Foundation for Equal Rights, and is co-chair and founder of the group Young Conservatives for the Freedom to Marry. In 2013 Hoover was a signatory to an amicus curiae brief submitted to the Supreme Court in support of same-sex marriage in Hollingsworth v. Perry.
Speech Topics
---
Herbert Hoover: The Dynamic Legacy of a True Humanitarian
American Individualism: How a New Generation of Conservatives Can Save the Republican Party
Related Speakers View all
---
Ann Coulter

Bestselling Author & Political Commentator

Katie Pavlich

Conservative Commentator, Author & Journalist

Candace Owens

Political Activist, Conservative Commentator & Found...

Dana Loesch

Conservative Talk Radio Host, Former NRA Spokesperson

Laura Ingraham

Political Commentator, Television Host & Journalist

James O'Keefe

Guerilla Journalist, Conservative Political Activist...

Katty Kay

Lead Anchor for BBC World News & Best-Selling Author

Shannon Bream

Journalist, Host of Fox News at Night & Author

Jeanine Pirro

Lawyer, Prosecutor & Politician; Host of "Justice wi...

Grover Norquist

Founder & President of Americans for Tax Reform, Aut...

Lawrence B. Jones III

Conservative Commentator and Editor-in-Chief, Campus...

Guy Benson

Political Editor of Townhall.com & Fox News Contributor

Anna Escobedo Cabral

Former Treasurer of the United States & Partner at T...

Steven Crowder

Conservative Commentator, Comedian & Former Fox News...

Meghan McCain

Co-Host of "The View," Political Columnist, Author &...

Mike Huckabee

Politician, Former Governor of Arkansas & Host of TB...

Ben Shapiro

Conservative Political Commentator & Radio Talk Show...

Gloria Borger

Award-Winning Chief Political Analyst & Columnist

Tammy Bruce

Political Commentator, Talk Radio Show Host & Author

Michelle Malkin

Award-Winning Conservative Columnist & Best-Selling ...
More like Margaret