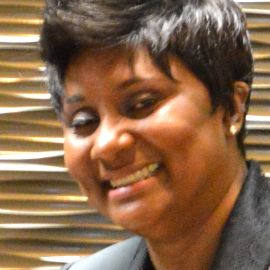 Margo Hickman is one of the most anointed Comediennes in the gospel entertainment industry. She has committed her life to encouraging others through the gift of laughter. Margo has over thirty years of theater experience and is currently a secondary Theater Teacher. She is also a Minister, Actress, Life Coach, Theater Director and Motivational Speaker.
Margo has a Bachelor of Science degree in Biblical Counseling and a Masters of Art in Theater Education. Margo has produced three comedy dvd's "God's Gotcha", "Anointed and Appointed" and "Saved Sanctified Super Sistah!". She has produced and directed numerous theatrical productions.
Margo is also very proud of her accomplishments as a Wife and Mother. She is married to Senior Accountant Theo Hickman and has four amazing children and one extremely handsome grandson.
Margo uses real life issues to bring her audiences to tears of laughter. Margo stands firmly on the scripture "The joy of the Lord is my strength". She knows it was his strength that helped her to defeat depression and conquer thoughts of suicide at a young age. And she now uses that testimony to pull others out of darkness into the light of joy and peace!!
                                             Margo Hickman   

Videos
---
Speech Topics
---
Family - "The empty nest"
The greatest legacy is your family but it can also be your greatest challenge. Allow me to share my testimony of raising four children, three who are seven years apart to love God, themselves and each other.
Woman Power - Embracing love for yourself
Women play so many roles and are required to be everything to everybody. Often times we can't find a moment to ourselves. But, through laughter and tears we will discover your "Woman Power"
Education in America - The impact of standardized testing
I am a secondary educator and my greatest concern is the impact standardized tests have on our children. What benefits do these tests have on their self-esteem, future goals and academics? Lets discuss this controversial topic.
Marriage - "What's love got to do with it?"
How do we keep the fire burning? When we are surrounded by so many distractions (children, work, bills, etc.)
Self esteem - Building a better you
It is amazing how many people from different walks of life, economic backgrounds and environments suffer from self-esteem issues. We will address building a better you in a healthy manner; spiritually, financially, socially, emotionally, mentally and physically.
Related Speakers View all
---
Linda Ellerbee

Award-Winning Journalist & Television Producer; Brea...

Alexandra Cousteau

Environmental Activist, Storyteller & Ocean Advocate

Adora Svitak

Author, Speaker, Youth Advocate & Child Welfare Prof...

Naomi Judd

Grammy Winning Singer-Songwriter, New​ ​York​ ​Times...

Catherine Crier

Acclaimed Author, Former Judge, Award-Winning Journa...

Amy Brenneman

Actress, perhaps best known for her roles on "NYPD B...

Bertice Berry

Sociologist, Author and Educator

Linda Armstrong Kelly

Single Mother of Lance Armstrong; Philanthropist & A...

Heidi Heyns

Laugh..It's Just Good For You!

Alexis Jones

Female Empowerment Activist & Author of "I Am That G...

Kristen Hagopian

Personal Finance Author, Popular Columnist, Consumer...

Liz Nead

Executive Business & Life Coach

Shawn Rene Zimmerman

Professional Fitness Model and Celebrity Trainer

Mia Farrow

Acclaimed Actress & Humanitarian Activist

Malaak Compton

Activist & Philanthropist

Laura Stack

Productivity & Time Management Expert

Judy Carter

Master Teacher, Author, and Humorous Speaker

Twyla Tharp

Choreographer & Creativity Cultivator

Ann Jillian

Emmy-Nominated Actress & Work/Life Balance Promoter

Caitlyn Jenner

TV Personality, Olympic Gold Medalist & Iconic Trans...
More like Margo