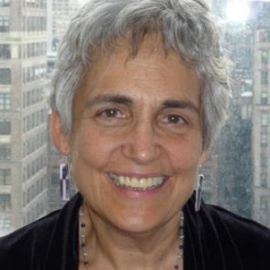 Margot Adler is a NPR correspondent based in NPR's New York Bureau. Her reports can be heard regularly on All Things Considered, Morning Edition and Weekend Edition.
In addition to covering New York City, Adler reports include in-depth features exploring the interface of politics and culture. Most recently she has been reporting on the controversy surrounding the proposed Islamic Cultural Center near Ground Zero. Other recent pieces have focused on the effect of budget cuts on education, flood relief efforts by the Pakistani community in the United States, the military's "Don't Ask Don't Tell" policy, and the battles over the September 11th memorial as well as the continuing human story in New York City in the years since the attacks. Her reporting has included topics such as the death penalty, affirmative action and the culture wars.
Adler did the first American radio interview with J.K. Rowling and has charted the Harry Potter phenomenon ever since. Her reporting ranges across issues including children and technology, the fad of the Percy Jackson books and the popularity of vampires. She occasionally reviews books, covers plays, art exhibitions and auctions, among other reports for NPR's Arts desk.
From 1999-2008, Adler was the host of NPR's Justice Talking, a weekly show exploring constitutional controversies in the nation's courts.
Adler joined the NPR staff as a general assignment reporter in 1979, after spending a year as an NPR freelance reporter covering New York City. In 1980, she documented the confrontation between radicals and the Ku Klux Klan in Greensboro, North Carolina. In 1984, she reported and produced an acclaimed documentary on AIDS counselors in San Francisco. She covered the Winter Olympics in Calgary in 1988 and in Sarajevo in 1984. She has reported on homeless people living in the subways, on the state of the middle class and on the last remaining American hospital for treating leprosy, which was located in Louisiana.
From 1972 to 1990, Adler created and hosted live talk shows on WBAI-FM/New York City. One of those shows, Hour of the Wolf, hosted by Jim Freund, continues as a science fiction show to this day. She is the author of the book, Drawing Down the Moon, a study of contemporary nature religions, and a 1960's memoir, Heretic's Heart. She co-produced an award-winning radio drama, War Day, and is a lecturer and workshop leader. She is currently working on a book on why vampires have such traction in our culture.
With a Bachelor of Arts degree in political science from the University of California, Berkeley, Adler went on to earn a Master of Science degree from the Graduate School of Journalism at Columbia University in New York in 1970. She was a Nieman Fellow at Harvard University in 1982.
The granddaughter of Alfred Adler, the renowned Viennese psychiatrist, Adler was born in Little Rock, Ark., and grew up in New York City. She loves birding and science fiction.
Videos
---
Related Speakers View all
---
Don Gonyea

Don Gonyea, NPR National Political Correspondent, ba...

Jason Beaubien

Jason Beaubien is NPR's Global Health and Developmen...

Korva Coleman

Korva Coleman is a newscaster for NPR.

Cheryl Corley

Based in NPR's Chicago Bureau, Cheryl Corley travels...

Megan Kamerick

Immediate past president, Journalism & Women Symposi...

Herb Greenberg

TheStreet, CNBC

Andrei Codrescu

NPR Commentator, "All Things Considered"

Greg Allen

NPR Correspondent, Miami

Richard Schlesinger

Correspondent for "48 Hours" and contributes to the ...

Amanda Bennett

Executive Editor, Bloomberg News Author, "The Cost o...

Leslie Dodson

Reporter & Videographer Covering International Finan...

Peter Baker

Chief White House Correspondent for The New York Tim...

Sebastian Salazar

Comcast Sports; NBC

Emily Chang

Host of "Bloomberg West"; Author of "Brotopia: Break...

Carla Babb

Carla Babb / International Broadcaster at Voice of A...

Peter Van Sant

Peter Van Sant is an American television news report...

Erin Moriarty

Erin Moriarty has been a correspondent for "48 Hours...

April Fulton

NPR / Editor and Blog Host, Science Desk

Barbara Bradley Hagerty

Religion Correspondent for NPR Who Reports on the In...

Howard Berkes

Howard Berkes has been NPR's rural affairs correspon...
More like Margot