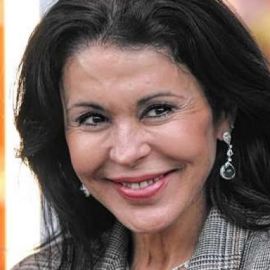 Maria Conchita Alonso, an international star of Cuban and Venezuelan heritage, has contributed greatly to the entertainment industry in the United States as well as in Latin America. Since arriving in the US, Alonso has starred opposite some of Hollywood's most dynamic leading men, including Robin Williams in the acclaimed Moscow on the Hudson, Arnold Schwarzenegger in the futuristic Running Man, and Robert Duvall and Sean Penn in the controversial Colors.
Alonso is also a Grammy-nominated recording artist who made her Broadway debut as "Aurora/Spider Woman" in "Kiss of the Spider Woman." Following Chita Rivera and Vanessa Williams in the coveted role, Alonso contributed an updated vamp quality and became the first Latin American born actress to star on the Broadway stage.
As an activist, she is vocal about the political situation in Venezuela, advocating for youth in the fight for equality, freedom of expression, and affecting change. Previously, Alonso received the Hispanic Woman of the Year Award from the Mexican American Opportunity Foundation for her contribution to both the entertainment industry and to the Hispanic community, and in 1994, she was named Hispanic Entertainer of the Year for the Cinco de Mayo celebration.
Born in Cuba, Alonso was crowned Miss Teenager of the World in 1971 and Miss Venezuela in 1975. Her film career began in Venezuela, where she appeared in four feature films, ten soap operas, and starred in and co-produced her own weekly variety show Picante, all of which have been seen throughout the Spanish-speaking world.
Alonso caught the attention of American audiences, portraying an Italian American in Moscow on the Hudson. Subsequent roles included A Fine Mess, Touch and Go with Michael Keaton, Extreme Prejudice opposite Nick Nolte, Running Man with Schwarzenegger, and Dennis Hopper's Colors, with Duvall and Penn.
Her other film credits include Blood Ties, Vampire's Kiss with Nicolas Cage, Predator II with Danny Glover, McBain with Christopher Walken, House of the Spirits with Glenn Close and Meryl Streep, and Roosters with Edward James Olmos.
Alonso's television success followed her to the US, landing her on the comedy series, One of the Boys. Her other credits include the HBO film Teamster Boss - The Jackie Presser Story, in which she co-starred with Brian Dennehy and Eli Wallach; and the miniseries "Texas," based on the best-selling novel by James Michener.
Alonso has established herself as one of South America's best-selling recording artists. With ten albums to her credit, some recorded in Spanish and others in English, Alonso has been nominated for Grammy Awards for Best Latin Artist for Maria Conchita, which was certified platinum internationally, and Best Latin Pop Performance for the single "Otra Mentira Mas."
Her album, Imaginame, was nominated for a Grammy for Best Latin Pop Album. Her previous four albums, including O Elle O Yo and Hazme Sentir earned gold records. Her voice is also heard singing the theme song for the film Scarface.
She has played Lucía, the mother of Gabrielle Solis, on Desperate Housewives, and appeared in the Latin version of the show as well.
Alonso shot Rob Zombie's The Lords of Salem, released in 2013. In 2015 she appeared in a fantasy short titled The Secret of Joy alongside fellow Venezuelan actor Carlos Antonio León, Spanish actress Laura Bayonas and Brazilian actress Ana Carolina Da Fonseca in a story that aims to bring awareness about pediatric cancer.
She also played Nora Requena in "The Lord of the Skies," an Emmy Award-winning show fictionalizing one of the most infamous drug lords, Amado Carrillo Fuentes.
Videos
---
Speech Topics
---
The Passion & Politics of Venezuela
News
---
Dancing To Her Own Beat
Just two years after immigrating to the United States, Cuban born, and Venezuelan raised, Maria Conchita Alonso, made her Hollywood film debut in 1984's ...