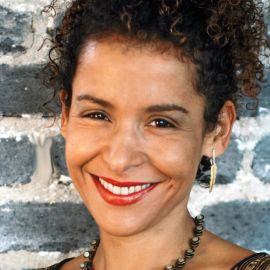 On January 23, 2002, Mariane Pearl's world changed forever when her husband Wall Street Journal reporter Daniel Pearl left for a meeting in Pakistan and never returned. An event that shocked the world, Islamic extremists killed Pearl and left a five-month-pregnant Mariane to stand alone in the face of death.
Her story once again stirs our national consciousness with the release of the film A Mighty Heart, starring Angelina Jolie as Mariane. A harrowing, but inspiring account of her struggle with overwhelming tragedy and her refusal to give in to prejudice, A Mighty Heart traces Mariane's journey from the initial shock of her loss, through the intense effort to find Daniel, to her life after him. Woven throughout is her courageous desire to rise above the bitterness and hatred to keep her husband's spirit alive.
Choosing to live a full life with her son, Mariane is determined not to be broken. Intelligent and articulate, she reveals the resilient spirit that has guided her through her darkest days. Although she firmly believes in pursuing justice, she displays a unique strength as she continues living and valuing life, something her husband would have wanted her to do. With a vision that transcends religion, race, and nationality, Mariane is a living example that hope always wins out over despair.
Speech Topics
---
A Mighty Heart: The Brave Life and Death of My Husband Danny Pearl
Fighting Violence: Open Up a Dialogue
Related Speakers View all
---
Asra Nomani

Journalist & Author, Women's Rights Activist

Roya Hakakian

Iranian Poet, Journalist & Author

Sonia Nazario

Pulitzer Prize-Winning Author & Journalist; Author o...

Sheryl WuDunn

Pulitzer Prize-Winning Journalist; Co-author of Half...

Nicholas Kristof

Pulitzer Prize-Winning New York Times Columnist & Po...

Rami George Khouri

Executive Editor of Lebanese Newspaper, The Daily Star

Donna Brazile

Veteran Political Strategist, Bestselling Author, Fo...

Charlayne Hunter-Gault

Award-Winning Journalist

Anne-Marie Slaughter

Foreign Policy Expert, Author & CEO, New America Fou...

John Zogby

Trendspotter & Leading Pollster

Susan L. Taylor

Founder & CEO, National CARES Mentoring Movement & E...

Erin Gruwell

Founder & Executive Director of the Freedom Writers ...

Alexandra Cousteau

Environmental Activist, Storyteller & Ocean Advocate

Immaculee Ilibagiza

Author, "Left to Tell: Discovering God Amidst the Rw...

Robin Wright

Award-Winning Journalist & Author

Victoria Rowell

Classically Trained Dancer, Actress on "The Cosby Sh...

Parag Khanna

Leading Geo-Strategist & Author

Chris Hedges

Foreign Correspondent & Author

Dr. Samantha Nutt

Founder & Executive Director of War Child North America

Juan Williams

New York Times Best-Selling Author, Fox News Politic...
More like Mariane