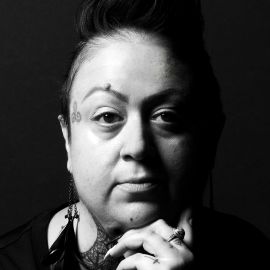 Mariangela Abeo
TEDx Speaker, Mental Health Advocate, Survivor, Creator & Photographer of Faces of Fortitude
Mariangela Abeo (they/them) is a Mental Health Advocate, Speaker, Podcast host, Producer andPhotographer + Creator of the Faces of Fortitude movement, which began as a series ofportraits documenting the healing for those affected by suicide - providing a safe, stigma-freespace both virtually and in person for mental health and suicide to be discussed. After losingtheir brother over a decade ago to suicide, and surviving their own severe attempt as a teen,Mariangela started this movement initially for their own healing. The portraits caught fire onlineand they quickly saw a need for others to have a safe space to share their stories. They nowtravel the country to capture portraits of those affected by the epidemic in any way (be it loss,attempt or first responders) as a step towards their healing, and to educate people as both amental health advocate + suicide loss and attempt survivor.
In September 2019 Mariangela delivered an emotional and poignant TEDx speech entitled"Celebrate the Survivor: Creating a Safe Space around Suicide", in Ohio and her secondTEDx has been confirmed for April 2021 at the acclaimed Ivy League - Dartmouth College. Theycurrently present Keynote and Signature Talks about a range of topics within the suicide andmental health arena, such as Safe Spaces for Celebrating Survivors, Words Policingaround Trauma in Society, How Post Traumatic Growth Can Help You Find your Purpose,and The Power of Grass Roots Cross Narration, with accompanying pop-up image galleries.
In almost 3 years Mariangela's project has grown exponentially, and is now considered by manyin the mental health field, as an essential healing space for anyone who has experienced thetrauma of suicide. They single handedly manage all the projects under the Faces of Fortitudeumbrella; the portrait work, traveling interactive photography exhibits, and in the wake ofCOVID19 a podcast entitled Face to Faces - A conversation series that provides a platformfocusing on the LGBTQ+ & POC communities and their allies, in the areas of activism, politics,mental health, arts & entertainment and community - discussing the human experience in ourever changing world. Faces of Fortitude has a rapidly growing social media fan base, followersand fans growing into an organic community of people creating safe spaces for each otheracross the world. In their spare time, M lives in the heart of the city in Seattle, Washington and isworking on a first edition fine art book with poetry about depression and photographer's notesas well as a memoir entitled The House of M.
Videos
---
Related Speakers View all
---
Andrea Paquette

Mental Health Advocate, Founder & President of the S...

Kevin Hines

Brain Health Advocate & Storyteller

Lindsey Boggs

Mental Health & Suicide Prevention Advocate

Amanda Southworth

Suicide Survivor, iOS Developer, Mental Health & Hum...

Joshua Rivedal

Suicide Prevention Speaker

Kevin Briggs

Golden Gate Guardian, International Crisis Managemen...

Andrew O'Brien

Suicide Survivor & Preventer, Army Veteran, Founder ...

Kati Morton

Mental Health Activist, Marriage & Family Therapist

Jonathan Alpeyrie

War Photographer; Held Captive by Syrian Rebels for ...

Zak Williams

Global Mental Health Advocate; Son of Legendary Come...

Resmaa Menakem

Healer, New York Times Best-Selling Author, Trauma S...

Klas Bergling

Founder, Tim Bergling Foundation & Father of Avicii

Cory Richards

Explorer, Visual Storyteller & Mental Health Advocate

Jasmine Star

Marketing Specialist, Photographer

Hannah Lucas

Mobile App Developer of NotOK; Youth Mental Health A...

Martina McCullough

PTSD Advocate & Founder of the "Don't ask. Don't sen...

Niall Breslin

Mental Health Advocate and Host of Award Winning Pod...

Tom Voss

U.S. Army Combat Veteran, Mental Health & Holistic H...

Jessica Chou

Freelance Producer & Photographer

Petra Collins

Artist, Photographer & Generation Z Influencer
More like Mariangela