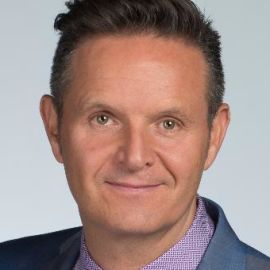 The genius behind the wildly popular Survivor and Apprentice series and the driving force behind reality television Mark Burnett is the hottest producer in Hollywood. His well-known history of producing Emmy-nominated adventure television in international locations led CBS chief Les Moonves in 2004 to dub him the most important producer in television. Burnetts entrepreneurial spirit has helped pioneer the success of the reality unscripted drama series and bring it to mainstream audiences worldwide.
Burnett began his career in unscripted drama by creating the adventure series and two-time Emmy Award-winning Eco-Challenge. In 2000, Burnett broke into primetime network television with the hit reality series, Survivor. Its debut season won two primetime Emmys, and the series continues airing its 16th season this summer to perennially earn multiple Emmy nominations. The Apprentice with Donald Trump was Burnetts next breakout hit, premiering on NBC; it quickly became the top rated new series of the season. The Celebrity version of Apprentice is currently airing on NBC. In addition to the success of The Apprentice and Survivor, Burnett pulled in another ratings phenomenon with the hit game show Are You Smarter than a 5th Grader, which is currently being produced in 48 countries.
What most people do not know is that Burnett has his own survival story to tell, and it is every bit as riveting as the show. As recently as the 1990s, he was selling T-shirts on the beach in southern California. But, through a combination of inspiration, determination and sheer nerve, he transformed his life, went on to produce an Emmy-winning extreme sports program, and of course, created the most popular series on the air today.
A former paratrooper and open-water certified SCUBA diver, Burnett has used his life of daring experiences as a jumping-off point for leading others to chase their dreams and ignore their fears. He reveals the stories behind Survivor, the challenges of producing unscripted drama, and how to achieve business and personal success by embracing risk and leading with compassion.
His latest project, Stars Earn Stripes, will premiere August 13th on NBC. The show features eight celebrities challenged to execute complex and authentic military missions for a cash prize on behalf of a military, veterans or first-responder charity. Another recent project, NBCs My Dad is Better Than Your Dad, is an American Gladiators style father-child competition which debuted to an astounding 10 million viewers in its premier episode. Other projects include NBCs Amne$ia starring comedian Dennis Miller, CBSs Jingles, and the newly formed Mark Burnett Productions Asia, a joint venture with Genting International to both adapt and create new content for the Asian market Burnetts other executive producing credits include Martha Stewarts Emmy Award-winning syndicated show, Martha, which was recently renewed for a fourth straight season; The Contender, which aired on NBC in 2005 and continued its second and third seasons on ESPN in 2006 and 2007. In the summer of 2007, Burnett executive produced the MTV Movie Awards, vastly improving ratings over previous years. Additional reality projects include Boarding House: North Shore, The Restaurant, Combat Missions, The Casino, Pirate Master and his joint venture with Steven Spielberg and DreamWorks Television, On the Lot.
Burnett has received the Peoples Choice Award for an unprecedented four years in a row for Survivor in the Favorite Reality Based Television Program category. He was featured in Entertainment Weeklys Top 101 Most Powerful People in Entertainment and TIME Magazines Top 100 List of most influential people in the world today. Burnett also held the number one position on TV Guides Most Valuable Players list, was named to Advertising Ages Top 100, received the Brandon Tartikoff Legacy Award, and was named Philanthropist of the Year by Reality Cares Foundation. For Survivor, he received a Special Recognition Award from The Gay and Lesbian Alliance Against Defamation. In 2007 he was inducted into the Broadcasting and Cable Hall of Fame.
In addition to his producing credits, Burnett has authored four books; has served two elected terms on the Board of Directors of the British Academy of Film and Television Arts in Los Angeles and is a member of the National Academy of Television Arts and Sciences. He also serves on the Board of Directors of the Elizabeth Glazer Pediatric AIDS Foundation and is a major contributor to Operation Smile.
Videos
---
Books
---
Related Speakers View all
---
Mark Cuban

Serial Entrepreneur, Investor & Owner of the Dallas ...

Robert Cialdini

New York Times Best-Selling Author & The Foundationa...

Shawn Achor

Harvard Professor, Researcher, Positive Psychology E...

Guy Kawasaki

Chief Evangelist of Canva & Executive Fellow of the ...

Mitch Lowe

Former Co-founding Executive of Netflix; Former Pres...

Ben Silverman

Ben Silverman, the Emmy and Golden Globe Award-winni...

Anne Sweeney

Member of the Board of Directors for Netflix, Former...

Reid Hoffman

Co-Founder & Former Executive Chairman of LinkedIn; ...

Clay Shirky

Expert on New Technology & Social Media, & How They ...

Chris Sacca

Google & Twitter Innovation Guru

Graham Hill

Founder of Life Edited & TreeHugger.com

Simon Sinek

World-Renowned Leadership Expert & Best-Selling Author

Ted Turner

Media Mogul & Philanthropist

Donald Trump

45th President of the United States; Businessman & T...

Calvin Trillin

Author, Columnist, Humorist & Political Satirist

Jeff Taylor

Founder of Monster.com & Eons.com

Biz Stone

Co-Founder of Twitter

Ben Stein

Political Economist, Commentator, Author & Actor

Howard Schultz

Executive Chairman & Former CEO of Starbucks; Former...

Eric Schmidt

Former Executive Chairman at Alphabet Inc. & Former ...
More like Mark