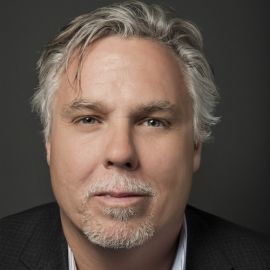 Mark Horvath
Founder and Chief Evangelistic Officer of Invisible People, Do-Gooder and Loud Mouth
Mark Horvath has broken the mold. Hes not doing what makes sense. Hes not doing something that even pays the bills. He is living out his passion and doing what burns deep inside of him. Mark has developed InvisiblePeople.TV to give a face and voice to homelessness, something he knows all too well since he once lived among them. His work is extremely innovative and his ingenious use of social media is a model for both the corporate and not-for-profit worlds.
By 1995, Mark Horvath's L.A. dream life as a successful TV executive had turned sour. He was broke and homeless, living on Hollywood Boulevard. With the help of the Los Angeles Dream Center, Horvath managed to leave the streets, start a flourishing second career and buy his own home. Then the housing crash hit, foreclosure set in, and Horvath again found himself at the end of his rope.
With time on his hands, Horvath hit the streets and began filming the people living there. "It started it off with $45, a camera, a laptop, YouTube and Twitter," he says. The project became InvisiblePeople.tv, a series of simple interviews that serves as a startling snapshot of modern homelessness.
Horvath now splits his time between working as a counselor for Ascencia homeless shelter in Glendale and traveling the world filming for Invisible People.
Along the way, he's been able to use social media to help those in need. In Baton Rouge, his followers pitched in to buy shoes for 50 kids who needed them to get to school. In Arkansas, he helped create a farm that's now feeding 150 people a week.
The Huffington Post named Mark one of 11 Twitter activists you should follow. YouTube gave InvisiblePeople.TV unprecedented exposure allowing Horvath to curate YouTubes homepage for a day. Mark was the first nonprofit to speak at Twitter, Inc. In 2011 Mark was commissioned by Canadian Government to travel to 24 Canadian cities and help champion the Canadian Alliance to End Homelessness.
Speech Topics
---
Changing The World With Just $45, A Laptop, A Camera, And Social Media