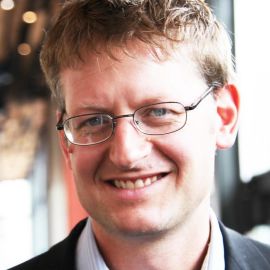 Mark Lynas
Biotechnology and Nuclear Power Researcher and Writer, Visiting Research Associate ; British author, journalist and environmental activist who focuses on climate change
Mark Lynas is the author of several books on the environment, including "High Tide," "Six Degrees," "The God Species," "Nuclear 2.0" and "Seeds of Science." His most recent publication, in April 2018, was 'Seeds of Science: Why we got it so wrong on GMOs'. His book "Six Degrees" won the prestigious Royal Society science books prize in 2008. "Six Degrees" was translated into 22 languages and was also adapted into a documentary broadcast on the National Geographic Channel. He also received the Breakthrough Paradigm Award in 2012.
Lynas was climate change advisor to President Nasheed of the Maldives between 2009 and 2011. He is a visiting fellow with the Cornell Alliance for Science at Cornell University. He has written for numerous publications, including the New York Times, the Washington Post, the Wall Street Journal, the Guardian and CNN.com.
Speech Topics
---
'GMOs Are Green - How an Environmentalist Changed His Mind on Biotechnology'
Related Speakers View all
---
Robert Ballard

Renowned Ocean Explorer & Scientist

Jeremy Rifkin

Leading Global Technologist, Futurist, Authority on ...

Bunker Roy

Founder of Barefoot College

Ray Kurzweil

Chairman of Kurzweil Technologies; Inventor; Futurist

Ian Goldin

Director, Oxford University's 21st Century School, V...

Peter Diamandis

Founder & Executive Chairman of the XPRIZE Foundatio...

Sir Richard Branson

Businessman & Founder of Virgin Group

Avi Rubin

Professor of Computer Science & Technical Director o...

Rick Ridgeway

Environmentalist, Mountaineer, Expedition Author, VP...

Gary Hirshberg

Co-Founder & Chief Organic Optimist of Stonyfield Farm

Dr. Michio Kaku

World-Renowned Futurist & Theoretical Physicist

David Crane

Strategic Advisor Executive at Pegasus Capital Advis...

Daniel Pauly

Daniel Pauly is the principal investigator at the Se...

Alexandra Cousteau

Environmental Activist, Storyteller & Ocean Advocate

Joseph Stiglitz

American Economist, Professor at Columbia Universit...

Martin Eberhard

Founder, Original Chairman and CEO of Tesla

Geoff Colvin

Editor & Columnist at Fortune Magazine; Author of "H...

Jonathan Trent

Former Director of Offshore Membrane Enclosures for ...

Carl Pope

Senior Adviser to UN Envoy for Cities and Climate; F...

Barton Seaver

Celebrity Chef, Author & Sustainable Food Advocate; ...
More like Mark