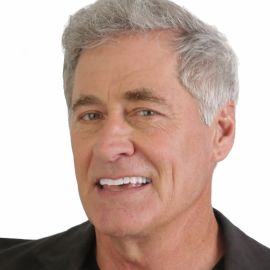 Mark Mayfield
Corporate Motivator & Inductee to the Speaker Hall of Fame
It's pretty simple what Mark Mayfield does: he talks about very serious stuff in a very funny way.
Mark has one of the most diversified backgrounds in the speaking industry having owned and operated several businesses ranging from livestock production to nightclubs to golf instruction, and also spent ten years as a lobbyist in Washington, D.C. and in thirteen state legislatures for a Fortune 500 company. That business experience combined with his work as a nightclub performer allowed him to create truly unique presentations. His tagline is simple: Solid Business Wisdom in a Brilliant Comedic Style. He is one of the rare individuals in the world who is equally adept at performing comedy shows or high content speeches.
He has received rave reviews sharing the stage with a wide variety of celebrities like Paul Newman, Peter Frampton, Colin Powell, and Bob Newhart and has introduced a President of the United States on a live, nationwide television broadcast.
Mark is author of several business books and two joke books. His latest book, Morph: A Guide to Accepting and Managing Change, will be released in 2018. He has spoken to a "Who's Who" list of corporations, conventions, and trade associations over the past four decades. He was raised on a farm, received two degrees magna cum laude from Kansas State University, and taught school before he began his lobbying, business, and speaking career. He has received the CSP designation from the National Speakers Association and been inducted into their Hall of Fame.
He is happily married (although his wife is not) and is the proud father of two daughters. He is also the most annoying Grandpa on the planet.
From comedy shows to seminars, Mark's philosophy is simple...say it with humor and people will take the message home. A national convention planner recently called Mark "one of the very few, really funny, inspiring men in America today." Mark's mom also said that once after a small bribe.
Videos
---
Speech Topics
---
MORPH (Disrupting and Sustaining Innovation)
Disruptive Innovation is implementing new ideas. Sustaining Innovation is making old ones better. Both are change, and both are necessary, for you can easily fail by doing only one. Experience Mark's humorous approach to the very serious subject of innovation. Learn change theory and creative exercises in this upbeat, fast paced program that will leave you laughing and leave you with a skillset to help you Morph through innovation and change.
MOMMA TOLD ME THERE'D BE DAYS LIKE THIS (Stress Management)
Stressed out? Lethargic? Burned out? This program will help you solve those ills by learning five behaviors that will help balance your life and by learning techniques to deal with your biggest stressor…PEOPLE! This keynote is high on content AND hilarity.
PEOPLE POWER
Need more cohesiveness in your team? Want more open communication? Desire better understanding and tolerance among your people? Certified to teach several people assessment programs, Mark has developed his own that has two distinct differences. It's easy to implement…and it's hilarious. No big books to carry around or 47-page questionnaires to fill out. Your people will actually change behavior and will be quoting him long after his program is over. A keynote and/or longer breakout session will have the audience appreciating each other more and working together better. This issue is key on matters like dealing with change, reducing work stress, striving for better customer service, or increasing productivity…just to name a few. Let your people get better at relationships in this very unique, dynamic, interactive, and educational program.
MIRTHMAKING (Humor in the Workplace)
Adding humor (actually mirth) to your work and life can have profound economic benefits as well as just making it more fun. Learn the value of a good sense of humor and how to improve yours in this outrageously funny, yet very practical program.
AG SHIFT: The Changing Face of Agriculture
This program is an entertaining reminder of the continual shift agriculture must make to stay competitive and vibrant. As sentimentalists, it's sometimes difficult for agriculture to give up on tradition, but not changing is no longer an option. Listen and laugh as Mark takes you through the technology and communication and coalition adaptations to keep agriculture alive and well. Learn how an active minority can prevail over an apathetic majority.
Related Speakers View all
---
Steve Gilliland

Renowned Business & Motivational Leader; Award-Winni...

Steve Rizzo

Hall of Fame Motivational Business Expert & Former N...

Amanda Gore

CEO of The Joy Project; Author & Psychologist; Emoti...

Mike Rayburn

Thought Leader, Artist & Entertainer

Pat Williams

Motivational Speaker & Sports Executive; Senior Vice...

Juliet Funt

Founder, Owner & CEO of WhiteSpace at Work

Haydn Shaw

Expert in Generational and Cross-functional Roles, C...

Ross Shafer

Six-Time Emmy Award-Winning Comedian, TV Host & Best...

Scott Friedman

Engagement and Innovation Expert, Motivational Humor...

Mimi Donaldson

Speech Coach & Author of "Negotiating for Dummies" a...

Christine Cashen

Hall of Fame Motivational Speaker; Author of "The Go...

Michael Broome

Motivational Speaker on Balanced Life & Values; Stre...

Dr. Will Miller

Educator, Psychotherapist, Author & Humorist; Author...

Tim Gard

Internationally Recognized Authority on Stress Reduc...

Bill Rancic

"The Apprentice" Winner; Entrepreneur; Star of "Giul...

Joel Zeff

National Speaker and Emcee, Workplace Expert, Author...

Erik Wahl

Internationally Recognized Graffiti Artist, Entrepre...

Howard Putnam

Former CEO of Southwest Airlines

Vince Poscente

Former Olympic Speed Skier, Best-Selling Author, Lea...

Dale Irvin

The World's Only Professional "Summarizer," Humorist...
More like Mark