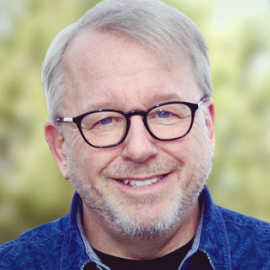 Mark Mittelberg is a bestselling author, international speaker, and leading strategist in evangelism. His published materials include the newly-released Making Your Case for Christ training course, and the devotional The Case for Christ: Daily Moment of Truth, both of which he co-authored with Lee Strobel.
Mark also wrote Confident Faith — the winner of Outreach Magazine's 2014 apologetics book of the year. His previous book, The Reason Why Faith Makes Sense, is an update of a classic that has touched millions of lives, recreated by Mark to help a new generation understand the logic of the gospel. He also wrote The Questions Christians Hope No One Will Ask (with Answers), which addresses the ten spiritual questions believers most want to avoid. Prior to that, Mark collaborated with Strobel to produce The Unexpected Adventure, a story-based book designed to encourage Christians to seize everyday opportunities to talk about Jesus.
Mark is also the primary author of the celebrated Becoming a Contagious Christian training course. This course has been translated into more the twenty languages and has been used to help nearly two million people share Christ in natural ways. He also co-authored the Becoming a Contagious Christian book, followed by his leadership-oriented Becoming a Contagious Church, which sets forth an innovative blueprint for church-based evangelism.
In addition, Mark was contributing editor for the reference Bible, The Journey: Revealing God and How You Fit into His Plan, he was a contributor to Reasons for Faith, and God Is Great, God Is Good, winner of the 2010 Christianity Today award for best book on apologetics. More recently he contributed to Sean McDowell's book, A New Kind of Apologist as well as Sharing the Good News with Mormons. Mark's published pieces have sold a total of over 3,000,000 copies.
Mark was the original evangelism director at Willow Creek Community Church in Chicago. He led in that role for seven years, and then served as Executive Vice President of the Willow Creek Association. He was also an editorial consultant and periodic guest for Lee Strobel's television show, Faith Under Fire. He and Strobel have been ministry partners for more than thirty years.
After receiving an undergraduate degree in business, Mark earned an MA in Philosophy of Religion, graduating magna cum laude from Trinity International University in Deerfield, Illinois. He also received an honorary Doctor of Divinity degree from Southern Evangelical Seminary in Charlotte, North Carolina. Mark and his wife Heidi live near Denver, Colorado, and are the parents of Emma Jean and Matthew, both of whom are serving in full-time ministry roles.
Related Speakers View all
---
Clayton King

Pastor, Founder & President of Clayton King Ministries

Lisa Whelchel

Author, Founder of Momtime Ministries & Actress Know...

Steve Arterburn

Founder & Chairman of New Life Ministries, Host of "...

Josh McDowell

Christian Apologist, Evangelist & Best-Selling Author

Ketric Newell

Crosspoint.tv Youth Pastor & Speaker

David Nasser

Pastor, Speaker & Author; SVP for Spiritual Developm...

Os Guinness

Author & Social Critic

Michael Franzese

Former Mob Boss & Mafia Leader; Born-Again Christian

Kirk Cameron

Actor Best Known for "Growing Pains," "Left Behind" ...

Mark Batterson

Best-Selling Author, Lead Pastor & Church Innovator

Shane Claiborne

Founding Partner of The Simple Way, Author of " The ...

Dr. Gary Chapman

Pastor, Speaker & Author of "The 5 Love Languages"

Pam Tebow

Mother of Tim Tebow, Faith-Based & Pro-Life Speaker

Eric Bryant

Author & Church Leader

Lisa Harper

Storyteller & Theological Scholar; Bestselling Author

Marc Mero

Former WCW and WWE Wrestling Champion

Sheila Walsh

Author, Speaker, Worship Leader, Television Talk Sho...

William Paul Young

Christian Author of "The Shack"

Pam Davis

Ministry Founder, Author, Speaker, Model

Shelene Bryan

Executive Producer, Speaker, and Founder of Skip1.org
More like Mark