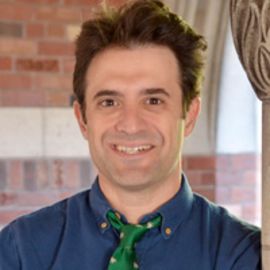 Mark Oppenheimer
Religion Journalist for The New York Times & Parenting Columnist
Mark Oppenheimer may hold a Ph.D. in religion from Yale, and has taught at Yale, Stanford and NYU, but he is most proud to be the only writer ever to contribute to both The Christian Century magazine and Playboy. Oppenheimer has always been interested in the wilder side of religion in America. In his beloved "Beliefs" column for The New York Times, on NPR, at the Aspen Ideas Festival and in major magazines, Oppenheimer brings to millions of readers unusual reports from the worlds of Shakers and Scientologists, Mormons and Muslims, and beyond.
As a journalist, public speaker and humorist, Oppenheimer is broadly interested in everything that promotes community, including religion but also walkable, close-knit neighborhoods and intact, resilient families, even those that take non-traditional forms. He considers his three great roles in life to be religion writer, neighborhood dweller and dad — all of which give him unending topics to write about, and a never-ending stream of stories to laugh about.
Oppenheimer is the author of two cutting-edge studies of religion and popular culture. The first, Knocking on Heaven's Door, describes how the tumult of the 1960s affected Protestants, Catholics and Jews in America. The second, Thirteen and a Day, tells the story of Oppenheimer's cross-country trip in search of unique bar and bat mitzvahs, from the Ozark Mountains to rural Louisiana to Alaska. His essay "40 Thoughts on a Fourth Daughter" won an honorable mention from Best American Essays 2014, and his parenting column, "Fatherland," appears monthly in The New Republic. In his column, he has discussed such issues as how much television children should watch and the crazy fights over immunizing children.
Oppenheimer is deeply interested in how religious rituals help form and promote close-knit communities. He has written about how to overcome the intimidation factor when learning to pray for the first time, and about how weekly church or synagogue attendance can be fun for families. Even while writing for national magazines and working on his fourth book, Oppenheimer takes the time to investigate how people make tough choices — whether adults working in business, medicine, or other professions, or young people from their teen years to their thirties. He has delivered his humorous, accessible, intellectual speeches at colleges, high schools, churches, synagogues and civic group meetings across the country.
Speech Topics
---
The Bar Mitzvah Crasher
In 2002-2003, Oppenheimer roamed the country, from Arkansas to Alaska, from Boston to the Louisiana Bayou, to explore how American Jews celebrate the bar and bat mitzvah today. Out of these travels emerged his classic book, Thirteen and a Day: The Bar and Bat Mitzvah Across America. In this talk, Oppenheimer shares some classic stories of sneaking in, getting free drinks on the house, and, in a moving twist, seeing his relatives' tombstones in a Louisiana graveyard. But he also draws lessons about coming-of-age transitions, lessons that apply to Christians, Jews and other believers and non-believers alike.
American Religion Today (aka "They Believe What?")
Did you hear the one about the conservative Catholic who realized she was a lesbian so decided to remain unmarried and celibate forever? The Orthodox Jewish coffee obsessive who travels the country figuring out what is, and isn't kosher in Starbucks coffee shops? The acting teacher who turned dozens of Hollywood actors into Scientologists? The atheist philosopher who was brainwashed by evangelical Christians as he began to lose his faculties, then wrote a book about his newfound belief in God? The elderly Zen priest who seduced female students for forty years, driving some of them insane in the process? In this speech, Oppenheimer talks about the best – and worst – of the stories he has covered in nearly 20 years on the religion beat. And he draws lessons about how a little prudence, and a sense of humor, can help bring out the best in religion, and avoid the worst.
The Unbelievers
We are currently experiencing a great renewal of open, active atheism. Dozens of colleges have student groups for atheists; airport bookstores are stocked with best-sellers by atheists like Richard Dawkins and Sam Harris; and a couple members of Congress now identify as non-believers. At the same time, in polls, a majority of Americans still say they'd rather not vote for an atheist candidate for president. Writing for the Times and elsewhere, Oppenheimer has been one of the leading journalists on the atheism beat, exploring both the positive side of this phenomenon and, in some cases, the dark side, as in his major investigation of sexism in the atheist movement. Ultimately, Oppenheimer addresses the major impact atheism will have on America going forward.
Dadhood
In Caribbean Spanish, there is a slang term for a man who has only daughters: chancletero, which refers to a man who wears slippers (nobody is sure how the term came to refer to daughters, but Oppenheimer has some bizarre theories). Having spent nearly eight years working part-time and sharing child-care duties with his wife, Oppenheimer loves to share his stories of stay-at-home parenting, and to talk with PTAs, parenting groups, and education groups about the valuable role that men play in child-rearing. Drawing on stories from his popular "Fatherland" column, and from whatever spill he had to clean up last week, Oppenheimer engages his audience in an honest discussion of the highs, and messy lows, of fatherhood – or what he prefers to call dadhood.
Related Speakers View all
---
Asra Nomani

Journalist & Author, Women's Rights Activist

A.J. Jacobs

Best-Selling Author & "Human Guinea Pig"

Randy Cohen

"The Ethicist"

Robert D. Kaplan

Best-Selling Author & Atlantic Monthly Correspondent

Archbishop Desmond Tutu

Nobel Laureate & Human Rights Activist

Jeffrey Birnbaum

Washington Post Columnist

John Burnham Schwartz

Best-Selling Author, Bicycle Days

Jack Levin

Author, Sociologist & Researcher on Murder, Prejudic...

David Goodman

Investigative Journalist / Author

Thomas Perls

Geriatrician & Researcher in Human Exceptional Long...

Eli Newberger

Pediatrician, Musician, Teacher & Author of "The Men...

Dr. Will Miller

Educator, Psychotherapist, Author & Humorist

Mike Greenberg

Sports Broadcaster; Co-Host of ESPN's "Mike & Mike"

Todd Gitlin

Cultural Critic

Mickey Edwards

Former US Congressman & Harvard Law Professor

David Corn

Veteran Journalist, Political Commentator & Washingt...

Shmuley Boteach

Host of TLC'S Shalom in the Home

Iris Krasnow

Best-Selling Author & Relationship Expert

Patrick Buchanan

Former Communications Assistant for the President, C...

Scott Turow

Attorney & Author
More like Mark