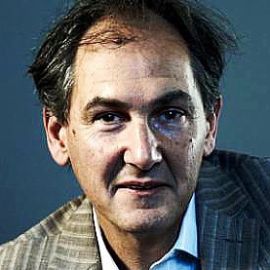 Mark Pagel builds statistical models to examine the evolutionary processes imprinted in human behavior, from genomics to the emergence of complex systems -- to culture. His latest work examines the parallels between linguistic and biological evolution by applying methods of phylogenetics, or the study of evolutionary relatedness among groups, essentially viewing language as a culturally transmitted replicator with many of the same properties we find in genes. He's looking for patterns in the rates of evolution of language elements, and hoping to find the social factors that influence trends of language evolution.
At the University of Reading, Pagel heads the Evolution Laboratory in the biology department, where he explores such questions as, "Why would humans evolve a system of communication that prevents them with communicating with other members of the same species?" He has used statistical methods to reconstruct features of dinosaur genomes, and to infer ancestral features of genes and proteins.
He says: "Just as we have highly conserved genes, we have highly conserved words. Language shows a truly remarkable fidelity."
Related Speakers View all
---
Sonaar Luthra

Sonaar Luthra is the creator of Water Canary, a wate...

Ben Goldacre

Physician; Best-Selling Academic & Science Writer

Bunker Roy

Founder of Barefoot College

Cynthia Kenyon

Molecular Biologist & Biogerontologist; Vice Preside...

Josette Sheeran

President and CEO of the Asia Society; Former Vice C...

Karen Tse

Human Rights Defender & Social Entrepreneur; Founder...

Pavan Sukhdev

President, WWF International; Environmental Economist

Rebecca MacKinnon

Director, Ranking Digital Rights, New America

Elizabeth Murchison

Elizabeth Murchison studies a mysterious (and contag...

Jae Rhim Lee

Artist and TED Fellow Jae Rhim Lee Re-Imagines the R...

Mikko Hypponen

Computer Security Expert & Chief Research Officer fo...

Yang Lan

Co-Founder & Chairperson of the Sun Media Group & Su...

Misha Glenny

Journalist & Broadcaster, Expert on Southeast Europe...

Paul Snelgrove

Paul Snelgrove led the group that pulled together th...

Neil MacGregor

The writer and presenter of the BBC Radio 4 series "...

Allan Jones

As CEO of the Allen Institute for Brain Science, All...

Alison Gopnik

Professor & World Leader in Children's Learning and ...

Danielle de Niese

Her voice described as a sweet gleaming soprano, Dan...

Charles Hazlewood

Charles Hazlewood dusts off and invigorates classica...

Hasan Elahi

When Hasan Elahi's name was added (by mistake) to ...
More like Mark