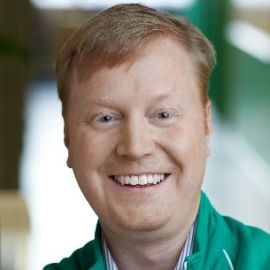 Mark Rickmeier is the Chief Executive Officer at Table XI, a UX research, design, and software development company based in Chicago. Over the past 18 years, he has created more than 100 mobile apps, custom-built web applications, and intuitive user experiences for companies like Tyson Foods, Discover, AccuWeather, and the Field Museum.
He is the founder of Ops-Conf (short for Operations Conference) to bring together a global community of software companies to share insights and swap ideas on how to effectively run a consulting organization.
Rickmeier is the co-founder of the Walkshop- a professional coaching company that promotes employee and team development by crafting programs and immersive experiences out of the office and in nature. The Walkshop reframes the way you think by resetting your environment. The unique approach gives you dedicated time to go off the grid with your peers, get on your feet and active, and tap into your innate creativity.
Rickmeier authored the Sticky Note Game (a process designed to improve employee engagement and career growth) and is the creator of the Inclusion Meeting Cards (a game designed to improve communication and collaboration at work).
He has been quoted in the Wall Street Journal, New York Times, and Fast Company on changes in the software development industry and regularly contributes in Chicago's Forbes Council. Philanthropically, he is the President of the Alliance for Excellence board in Lake Bluff and chairs technology on Ravinia's Associate Board in Highland Park.
Videos
---