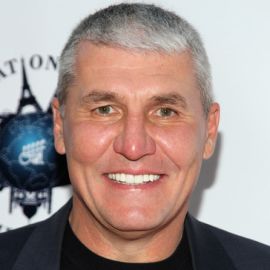 Mark Rypien
Mark Robert Rypien (born October 2, 1962) was a U.S. (Canadian-born) football player. He was the quarterback at Washington State University, then turned pro before graduating.
Mark Rypien was a standout college quarterback at Washington State and a Super Bowl MVP for the Washington Redskins, he was a standout basketball, football and baseball player at Shadle Park High School, where he played against Gonzaga Prep and John Stockton.
''It seemed like I'd always get stuck guarding him," Rypien recalled of his basketball matchups against Stockton. ''And the one thing I remember was how quick he'd release the ball when he shot it. I figured I'd be doing a heck of job shadowing him from backcourt to forecourt and all the way to a position where he was going up for a shot.
''It was like, `Don't worry, I'll be right there with him.' But by the time I jumped in the air, he had already released the ball, and it was over with. It was frustrating. I always thought I did a great job
against him, but then I'd look in the paper in the morning, and he'd have 24 or 26."
Rypien on Stockton: ''I was talking to Michael Jordan about John Stockton, and he said, `You love to play with him, but you absolutely hate to play against him.'
''He said, `That little son of a bitch could set picks with his wiry, bony body that could literally wipe you out.' Which I think is a lot of respect, coming from the greatest player in the world."
''Looking at him in street clothes, you never him feared him. Not for a minute. But when he crossed the line and got on a basketball court, he made you immediate appreciate his competitive desire and love of the game."
Related Speakers View all
---
Earnest Byner

Earnest Alexander Byner is a former American footbal...

Art Monk

James Arthur Monk (born December 5, 1957 in White Pl...

Trent Dilfer

Retired NFL Quarterback & Former Football Analyst fo...

Peter Boulware

Former NFL Linebacker

Lavar Arrington

Former NFL Player for the Washington Redskins; Analy...

Jamal Lewis

Former NFL Running Back

Joe Jacoby

Retired NFL offensive lineman, Washington Redskins

Rod Woodson

Oakland Raiders Cornerbacks Coach; Former NFL Player

Joe Theismann

World Champion Quarterback, Broadcaster & Entrepreneur

Dave Butz

David Butz is a former American Football defensive l...

Jeff Bostic

Jeffrey Lynn Bostic is a former American football of...

Terry Allen

Terry Thomas Allen, Jr. is a former American footbal...

Mike Bordick

Retired Professional Baseball Shortstop; Color Analy...

Ken Houston

Former Free Safety for the Houston Oilers of the NFL

Doug Williams

First African American Quarterback to Ever Play in a...

Sergio Garcia

Professional Golfer, Winner of the 2017 Masters Tour...

Drew Brees

NBC Sports Football Analyst; Retired NFL Quarterback...

Jan Stenerud

Former Football Player for the Kansas City Chiefs, G...

Dan Marino

Pro Football Hall of Famer, Business Owner & Founder...

Charles Mann

Three-Time Superbowl Champion and Successful Busines...
More like Mark