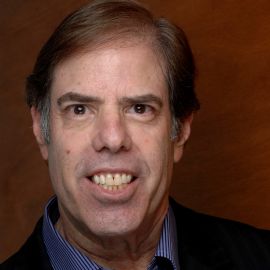 Mark Samuel
Author of "The Accountability Revolution: Achieve Breakthrough Results in Half the Time!"; featured in Fortune Magazine as a top authority on the topic of Accountability
Mark is the founder and president of Impaq, a consulting firm that specializes in implementing accountability-based culture change, accountability-based leadership and self-directed teams. As the nationally acclaimed author of The Accountability Revolution: Achieve Breakthrough Results in Half the Time! , Mark Samuel has been featured in Fortune Magazine as a top authority on "how companies can end blame in the ranks, and create a place where people want to work and get results."
Mark Samuel is now considered one of the nation's foremost experts on Accountability. When CNBC or Bloomberg want to know how accountability can improve a company's bottom line, they turn to Mark. Fortune 500 companies from around the globe and in all industries consider him a practical visionary. For the last 22 years, Mark has helped companies solve the challenges of performance improvement, leadership development, retention, mergers, effectively managed teamwork and culture change.
Mark's personal objective is to carry the message of accountability to create a world where people can count on each other to make a meaningful difference. It's been said that his speeches have a profound and positive effect on the way people function in their work lives and their personal lives.
Mark Samuel also founded the Center for Peaceful Accountability, a non-profit organization dedicated to enhancing effectiveness and quality of life for communities worldwide.
Considered a practical visionary by Fortune 500 companies, Mark Samuel has developed accountability-based performance improvement systems that have contributed to benchmark results and sustainability. Inspirational, thought-provoking and humorous are the words that best describe Mark Samuel's keynote speeches. People not only leave inspired with new ideas about accountability and leadership, they leave energized with practical strategies and tools to take action.
Mark Samuel's newest book, The Power of Personal Accountability
Pay attention to what really matters to you. Find out where you spend your time and energy. Understand what works and what doesn't and then use the simple strategies described in this book to change what doesn't. Built around Mark Samuel's and Sophie Chiche's Personal Accountability Model, the authors share their structured approach, case studies, and exercises in a highly motivating manner. You will learn how to make choices consistent with your desired outcomes.
"The Power of Personal Accountability: Achieve What Matters to You, is an inspirational and practical guide for self-improvement. I recommend it to anyone that wants to become the CEO of their own life."
— Ken Blanchard, co-author of "The One Minute Manager" and "The Leadership Pill"
Suggested Programs 
-Accountability-based Culture Change
-Self-Directed Team Systems
-Accountability-Based Leadership
Videos
---
Related Speakers View all
---
Adrian Gostick

Founder of The Culture Works & Bestselling Author of...

Marcus Buckingham

Peak Performance Expert, Best-Selling Author, Resear...

Patrick Lencioni

Management Consultant; Founder & President of The Ta...

Joseph Grenny

New York Times Bestselling Author; Leading Social Sc...

Chester Elton

#1 Bestselling Business Author, Organizational Cultu...

The Carrot Guys

Sure, they have real names; but they are best known ...

Steven Dewart

Executive Coach and Organizational Consultant

Mike Abrashoff

Former Commander of USS Benfold & Author of "It's Yo...

Dick Ruhe

Leadership, Change, Quality and Team Building Specia...

Paul G. Stoltz

Creator of the Adversity Quotient, Expert Speaker on...

Dr. Kevin Freiberg

World-Wide Best-Selling Author, Speaker & Advisor

Afterburner

US Fighter Pilots & Team-Building Experts

Norm Smallwood

Leadership Expert and Author of Results-Based Leader...

Tim Sanders

Bestselling Author, Technology Pioneer, Expert on Co...

Dr. Jackie Freiberg

Corporate Culture & Leadership Strategist, Best-Sell...

Chip Eichelberger

Peak Performance, Motivation & Sales Strategist

Rolfe Carawan

President of LifeMatters International; Accountabili...

David Allen

Bestselling Author & Founder of The David Allen Company

Ichak Adizes

Corporate Performance Expert & Authority on Managing...

Anthony "AB" Bourke

Former F-16 Fighter Pilot & Founder, Mach 2 Consulti...
More like Mark