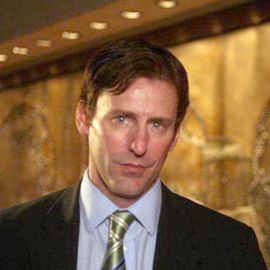 Mark K. Updegrove is an author, historian, and the president and CEO of the LBJ Foundation. He previously served as the inaugural CEO of the National Medal of Honor Museum, to be built along the Charleston harbor in Mt. Pleasant, South Carolina, and as the director of the LBJ Presidential Library in Austin, Texas from 2009 through February 2017.
Updegrove's accomplishments as the LBJ Library director include supervising a $11 million redesign of the library's core exhibits, which resulted in significant increases in the library's visitorship. Additionally, he raised the profile of the library by bringing in speakers such as Mikhail Gorbachev, Sandra Day O'Connor, Eric Holder, Julián Castro, John Glenn, John Lewis, Hank Aaron, Bob Schieffer, Bob Woodward, Carl Bernstein, Cokie Roberts, Robert Gates, Karl Rove, David Axelrod, Bryan Cranston, Woody Harrelson, Rob Reiner, Robert Redford, Sissy Spacek, and Richard Linklater.
In 2016, Updegrove hosted the Vietnam War Summit, a substantive, unvarnished look at the most controversial facet of President Johnson's legacy. Summit speakers included John Kerry, Henry Kissinger, and Ken Burns. Perhaps most notably, in 2014, Updegrove planned the Civil Rights Summit, which included Barack and Michelle Obama, George W. and Laura Bush, Bill Clinton, Jimmy Carter, and a host of civil rights luminaries.
His latest book, The Last Republicans: Inside the Extraordinary Relationship Between George H.W. Bush and George W. Bush, was published by HarperCollins in November 2017. His other works include: Second Acts: Presidential Lives and Legacies After the White House (2006); Baptism by Fire: Eight Presidents Who Took Office During Times of Crisis (2009); Indomitable Will: LBJ in the Presidency (2012); and, Destiny of Democracy: the Civil Rights Summit at the LBJ Presidential Library (2015).
He has written for The New York Times, American Heritage, The Nation, National Geographic, Parade, Politico, Texas Monthly, The Daily Beast, and TIME. And, he currently is an analyst for ABC News on matters relating to the presidency.
Videos
---
Related Speakers View all
---
Anna Deavere Smith

Award-Winning Actress, Playwright, Social Commentator

Samuel W. Mitcham, Jr.

Author & Historian

John Ferling

Historian and Author; Specialized in the American Re...

Mary Stockwell

Author and Historian

Robert Watson

Historian, Author, Professor, Political Commentator,...

Dean King

Award-Winning Best-Selling Author; Motivational & In...

Howard Bahr

Novelist Who Served in the Vietnam War and Writes Ab...

David Marquet

Leadership Expert, Former Submarine Commander & Auth...

Richard Brookhiser

Journalist, Biographer, Historian & Senior Editor at...

Robert Greene

American Author; New York Times bestsellers The 48 L...

David M. Kennedy

Pulitzer Prize-Winning Historian

Dr. Anthony Fauci

Director of the National Institute of Allergy and In...

Brad Meltzer

Host of History Channel's "Lost History" & "Brad Mel...

David McCullough

Historian and Bestselling Author

Sir Richard Branson

Businessman & Founder of Virgin Group

Michael Beschloss

Presidential Historian, New York Times Columnist & B...

Matthew S. Collier

CEO of VetAccel, Inc

Marla Blow

Senior Vice President of Mastercard Center for Inclu...

Michael Auslin

Award-winning Author, Historian & Geopolitical Analyst

Chris Emery

Chief Enterprise Architect at U.S. Securities & Exch...
More like Mark