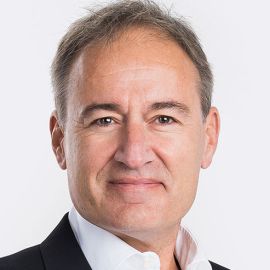 Markus Gross
Director of Disney Research; Professor of Computer Science at the Swiss Federal Institute of Technology Zürich
Markus Gross is Vice President for Global Research and Development and the director of Disney Research.
He is a Professor of Computer Science at the Swiss Federal Institute of Technology Zürich (ETH), where he is also the head of the Computer Graphics Laboratory. He joined the ETH Computer Science faculty in 1994. Gross's research interests include physically based modeling, computer animation, immersive displays, and video technology.
Before joining Disney, Gross was director of the Institute of Computational Sciences at ETH. He received a master of science in electrical and computer engineering and a Ph.D. in computer graphics and image analysis, both from Saarland University in Germany in 1986 and 1989.
Gross serves on the boards of numerous international research institutes, societies, and governmental organizations. He received the Technical Achievement Award from EUROGRAPHICS in 2010 and the Swiss ICT Champions Award in 2011.
He is a fellow of the ACM and of the EUROGRAPHICS Association and a member of the German Academy of Sciences Leopoldina as well as the Berlin-Brandenburg Academy of Sciences and Humanities.
In 2013, he received a Technical Achievement Award from the Academy of Motion Picture Arts and Sciences, the Konrad Zuse Medal of GI and the Karl Heinz Beckurts price.
He cofounded Cyfex AG, Novodex AG, LiberoVision AG, Dybuster AG, Gimalon AG, Kapanu AG, Perceptiko AG and Propulsion Academy AG.
Videos
---
Related Speakers View all
---
Dan Shiebler

Machine Learning Modeling Engineer at Twitter Cortex

Stefan Savage

Professor of Computer Science and Engineering at UC ...

Sam Molyneux

Co-Founder of Meta Inc.

Joseph Redmon

Freelance Programmer, Computer Scientist & Data Anal...

Nate Soares

Executive Director at Machine Intelligence Research ...

Matthew Might

Inaugural Director of the Hugh Kaul Personalized Med...

Danielle Feinberg

Director of Photography at Pixar Animation Studios; ...

Dominic Williams

Founder, President & Chief Scientist of DFINITY; Cry...

Arnav Kapur

AI & Wearable Tech Researcher at MIT Media Lab

Dr. Roman V. Yampolskiy

Professor of Computer Science, Author, AI Safety & C...

Nick Szabo

Computer Scientist, Legal Scholar & Cryptographer

Ewin Tang

PhD Student at the University of Washington

Jennifer Marsman

Principal Software Development Engineer at Microsoft

Dan Gibson

Vice President of DNA Technology

Rohit Prasad

Vice President & Head Scientist for Alexa Machine Le...

KC Claffy

Founder and Director of the Center for Applied Inter...

Max Tegmark

Cosmic Explorer & MIT Professor of Physics

Ofer Levy

Infectious Disease Specialist

Shekinah Elmore

Oncologist; Dedicated to Pursuing Equity & Empathy i...

Nadya Mason

Professor of Condensed Matter Physics at the Univers...
More like Markus