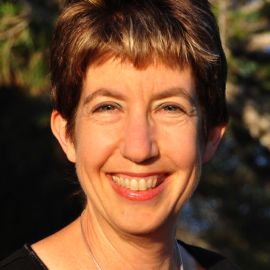 Marlene Zuk studies insect behavior -- and how humans use animal behavior to think about how we behave ourselves.
Marlene Zuk is a biologist and writer who researches animal behavior and evolution, mostly using insects as subjects. Zuk is interested in the ways that people use animal behavior to think about human behavior, and vice versa, as well as in the public's understanding of evolution. She teaches graduate and undergraduate courses in the Department of Ecology, Evolution and Behavior at the University of Minnesota -- including a seminar called "What's the Alternative to Alternative Medicine?"
In addition to publishing numerous scientific articles, Zuk has published four books for a general audience: Sexual Selections: What We Can and Can't Learn About Sex from Animals; Riddled with Life: Friendly Worms, Ladybug Sex, and the Parasites That Make Us Who We Are; Sex on Six Legs: Lessons on Life, Love and Language from the Insect World; and most recently, Paleofantasy: What Evolution Really Tells Us About Sex, Diet and the Way We Live.