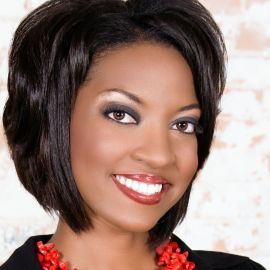 As one of the nation's leading experts on the art of maximizing potential, "reinvention strategist," entrepreneur, and entertainment attorney Marshawn Evans is founder of ME Unlimited, a consulting firm that focuses on reinvention, diversity, women's empowerment, leadership, and peak performance strategies. She is founder of ME University: The Ultimate Business & Branding Bootcamp, the industry's premier summit for equipping entrepreneurs with tools to monetize and maximize their expertise through branding efforts.
Her successes in the classroom and the courtroom took her to the infamous "Boardroom" as one of Donald Trump's handpicked cast members on NBC's hit show The Apprentice. Evans was the only person to lead Trump's all-women team to victory as the project manager for a Lamborghini advertising campaign. She has worked on marketing initiatives for global corporations such as HP, Delta Airlines, Tiffany & Co., Rolls-Royce, Vitamin Water, Gatorade, Kraft, Bally Total Fitness, Dairy Queen, and Best Buy.
Marshawn Evans is the author of the best-selling book Skirts in the Boardroom: A Woman's Survival Guide to Success in Business & Life, published by Wiley. Some of her most popular presentation topics include habitude, expert positioning and personal branding, gender differences in leadership and communication, valuing diversity, and making your mark with executive edge.
Videos
---
Speech Topics
---
Skirts in the Boardroom: A Woman's Survival Guide to Success in Business & Life
Skirts in the Boardroom is designed to equip women with the strategies necessary to combine confidence and compassion, style and substance, and, of course, beauty and brains. A must have for all women looking to maximize their professional potential, Skirts in the Boardroom offers refreshing and inspiring business advice that is savvy, sensible, straightforward, and long overdue!
In God We Trust: Biblically Based Lessons on Business & Leadership
Legendary leaders from the Bible have essential lessons that can educate and edify today's business leaders and future leaders In God We Trust teaches attendees about lessons learned from great leaders in the Bible, and shares real strategies for implementing these lessons in business and life. The session covers topics in courage, planning, goal setting, skill development, responsibility, communication, compassion, vision, integrity and achievement. Your approach to personal and professional leadership will never be the same.
WWTD: What Would Timothy Do?
Timothy was a young leader who was not afraid to live a life worth of his calling. Too often, as young people, it is easy to fall into the trap of thinking that the decisions you make as a teenager do not matter. However, Timothy made an impact on an entire generation because of his decision to be an example. WWTD encourages teens to set an example by making decisions about their words, conduct, love, spirit, faith, and purity.
Female Factor: Readiness, Recruitment & Retention
Related Speakers View all
---
Stedman Graham

CEO of S. Graham & Associates, Leadership Developmen...

Montel Williams

Emmy Award-Winning Talk Show Host Best Known For "Th...

Neal Petersen

History-Making Extreme Adventurer, Award-Winning Aut...

Star Jones

Former Co-Host of "The View", Social Justice & Heart...

Roger Crawford

Hall of Fame Athlete; First & Only US Professional T...

Farrah Gray

Celebrity Entrepreneur & Bestselling Author of "Real...

Dominique Dawes

Olympic Gold Medal-Winning Gymnast, Former Co-Chair ...

Les Brown

Motivator, TV Personality & Best-Selling Author

The Three Doctors

Role Models; Authors; Civic Leaders

Jackie Joyner-Kersee

Olympic Legend, Philanthropist, American Record-Hold...

Caitlyn Jenner

TV Personality, Olympic Gold Medalist & Iconic Trans...

Jalen Rose

ESPN Analyst & Former NBA Player

Magic Johnson

Basketball Hall of Famer, Entrepreneur, Philanthropi...

Malaak Compton

Activist & Philanthropist

Alan Page

Retired Minnesota Supreme Court Justice & Former Pro...

Francine Ward

Attorney, Professional Speaker, & Author

Patricia Russell McCloud

Leading Business Motivator

Judge Greg Mathis

Civil Rights Activist, Television Personality

Rosario Marin

Former Treasurer of the United States

Julianne Malveaux

Author, Economist, Founder & Thought Leader Economic...
More like Marshawn