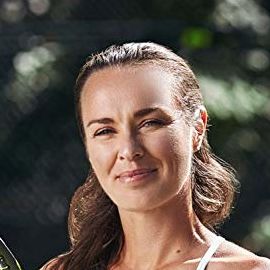 Martina Hingis
Tennis Icon, Winner of five Grand Slam Singles Titles, Named one of the "30 Legends of Women's Tennis: Past, Present and Future" by TIME
Martina Hingis was born on September 30, 1980, in Kosice, Slovakia. She was brought up in Switzerland and, playing for that country, in 1997 became the youngest singles Grand Slam tournament winner of the 20th century after her victory in the Australian Open, and the youngest-ever No. 1 ranked world player when she replaced the injured Steffi Graf.
Winner of the 1996 and 1998 Wimbledon doubles title, she won the singles title in 1997 at the age of 16, and that same year won the U.S. and Australian titles, retaining the latter in 1998 and 1999. Her doubles titles include the Australian Open (1997, 1998, 1999), the U.S. Open (1998), and the French Open (1998, 2000).
Injury forced her retirement in 2003, but she returned to competitive tennis at the start of 2006 and won the Australian Open mixed doubles title (with Mahesh Bhupathi) and the Italian Open. She received the Laureus World Sports award for comeback of the year in 2006.
Having retired for the second time in 2007, Hingis played an exhibition match at the Liverpool International tournament on 13 June 2008. Although this event was a warm-up for Wimbledon, it was not part of the WTA Tour. In a rematch of their 1997 Wimbledon final, Hingis defeated Jana Novotná.
In 2009 Hingis took part in the BBC's dancing competition, "Strictly Come Dancing." Vowing to win the competition, she promised to apply the same gritty approach to the dance show that had taken her to five grand slams on the tennis court. She was the bookies' favorite for the competition, but she went out in the first week after performing a Waltz and a Rumba. She also participated in a gameshow called "Beat The Star" where a female contestant had to beat Hingis in dropping more peas into a narrow bottle to win the prize money.
Martina announced she has committed to a full year with the World TeamTennis Tour in 2010. Sparking thoughts that she was trying to come back to the WTA tour, she committed to playing at the Nottingham Masters. In 2011, Hingis, paired with Lindsay Davenport, won the Roland Garros Women's Legends title. They also won the Wimbledon Ladies' Invitation Doubles title. In 2012 and 2013, the team successfully defended their Wimbledon Ladies' Invitation Doubles title.
Hingis was inducted into the International Tennis Hall of Fame in July 2013, and in the same month, announced that she was coming out of retirement to play a doubles tournament, with Daniela Hantuchová as her partner, in Carlsbad California. She was accepted as a wildcard entry. She also played doubles in Toronto, Cincinnati, New Haven, and the U.S. Open.
Videos
---