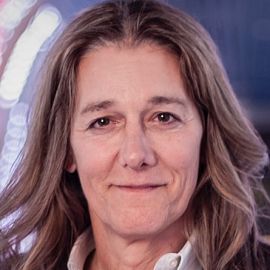 Martine Rothblatt
Medical Ethics & Technology Expert; Creator of SiriusXM Satellite Radio; Chairman and CEO of United Therapeutics Corp
Martine Rothblatt is one of the most exciting and innovative voices in the worlds of business, technology, and medicine. A medical ethics and technology expert, she is the chairman and CEO of United Therapeutic, a biotech company. She was also the CEO of GeoStar and the creator of SiriusXM Satellite Radio.
After graduating from UCLA with law and MBA degrees, Rothblatt served as President & CEO of Dr. Gerard K. O'Neill's satellite navigation company, Geostar. The satellite system she launched in 1986 continues to operate today, providing service to certain government agencies. She also created Sirius Satellite Radio in 1990, serving as its Chairman and CEO.
In the years that followed, Rothblatt's daughter would be diagnosed with life-threatening pulmonary hypertension. Determined to find a cure, she left the communications business and entered the world of medical biotechnology. She earned her Ph.D. in medical ethics at the Royal London College of Medicine & Dentistry and founded the United Therapeutics Corporation in 1996. The company focuses on the development and commercialization of biotechnology in order to address the unmet medical needs of patients with chronic and life-threatening conditions. Since then, she has become the highest-paid female CEO in America.
In 2004, Rothblatt launched the Terasem Movement, a not-for-profit charity endowed for the purpose of educating the public on the practicality and necessity of greatly extending human life. The group focuses on the possibility of technological immortality through processes such as mind uploading, nanotechnology, and advanced robotics. These topics are explored in-depth in Rothblatt's 2014 book, "Virtually Human: The Promise – and the Peril – of Digital Immortality," which examines how close we are to achieving a full simulation of the human brain via software and computer technology, also known as cyberconsciousness. The Terasem Movement demonstrated this concept with the construction of BINA48, an intelligent robot based on the personality and appearance of Bina Rothlatt, Rothblatt's wife. BINA48 was profiled in The New York Times, GQ, WNYC Radio, and other media outlets.
Rothblatt, who was born Martin Rothblatt, came out as transgender at age 40 in 1994. She then changed her name to Martine Aliana Rothblatt. She has since become a vocal advocate for transgender rights.
Rothblatt's public service activities include representing the radio astronomy community in its efforts to secure quiet frequency bands for astrophysical research, developing improved medical ethics for transgender health service providers, and leading the International Bar Association's effort to provide the United Nations with a Human Genome Treaty. She is also the author of numerous books on communications, bioethics, politics, and transgenderism.
Related Speakers View all
---
Ray Kurzweil

Chairman of Kurzweil Technologies; Inventor; Futurist

Peter Diamandis

Founder & Executive Chairman of the XPRIZE Foundatio...

Barbara Corcoran

Real Estate Entrepreneur & Mogul, Angel Investor, Au...

Sallie Krawcheck

Founder & CEO of Ellevest, Leadership Expert, Author...

Sir Richard Branson

Businessman, Founder of Virgin Group

Amy Jo Martin

New York Times Bestselling Author, Founder of Digita...

J.B. Straubel

Co-Founder & Former Chief Technical Officer of Tesla

Jennifer Hyman

Co-Founder & CEO of Rent the Runway; Award-Winning E...

Anna Deavere Smith

Award-Winning Actress, Playwright, Social Commentator

Carly Fiorina

First Woman to Lead a Fortune Top 20 Company; Busine...

America Ferrera

Award-Winning Actress, Producer & Humanitarian

Sarah Kauss

Founder & CEO of S'well

Hannah Hart

YouTube Star & Comedian; Creator of "My Drunk Kitche...

Tania Luna

Leadership Trainer, Researcher, Author & Co-founder ...

Heather Bresch

CEO of Mylan

Darren Walker

President of the Ford Foundation; Chair of the US Al...

David Byrne

Musician, Artist & Author; Co-founder of the Band "T...

Jacqueline Novogratz

Founder & CEO of Acumen Fund

Angela Davis

Feminist, Social Activist, Professor & Writer

Laila Ali

Undefeated Four-Time World Champion Boxer & Lifestyl...
More like Martine