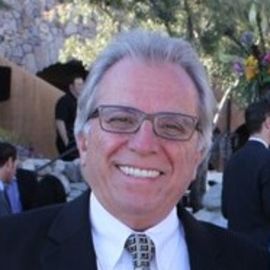 Marty Angelo worked in the entertainment business from 1965 to 1980 as a musician, television producer, record promoter, disk jockey, restaurant and nightclub owner and personal manager for rock 'n' roll bands, Raven and the popular Top 40s rock group, The Grass Roots starring Rob Grill. He received his first professional breaks from "the late Jimi Hendrix" and "the late George Harrison."
Angelo also created, wrote and produced the '70s very popular dance television show, Disco Step-by-Step® and in 1978 was voted one of the Top 25 disco record promoters. He promoted hundreds of hit albums, singles, and 12" disco 45s, receiving numerous recognition awards for his efforts. Angelo is featured in several documentaries, magazine articles, and radio/television productions.
Though at times Marty Angelo thought he achieved success, internally he always felt an emptiness in his heart. He sensed his life neither had real meaning nor true purpose. Nothing ever seemed to matter to him. Consequently, he lived a rebellious, sin-riddled out-of-control lifestyle.
Angelo was arrested in 1980 for two counts of possession of cocaine. Through this life-shattering event he experienced a "new beginning," a dramatic and electrifying conversion to Christianity. This miracle happened in 1981 prior to serving two-and-a-half years in a federal prison. God forgave Marty's sins, blessed him with everlasting life and filled the void in his heart with His Holy Spirit. His life finally mattered as he discovered God's true plan and purpose.
Angelo helped many prisoners during his incarceration explaining to them that if God can change his life He can change anybody... including hardened convicts, drunkards and drug addicts. Many followed his advice.
Marty was released from prison in 1984 and is living his life as an example to other ex-convicts and former drug-addicts and alcoholics who want to serve God and be used by Him for His glory.
For more than 30 years, Marty Angelo has worked with various ministries such as; Prison Fellowship Ministries, Teen Challenge of Southern California, The Fort Lauderdale Rescue Tabernacle (Faith Farm), and the Drug Abuse Foundation of Palm Beach County. Angelo also provided nine years of personal in-home health, medical, and spiritual care for his parents, "the late Dr. Martin and Marie Angelo."
Angelo is the author of the powerful life-changing biography-memoir entitled, Once Life Matters: A New Beginning. His book reveals how God totally transformed his life of sin into a strong witness of His saving grace, mercy, and love. The book is offered free to prisons, jails, rehab programs, and troubled celebrities.
Marty Angelo was a full-time minister to prisoners, substance abusers and troubled celebrities until his retirement in 2018. His nationwide ministry reaches out to prisons & jails, rehabs & support groups, schools & churches and various celebrities. He is also the author of five books.
Angelo has appeared on numerous popular Christian radio shows and television programs (see complete list below) such as The 700 Club, I'm Just Sayin', Praise the Lord, Celebration and 100 Huntley Street. His testimony was dramatized in 1987 on the popular nationwide radio program, Unshackled. His story was published in Voice Magazine and in various other print and internet media.
Videos
---
Speech Topics
---
Is Addiction Really a Disease?
Troubled Lives in the Entertainment Business
Transformation vs Rehabilitation
Does Money Make You Happy?
Life Without Jesus Christ
Radical Liberal to Radical Conservative
There is Hope for the Addicted
Are We Really Living in the Last Generation?
Paying the Price for an Addictive Lifestyle
Books
---
News
---
Marty Angelo Interview
Producer/manager Marty Angelo talks about God, Hendrix, Raven, Grass Roots, George Harrison, music business, and the connection Disco - Rhythm & Blues
Related Speakers View all
---
Sarah Allen Benton, M.S., LMHC, LPC

Licensed Mental Health Counselor Specializing in Ado...

Pinklon Thomas

Motivational Speaker & Two-Time Former Heavy Weight ...

Tony Hoffman

Pro BMX Competitor & Recovering Addict

Todd Marinovich

Former NFL Quarterback for the Los Angeles Raiders

Laurie Dhue

News Anchor, Media Consultant & Alcohol Recovery Adv...

Jamie Lee Curtis

Actress, Activist, Author; Best Known For Her Roles ...

Joani Gammill

Expert on Alcoholism & Addiction

Rev. Dr. Susan Brooks Thistlethwaite

A minister in the United Church of Christ and a seni...

Anna David

Sex, Dating, Relationship, & Recovery Expert; Editor...

Jason Wahler

TV Personality, Known for "Laguna Beach" "The Hills"...

Ken Davis

Author, Inspirational & Motivational Speaker

Amanda Beard

Olympic Gold Medalist, Co-Founder of Beard Swim Co. ...

Laura Baugh

Former Professional Golfer, Substance Abuse Speaker

Brendan McDonough

Granite Mountain Hotshot & Subject of the Film "Only...

Lisa-Jo Baker

Best-Selling Author & Co-Host of the Out of the Ordi...

Thom S. Rainer

Author, Founder & CEO of Church Answers

Bart Millard

Singer & Songwriter, Lead Singer of MercyMe

Tara Conner

Actress, Model & Beauty Queen; Miss USA 2006

Thubten Chodron

Teacher, Author, Abbess

Michael Botticelli

Executive Director of the Grayken Center for Addicti...
More like Marty