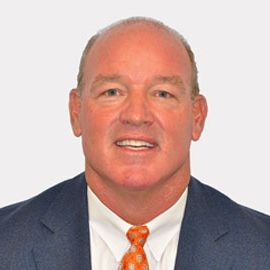 Marty Lyons
Former Alabama great, former Jets great and current broadcaster for the Jets
Marty Lyons joined the LandTek Group as the Director of Sales & Marketing in 2000, was appointed Senior Vice President of Operations in 2007 and recently promoted to Vice President of Marketing and Public Relations. He has enjoyed a long successful career in the worlds of sports, business and philanthropy and has successfully merged his renown in sports and business savvy to greatly contribute to the company's growth as one of the premier "turf" installation business.
Mr. Lyons' football experience matured under the guidance of the late Paul "Bear" Bryant at the University of Alabama where he was recognized as an All-American in 1978. His peers elected him captain of the NCAA Division 1 National Champion football team that same year. His athletic skill propelled him to be a first round draft pick in the 1979 National Football League draft. In recognition of his outstanding achievements, Mr. Lyons was inducted into the College Football Hall of Fame, Class of 2011, on his first time appearance on the ballot. He joins an elite group where less than 1% (.0002) achieves such distinction.
He expressed his appreciation of this ultimate accolade, "It's an honor for me to represent the University, my teammates, the fans. You go throughout life and you realize you never stand alone. You accomplish everything with the people that stand around you, the people that have vision for you when you don't have the determination to try to find the fight. I also have to thank God for giving me the ability to play. When times were tough you always found the strength. I represent my teammates because they made me a better player. I represent Coach (Paul) Bryant and his coaching staff because they gave me vision. And more importantly I represent the fans of the University of Alabama for that rich tradition."
Mr. Lyons' professional football career with the New York Jets spanned twelve (12) years; during which time, he played both defensive tackle and defensive end. He played a key role in the formation of "the New York Sack Exchange." Together with teammates Mark Gastineau, Joe Klecko and Abdul Salaam, Lyons helped lead the 1981 Jets to a franchise-record 66 sacks and the team's first playoff appearance since 1969. The "New York Sack Exchange" led the NFL in sacks for three of four seasons (1981, '83, and '84).
Lyons finished his NFL career with 43 sacks over 11 seasons for the Jets (1979-89), playing in 147 games, a record for a Jets' defensive lineman.
His performance on the field led to his selection as a Pro Bowl alternate in 1982 and 1983. Experience and leadership enabled him to serve as one of the defensive team captains in 1988.
While a formidable force on the field, Mr. Lyons made significant contributions off the field as well with his extensive charitable work. For his commitment to the community, he was named NFL Man of the Year in 1984. As a tribute to his longstanding charitable commitment, the New York Jets annually present the Marty Lyons Award to the player who gives the most back to his community as selected by the Jets staff. He was the first recipient of this award in 1990. He continues to receive many accolades for his indefatigable charitable work with the most recent, the 2011 Heisman Humanitarian Award.
In 1982, Mr. Lyons realized that there was more to life than football. According to Mr. Lyons, "In March 1982, three events altered my life. In the period of one week, my father, Leo, passed away suddenly; Keith, a little boy to whom I was a Big Brother, passed away from leukemia; and my first son, Rocky, was born. Imagine being on top of the world, and in the period of seven days you are forced to see the frailty, unfairness, and the wonder of life. I decided to use my name and my God-given talent to make a difference in the lives of terminally ill children."
With the encouragement and assistance of family and friends, he was determined to establish a foundation dedicated to helping children find the courage and strength to fight their illnesses. His idea was that through the granting of a wish, he'd foster hope and inspiration in a child by making possible what had been perceived as impossible. He founded The Marty Lyons Foundation, and in 30 years, it has fulfilled over 6,000 wishes and has never slowed in its commitment to helping those in need.
This organization is focused on fulfilling special wishes for children diagnosed with a terminal or life threatening illness. The Foundation has grown to include 10 chapters covering the following states: Alabama, New York, New Jersey, Florida, North Carolina, South Carolina, Maryland, Massachusetts, Georgia, Connecticut, Texas and Pennsylvania.
Marty enters his 11th season as the New York Jets Radio Network Analyst for ESPN New York Radio 98.7 FM. He is also the Color Analyst for the annual United Healthcare Empire Challenge's High School Football All-Star Game.
Mr. Lyons is a featured athlete in Bear's Boys: Thirty-Six Men Whose Lives Were Changed by Coach Paul Bryant by Eli Gold. Bear's Boys is a collection of inspiring stories featuring 40 men whose lives were altered by their encounter with the legendary coach while they were players and coaches at Alabama. The stories of star players such as Joe Namath, Ken Stabler, Marty Lyons, Bob Baumhower, Cornelius Bennett, and Gene Stallings show how the Coach forever changed them as young men and ball players on the field and later in life after football.
Marty was also featured in Legends of Alabama Football by Richard Scott in 2004. With 12 national championships, 19 players and coaches in the College Football Hall of Fame, and a tradition of national achievement that dates back to the 1920s, the University of Alabama has secured its spot as one of the most successful athletic institutions in the history of American sports. Dating back to the days when university president Dr. George H. "Mike" Denny decided football would be the university's ticket to national prominence; Alabama has produced some of the most legendary teams and players in the history of the game.
Legends of Alabama Football chronicles the coaches, players, and events that placed Crimson Tide football on the national sports landscape. Mr. Lyons was in the 2-page feature story on The 'bama Defense by Lars Anderson in the July 13, 2009 Double Issue of Sports Illustrated 10th Annual Where are They Now. He also made a special guest appearance on the CBS College Sports Network SEC Tailgate Show on November 8, 2009 for the Alabama vs. LSU game.
On October 13, 2013, Marty Lyons was inducted to the New York Jets Ring of Honor at the game's halftime against the Pittsburgh Steelers.
Videos
---
Related Speakers View all
---
Antonio Pierce

Super Bowl Champion, New York Giants, ESPN Football ...

Brian Dawkins

All-Pro Safety, Philadelphia Eagles, NFL Analyst, ESPN

Joe Tessitore

Play-by-Play Commentator, Studio Host

Chris Doering

Former NFL WR; ESPN; Westwood One

Reese Waters

Comedian, Actor and Writer

Ron Pitts

Former NFL Cornerback & Sportscaster

Brian Baldinger

Host & Analyst for NFL Network; Former NFL Offensive...

Kevin Negandhi

Anchor on ESPN's "SportsCenter"

Mark Sanchez

Former Quarterback for the Jets; ESPN College Footba...

Desmond Howard

Former NFL Player; 1991 Heisman Trophy Recipient; Co...

Mike Golic

ESPN Football Analyst; Former Co-Host of "Mike and M...

James Brown

Sportscaster, Known for CBS's "The NFL Today" and Sh...

Bonnie Bernstein

Sports Journalist, Broadcaster & Executive; TV Show ...

Kyle Long

Former NFL Player; NFL Broadcaster & Analyst for CBS

Drew Lock

NFL Quarterback For Denver Broncos

Brandon Allen

NFL Quarterback for the Denver Broncos

Nate Burleson

Former NFL Wide Receiver; Correspondent for "Extra E...

Eric Dickerson

Hall of Famer Running back for the Los Angeles Rams

Emmanuel Acho

Fox Sports Analyst, Co-Host & Producer

Andrew Hawkins

Current NFL Analyst for ESPN Radio & Former NFL Wide...
More like Marty