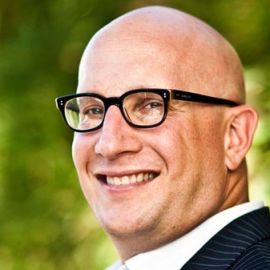 Marty Metro
Founder & CEO of UsedCardboardBoxes and UCBZeroWaste
Marty Metro has a unique, "if at first you don't succeed" attitude… and a track record to prove it! He risked it all to be an innovator, and failed miserably. In 2002, he started a chain of eco-friendly retail stores to buy and sell USED moving boxes in Los Angeles. He had dreams of a national franchise, but his attempt was premature, undercapitalized and riddled with logistic flaws. After 3 long years without an income, Metro was forced to cease all operations, leaving him and his wife, not just an empty bank account, but $300,000 of personal debt.
Devastated but not discouraged, Metro took a "day job" as a technology consultant and spent nights and weekends, pursuing his dream. His relentless entrepreneurial drive lead him to revise business plan, raise capital and re-launch a scalable, tech-centric model to buy and sell millions of used boxes, just one year later. This time, he succeeded.
That plan grew to a national logistics firm now working with some of the largest companies in the country, and has been covered by most major news outlets. Entrepreneur Magazine featured Metro and in an article entitled:
"From Business Failure to Multimillion-Dollar 'Green' Niche"
Metro is an inspirational example of balancing financial returns with environmental responsibility. Rather than claim to know "how to succeed," Metro embraces his mistakes and proudly shares them with audiences.
Today, Metro is a proud member of the Walmart Sustainable Value Networks (SVNs) for both Packaging and Waste, invite-only groups of Walmart suppliers, academics and government agencies exploring challenges and developing solutions that benefit business, local and global communities. Metro is a co-chair of the Los Angeles Venture Association's "LAVA Green," former head of the Technical Council for Reuse at the California Resource Recovery Association and Board Member of the Entrepreneurs Organization in Los Angeles.
Metro graduated Cum Laude from the University of Maryland and earned an MBA in Information Systems from the University of Arizona, before beginning his career as a supply chain consultant with Andersen Consulting. After over a decade of helping large companies increase profits by utilizing enterprise technology, Metro is a nationally-recognized eco-entrepreneur, working with some of the largest organizations in the country, to create value with reuse.
Videos
---
Speech Topics
---
Why "Green Businesses" Fail (but businesses that go green, THRIVE!)
After failing at the first attempt, innovation and determination led the second attempt to become a multi-million dollar, green niche. Looking back, there are at least 10 things NOT to do.
Times are Changin', Are you Getting' Yours?
People, businesses, organizations and the environment are in constant change. Change creates opportunity, but only if you look for it AND act on it!
Business is as Easy as 1, 2, 3. Yeah, RIGHT!
Components of a successful startup are: Idea, Execution, Profit and Cash Flow. If you can't generate cash, don't waste your time on the first three!
Business Planning from Top to Bottom, Left to Right
No business plan is ever "right". However, a good format will help you see what you need to make, and when, so you know how wrong you are!
Teach a Man to Fish and he MIGHT save the whales.
A successful green business must help itself, before it helps others. Green businesses shouldn't focus too much on saving the whales until they can pay for their own boat!