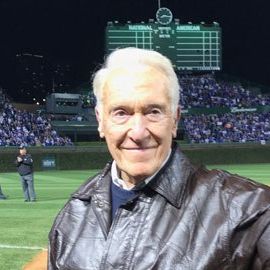 Marv Levy
Pro Football Hall of Fame Head Coach, Four-Time AFC Champion Coach for the Buffalo Bills, Two-Time CFL Champion Coach, Selected to the NFL's 1990s All-Decade Team
Through the ages there have been great men who have had a major influence on the people with whom they have come into contact with. One such man is Hall of Fame, former Buffalo Bills Head Coach Marv Levy. A motivational coach and well known motivational speaker who has a Master's degree from Harvard, was best known as an intelligent and analytical football coach. Perhaps better suited for the political field rather than the football field, Coach Levy led the Buffalo Bills to an unprecedented four straight Super Bowls. He used his Harvard education to motivate and shape the careers and lives of many pro football athletes.
Coach Levy, (more affectionately known to fans and friends simply as Marv) was born in Chicago, Illinois. He went to Coe College in Iowa where he earned 3 varsity letters in football, 4 in track and 1 in basketball. After graduating college, Marv entered law school. About three weeks later, he made the decision to become a football coach. Instead of just another lawyer in the world, the world ended up with one of the greatest football coaches of all time.
Levy's first coaching job was as an assistant at Coe College. He went on to serve as the head coach at the Country Day School in St. Louis, the University of New Mexico (1958-59), University of California (1960-63) and William and Mary (1964-68). Marv got his first NFL coaching job in 1969 as a special teams coach for the Philadelphia Eagles. In the next few years, he would serve as a special teams coach for the Rams and the Redskins. He also coached the Montreal Alouettes in the Canadian Football League for five years and led them to two Grey Cup championships.
Marv's first head coaching job would be with the Kansas City Chiefs from 1978-1982 where he led them to a disappointing 31-42 record. After leaving Kansas City, Levy did some color commentating for a few years. His next big break came in 1986 when he was hired to be the head football coach of the Buffalo Bills. Levy went on to become the most successful coach in Buffalo Bills history with a 112-70 record (123-78 including post season play). Behind the likes of Jim Kelly, Thurman Thomas, Andre Reed and Bruce Smith, it took Levy only two years to lead the Bills to the AFC Championship game in which they lost to the Cincinnati Bengals. The Bills would win the eastern division six out of the next eight seasons and make the playoffs in eight out of the next nine years. During that run, Levy and the Bills would become the only team in NFL history to go to four straight Super Bowls (from 1991-1994).
After 47 years of coaching, Marv retired on December 31, 1997. He will be remembered not only as the winningest coach in Buffalo Bills history and a Hall of Fame football coach, but also as one of the NFL's most classiest individuals. Levy not only molded football players, but he also molded men character, class and pride.
In August of 2001, Marv was rewarded for all of his hard work when he was bestowed pro-football highest honor. He was inducted into the Pro Football Hall of Fame, in Canton, Ohio in his very first year of eligibility. In his NFL coaching career, Levy ranked 10th all-time with a 154-120 record, had a .634 winning percentage, won six division championships and four straight AFC Championships and led the Bills to four straight Super Bowl appearances. He is one of only 14 coaches to win 100 games with one NFL team. Equally as impressive, Coach Levy compiled a 17-5 record against the winningest coach in NFL history, Don Shula and the Miami Dolphins.
Coach Levy and the Bills will be remembered for their ability to bounce back and rise again, and in the words of Levy's personal hero Winston Churchill, "Never, never , never, never, never surrender!"
Videos
---
Speech Topics
---
How to Get Your Team to the Top and Keep It There
What is Successful Leadership?
The Game Plan for Success
Related Speakers View all
---
Jim Morris

Known for His Brief MLB Career & Subject of Disney's...

Pat Williams

Motivational Speaker & Sports Executive; Senior Vice...

Vince Papale

Former NFL Player & Inspiration for the Movie "Invin...

John Cassis

Former Professional Baseball Player for MLB's Califo...

Rocky Bleier

Former NFL Football Player, Wounded Vietnam Veteran ...

Joe Torre

Chief Baseball Officer for Major League Baseball; Na...

Vince Poscente

Former Olympic Speed Skier, Leadership and Sales Exp...

Marshall Goldsmith

Executive Educator & Coach; Best-Selling Author of "...

Mike Ditka

Pro Football Hall of Famer; Three-Time Super Bowl Ch...

Michael Broome

Motivational Speaker on Balanced Life & Values; Stre...

Brian Holloway

Five-Time NFL All-Pro; Motivation & Team Building Ex...

Emory Austin

Authority on Leadership, Change & Customer Service

John Amatt

Mountaineer, Founder & President of One Step Beyond ...

Bill Parcells

Former NFL Head Coach & Pro Football Hall of Fame In...

Patrick Lencioni

Management Consultant; Founder & President of The Ta...

Tommy Lasorda

Special Advisor to the Chairman of the LA Dodgers; N...

Dale Brown

Legendary LSU Basketball Coach

Don Shula

Legendary NFL Coach & Motivator

Caitlyn Jenner

TV Personality, Olympic Gold Medalist & Iconic Trans...

Tom Flick

Former Pro Athlete & Leadership Expert
More like Marv