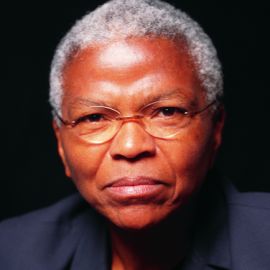 Mary Frances Berry
Professor, Author & Historian; Former Chairperson of the US Civil Rights Commission
There are few people like Mary Frances Berry. For over four decades, Berry has been one of the most recognized and respected voices in our nation's civil rights, gender equality and social justice movements. Serving as Chairperson of the US Civil Rights Commission, Berry led the charge for equal rights and liberties for all Americans over the course of four Presidential administrations. A trailblazer for women and African Americans alike, she also became the first woman of any race to head a major research university, serving at the University of Colorado at Boulder.
You can always expect to find Mary Frances Berry leading the fight against inequality. One of the founders of the monumental Free South Africa Movement, Berry and her organization were instrumental in raising global awareness and abhorrence towards South African injustice, helping to end over 40 years of apartheid. Berry also served as Assistant Secretary for Education in the US Department of Health, Education and Welfare, working to make these historically inequitable systems achieve a new level of fairness. A prolific author, Berry's books cover a wide range of subjects, from the history of constitutional racism in America to the politics of parenthood. Her most recent book, Power in Words: The Stories behind Barack Obama's Speeches, from the State House to the White House, offers insight and historical context of President Obama's most memorable speeches. She now acts the Geraldine R. Segal Professor of American Social Thought and a professor of history at the University of Pennsylvania.
Despite her years of success, Berry is never one to rest on her laurels. She continues to speak boldly for those who can't speak for themselves. Her vision of social freedom and equality alongside her wisdom and candor, assure her place in the future agenda of America. With fierce determination, Berry never backs down. She educates, transforms, and inspires us all. Her clarion call challenges everyone to stand up, stand tall and to never give up the fight.
Videos
---
Speech Topics
---
Fulfilling the Promise of the Voting Rights Act: Justice For All
In 2015, we commemorate the civil rights movement's sacrifices in making the right to vote a centerpiece of its demands. Leaders of this movement successfully fought disenfranchisement with protests, lawsuits and legislation. Dr. Mary Frances Berry, a civil rights veteran, encourages audiences to learn from the past as we move towards the future. She suggests that winning the current fight against voter identification laws and other forms of voter suppression, including the Supreme Court decisions gutting the Voting Rights Act of 1965 and campaign finance laws, is crucial.
Berry is writing a new book on how voter suppression and fraud in national, state and local campaigns influence the results. She explains how such goals as Medicaid expansion, fairness in sentencing, equitable education funding and fair and effective policing will remain elusive until we increase political participation and fairly enforce the voting rights laws.
Achieving Diversity & Opportunity in the 21st Century: "Now is the Time"
Achieving Justice & Opportunity in the Post-Obama ERA: Power, Legalities & Realities
The Emancipation Proclamation & the Civil Rights Movement: Making Social Change Necessary
Causes & Consequences of the New Migration: How the Civil Rights Movement Changed the South & America
Advancing Human Rights in the Post-Obama Era: Race, Sex & Legalities
The Meaning of Diversity in the Post-Obama Era
The Judicial Vacancy Crisis & Achieving Human Rights for All
Suppressing the Vote: From Bush v. Gore to the Obama Era
Related Speakers View all
---
Victoria Rowell

Classically Trained Dancer, Actress on "The Cosby Sh...

Judge Glenda Hatchett

Former Juvenile Court Judge & Star of "Judge Hatchet...

Geoffrey Canada

Inner-City Youth & Education Advocate

Donna Brazile

Veteran Political Strategist, Bestselling Author, Fo...

Sheryl WuDunn

Pulitzer Prize-Winning Journalist; Co-author of Half...

Juan Williams

New York Times Best-Selling Author, Fox News Politic...

Tonya Lewis Lee

Author, Producer & Activist

Alvin Poussaint

Psychiatrist, Media Consultant & Author

Sonia Nazario

Pulitzer Prize-Winning Author & Journalist; Author o...

Hill Harper

Actor, Author & Philanthropist; Best Known For "CSI:...

Erin Gruwell

Founder & Executive Director of the Freedom Writers ...

America Ferrera

Award-Winning Actress, Producer & Humanitarian

Carolyn Jessop

Polygamist Survivor & Author of "Escape"

Malaak Compton

Activist & Philanthropist

David Satcher, M.D., Ph.D.

16th US Surgeon General

Cynthia Nixon

Actress Known for her Role as Miranda Hobbes on HBO'...

Judge Greg Mathis

Civil Rights Activist, Television Personality

Jonathan Kozol

Educator & Social Justice Advocate

Dr. M. Joycelyn Elders

Former Surgeon General of the United States

Kevin Powell

Writer, Humanitarian, President of BK Nation
More like Mary