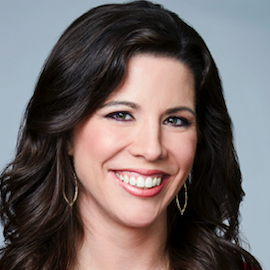 Mary Katharine Ham is a nationally prominent journalist, author and speaker. As a CNN Political Commentator, she brings conservative perspective mixed with a humorous take on politics and pop culture. In an article about Ham, CNN president Jeff Zucker said, "She's an honest broker, and she's got likability and confidence."
In 2016, she was well received for her moderation of an ABC News 2016 GOP presidential primary debate in New Hampshire, which featured nine candidates.
Ham is the co-author of "End of Discussion: How the Left's Outrage Industry Shuts Down Debate, Manipulates Voters, and Makes America Less Free (and Fun)."
She is a popular speaker for young audiences interested in free speech and new media. Ham has over 300,000 followers on social media. She taught a course on free-speech issues as a Harvard Institute of Politics Visiting Fellow in the Kennedy School of Government in 2017.
Ham is known for her keen observation of how the media has changed during the Trump presidency. Ham was previously a Fox News contributor from 2007-2015, most often seen as a libertarian foil to Bill O'Reilly's populism on his prime-time show.
She is a fourth generation journalist with solid roots in print and new media. Ham has written for USA Today, The Weekly Standard, and appears periodically on NPR's "All Things Considered."
Ham has also become a powerful speaker on faith and resilience since her 34-year old husband was suddenly killed in a bike accident in 2015. Ham was seven months pregnant at the time and had a 2-year-old. Now a single mother, she talks about her strong faith, optimism and fortitude as tools to get through — and return to living with gratitude and joy —- even in the most tragic circumstances.
Ham is a die hard UGA football fan, an athlete who relishes marathons and mountain-climbing, and a proud Southern gal who is close to her family in North Carolina.
Videos
---
News
---
Mary Katherine Ham Joins HotAir.com as EIC
WASHINGTON, DC--(Marketwire -07/10/12)- Townhall.com and HotAir.com General Manager Jonathan Garthwaite announced today that renowned writer and conservative media personality Mary Katharine Ham has joined HotAir.com as Editor-at-Large.
Mary Katharine Ham -- a FoxNews contributor -- has been a mainstay in the conservative movement for several years. From 2005 through 2008 she was a columnist and the managing editor of Townhall.com where she pioneered videoblogging with her award-winning series, HamNation. She has since written for the Weekly Standard blog and served as the online editor of The Washington Examiner. She also did a tour of duty at the Heritage Foundation early in her career. Prior to signing with HotAir.com, Ham co-hosted a morning-drive talk show in Washington, DC and was a featured writer for The Daily Caller.
Related Speakers View all
---
Guy Benson

Political Editor of Townhall.com & Fox News Contributor

Katie Pavlich

Conservative Commentator, Author & Journalist

Laura Ingraham

Political Commentator, Television Host & Journalist

Sam Stein

White House Correspondent for Politico & MSNBC Contr...

Jason Mattera

Emmy-Nominated Journalist, Conservative Activist & A...

Molly Ball

National Political Correspondent for TIME and CNN Po...

Pete Seat

Former White House Spokesman, Author & Political Com...

Donna Brazile

Veteran Political Strategist, Bestselling Author, Fo...

Jason Chaffetz

Fox News Contributor; Best-Selling Author; Former U....

Lawrence B. Jones III

Conservative Commentator and Editor-in-Chief, Campus...

S.E. Cupp

Conservative Columnist, Best-Selling Author & CNN Co...

Bill O'Reilly

Host of "The O'Reilly Factor," Best-Selling Author &...

John Avlon

Senior Political Analyst & Fill-In Anchor at CNN, Fo...

Julian E. Zelizer

CNN Political Analyst, Professor of History & Public...

Frank Luntz

Political Pollster & Communication Expert

Katty Kay

Lead Anchor for BBC World News & Best-Selling Author

Paul Brandus

White House Correspondent & Award-Winning Author of ...

Martha MacCallum

Host of "The Story with Martha MacCallum" on FOX New...

Kristie Lu Stout

Award-Winning Anchor & Correspondent for CNN Interna...

Monica Crowley

Assistant Secretary of the Treasury for Public Affai...
More like Mary