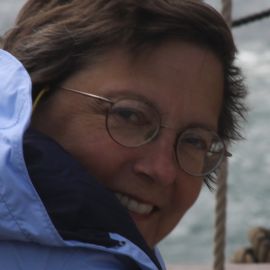 Mary Kircher Roddy., grew up in San Rafael, California. She earned a Bachelor degree in Liberal Studies from The University of California, Riverside in 1982 and a Master in Professional Accounting from the University of Texas in 1984. She earned a certificate in Genealogy and Family History at the University of Washington in 2005.
Mary became interested in genealogy in 2000 in anticipation of a sabbatical in Ireland where her husband was a Fulbright Scholar at the University of Limerick. She was sure she would complete all her Irish genealogy while her husband taught at UL and her children attended Monaleen school. Fifteen years later, the genealogy is still a work in progress. But the trip to Ireland awakened something deep in her Celtic bloodlines, the Irish tradition of the Seanachi, the storytellers and historians of yore.
Mary has published articles in Family Chronicle and Internet Genealogy. She's currently working on a novel set in the San Francisco area in 1900 and 1901, based on stories of several of her ancestors and their associates which she discovered in her genealogical research.
Mary frequently lectures around the Seattle area, and is an active member of Seattle Genealogical Society. Her husband's most recent sabbatical brought them to Sydney, Australia and while he taught at the University of Western Sydney, Mary spent her time swapping research strategies and methodologies with the genealogists at the Botany Bay Family History Society.
Speech Topics
---
Bagging a Live One:
Mary will show you how to find distant relatives, perhaps ones you never knew existed. You will come away with the skills to target specific people and to find their contact details.
Read 'Em or Weep - Promise and Pitfalls in Newspaper OCR
Learn where to find free and pay newspaper sites online. Understand how to put OCR mistakes to work for you to increase search results. See a method to make sure you do thorough searching in every newspaper every time.
Spreadsheets 101: Excel-lence in Genealogy
Are you afraid of spreadsheets because you don't know how or where to start? Or are you comfortable with spreadsheets but think there might be a trick our two out there that you don't know? In this talk, Mary will get the beginners up to speed, and share with experienced users tricks she's learned in more than 25 years of spreadsheet use as an accountant, a writer and a genealogist
Spreadsheets 201: Excel-lent Examples
Spreadsheets can help you in analyzing your data and keeping track of your research. Mary Roddy will present several examples of how to use this powerful tool to gain perspective and further your genealogy research.
Spreadsheets 301: un-Excel-ed Tips and Tricks
Learn new ways to make data entry faster and easier and a few things that will make your spreadsheets more attractive. See how quickly Magic Fill will help you complete a list and watch Mary turn a spreadsheet "on its ear" to flip rows and columns. Learn how to "add" words (and a few numbers, too.)
Where There's a Will – (There's a Way to Find New GenealogicaI information)
Wills can help you establish genealogical relationships, prove a theory, or just get to understand your ancestors and their world a bit more. This talk will help you find wills and abstracts, understand the difference between them, and learn what to do with the will once you find it.
Crafting History: Bring Your Ancestor to Life
Sprinkle your ancestors into your daily life. Create jewelry, holiday ornaments and decorative items using ancestral photos and stories. Presentation will have samples of some projects, slides of others, and provide instructions and details for creating many of these items.
Trails West
Covering the period 1840s-1869, this talk details routes to the Pacific, a description of the journey and resources to find ancestors and their stories.
Writing the Story When They Left No Stories
You've spent years (or decades) working on your genealogy. Now it's finally time to take all that data and put it together into a story that your relatives - yes, even your spouse and children! - will want to read. Mary Roddy will show you how to take your data and "fluff it up" with the kinds of details that draw your reader into the story of their ancestors' lives.
Related Speakers View all
---
Charlie Alejandro

Motivational Speaker, Writer, Actress & Radio Talk S...

Ken Jennings

Jeopardy! "Greatest Of All Time" Winner; Longest Jeo...

Gbadebo Odularu

PhD Economist keen on deploying data science to solv...

Glenn Moeckelmann

Silicon Valley Entrepreneur focused on Global Educat...

Rick Tumlinson

One of the World's Top Space Visionaries; Founder of...

Johnson Cook

Helping entrepreneurs find practical, sustainable in...

Peter Quinn

Peter is a "Genki" speaker who will add sparkle and ...

Mak Man

Dynamic Motivational Speaker and Published Author . ...

Ryan Peck

Ryan Peck serves as the Assistant Athletics Director...

Tonisha Pinckney

Empowerment Beyond Victimization - Author of I AM MO...

Harvey Mansfield

Political Philosopher, Author & Distinguished Professor

Gerald Chertavian

Founder & CEO, Year Up

Danny Mekić

Technology Expert, and "most successful Dutch young ...

Mayim Bialik

Neuroscientist & Actress, Known For "The Big Bang Th...

Stephen Birchak

One of the top speakers in the nation for how to use...

Val McLeod

Inspirational Influencer and Empowerment Speaker and...

Christi Tasker

Social Media Branding Queen and Keynote Speaker

Bryan Crump

Covering Topics like Creativity, Inspiration, Goal S...

Nathan Robert Brown

Nathan Robert Brown is a freelance author, and works...

Dr. Anthony Fauci

Director of the National Institute of Allergy and In...
More like Mary