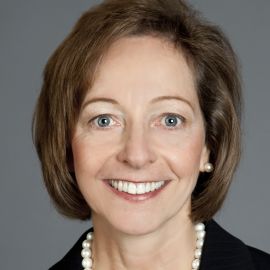 Mary Laschinger is Chairman of the Board and Chief Executive Officer of Veritiv Corporation (NYSE: VRTV), a leading North American distribution solutions company.
Previously, Ms. Laschinger served as Senior Vice President of International Paper Company from 2007 to June 2014, and as President of the xpedx distribution business from January 2010 to June 2014. Ms. Laschinger also served as President of the Europe, Middle East, Africa, and Russia business at International Paper; Vice President and General Manager of International Paper's Wood Products and Pulp businesses, as well as in other senior management roles in sales, marketing, manufacturing, and supply chain at International Paper. Prior to joining International Paper in 1992, Ms. Laschinger held various positions in sales, marketing, and supply chain at James River Corporation and Kimberly-Clark Corporation.
Ms. Laschinger is a member of the Board of Directors of the Federal Reserve Bank of Atlanta, where she serves on the Audit Committee. Ms. Laschinger is also a member of the Board of Directors for Kellogg Company, where she chairs the Compensation & Talent Management Committee and serves on the Executive and Nominating & Governance Committees.
She also serves on the Executive Committee of the Metro Atlanta Chamber of Commerce and is a former lead Director of Ilim Group, Russia's largest pulp and paper company. Ms. Laschinger holds a bachelor's degree in business from the University of Wisconsin and an MBA from the University of Connecticut. Ms. Laschinger has also completed postgraduate studies in executive management at the Kellogg School of Management at Northwestern University.
Videos
---