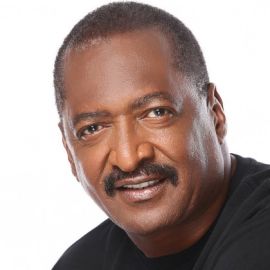 Mathew Knowles
Breast Cancer Survivor; Founder & CEO of Music World Entertainment; Former Executive Producer for Destiny's Child & Beyoncé
Visionary, educator, and international business leader, Mathew Knowles, is the founder, President, and CEO of Music World Entertainment. Over 25 years in music and entertainment, he has experienced phenomenal success and has played a vital role in transforming the industry. Knowles current focus is on sharing his knowledge and experience as the proud author of the number one best seller book The DNA of Achievers which talks about the 10 Traits of Successful Professionals. In his book, he explores the successes and failures of creating a global brand for one of the world's leading entertainment companies.
As a self-made entrepreneurial success story who came from a small town and became one of the world's top entertainment managers and executives in the music industry, Knowles enjoys motivating and inspiring others by sharing his knowledge and experience with others as an educator, public speaker, author, philanthropist, and entertainment consultant.
A self-described "small town country boy," Knowles grew up in Gadsden, Alabama. He credits his parents with instilling both drive and strong family-centered values within him. His mother was a strong advocate of desegregation. As a result, he was among the first African-Americans to attend Litchfield Junior High School and Gadsden High School. He also was among the first African Americans to attend the University of Tennessee in Chattanooga. Additionally, Knowles is a 1974 graduate of Fisk University, where he earned both a Bachelor of Arts degree in Economics and a Bachelor of Science degree in Business Administration. He was bestowed with the honor of Doctor of Humane Letters from his alma mater at the University's 2008 Commencement Ceremony. Knowles also holds an MBA and Ph.D. in Strategic Planning and Organizational Culture, from Cornerstone Christian Bible College. After graduating from college, he began a career as a sales and marketing representative for Xerox in Houston, Texas, where he became one of the top sales executives of medical equipment worldwide. During his tenure with Xerox, he led over 100 marketing and sales seminars for the African American sales team.
Knowles holds a professorship at Texas Southern University, where he teaches courses on the entertainment industry in the School of Communications such as Artist Management, Introduction to the Recording Industry, Special Topics in Entertainment, Entertainment Management, and Media Entrepreneurship. One course, Introduction to the Recording Industry, provides students with a core understanding of all aspects of the music business—from finding talent to recording, to marketing, to business issues. In Entertainment Management, he introduces students to a modern-day approach to the techniques and tools needed to build effective leaders and managers in the entertainment industry. Knowles has also taught Entrepreneurship in the Jones School of Business at Texas Southern University. Knowles also has been a popular keynote speaker and guest lecturer at colleges, universities and various organizations throughout the country, including Rice University, University of Southern California, Berklee College of Music, the Sync Summit, Management Leadership for Tomorrow, Billboard Music & Money Symposium, The Power of Diversity Leadership Panel, and numerous others. In addition to Knowles' education and public speaking platforms in the United States, he has been featured in several summits and conferences in Europe, Japan, and Canada. As of recent, Knowles has also launched the Knowles Institute, which is an e-learning platform to equip individuals with the tools and knowledge to be successful entrepreneurs and industry executives.
Under his leadership, Music World Entertainment experienced tremendous growth and extraordinary success. The company expanded and diversified into one of the world's leading music and entertainment conglomerates, with record sales exceeding 450 million. Its global platforms included record label ventures; management services for recording artists and producers; artist development services; endorsement and partnership deals; performance and event facilities; a master catalog series; film and television ventures; licensed merchandise products; philanthropic work; and investment and property holdings. Knowles also established several recording imprints under Music World Music, including Music World Gospel, Music World Kids and Music World Country/Compadre. Music World Music has had an unprecedented impact on music around the globe through its GRAMMY® Award-winning artists, legendary entertainers and music icons, top catalog compilations and celebrated soundtracks.
Knowles' successful track record has expanded to include film and television. He is executive producer of the #1 box office hit, Obsessed. Knowles also executive produced and is featured in two international reality series: UK's #1 rated show, Chancers, and the series Breaking From Above, a six-episode program based on the British girl group From Above and their struggles to stay on top. The series aired on MTV International and was viewed in over 160 countries.
He is the recipient of the Century Award of Excellence (1911-2011) from the Omega Psi Phi Fraternity, and the 2011 Living Legends Foundation Award. He was named the "2007 International Executive of the Year" by the Greater Houston Partnership, and was honored by the City of Houston with the declaration of "Mathew Knowles Day." Knowles was an active and longtime voting member of the National Academy of Recording Arts and Sciences (NARAS) and served on its GRAMMY® Board Committee. In 2011, he was appointed to the Board of Directors of the Gospel Music Association.
Videos
---
Speech Topics
---
Speech Topics
Business Leadership
Entrepreneurism
Sales, Marketing & Branding
Small Business
Strategic Planning
African American Speakers
Education Speakers
Inspirational Speakers
Leadership Speakers
Teamwork & Teambuilding
Motivation Speakers
Empowerment Speakers
Success Speakers
College & University Speakers
Art and Music
Education
Sales Speakers
Seminar and Workshop
Books
---
News
---
I Spent A Day With Beyoncé's Dad — Here's What I Learned
I'll be the first to admit it: when I signed up for Mathew Knowles' seminar, "The Entertainment Industry: How Do I Get In?" it was more out of car-crash curiosity. I've been writing about the industry for a decade, so I didn't expect to actually learn something about it.
Beyoncé's dad, Mathew Knowles, speaks out about breast cancer diagnosis
Mathew Knowles is opening up about his private battle with breast cancer. The 67-year-old music manager father of Beyoncé and Solange went public with his diagnosis on Wednesday's Good Morning America. "I also am a survivor of breast cancer," he said at the top of the interview, timed with Breast Cancer Awareness month. Knowles, who guided Destiny's Child to superstardom, revealed that he was diagnosed with stage IA breast cancer in July 2019.
Related Speakers View all
---
Stedman Graham

Chairman & CEO of S. Graham & Associates, Leadership...

Story Musgrave, M.D.

Retired NASA Astronaut; Physician & Professor at Art...

Pat Williams

Motivational Speaker & Sports Executive; Senior Vice...

Doug Lipp

Former Head of Training at Walt Disney University & ...

Coach Ken Carter

Coach, Author, Educator & Inspiration for the Film "...

J.R. Martinez

Actor, Best-Selling Author, Motivational Speaker, Ad...

Daymond John

"Shark Tank" Investor; Founder & CEO of FUBU; Presid...

Bill Rancic

"The Apprentice" Winner; Entrepreneur; Star of "Giul...

Jason Young

Former Senior-Level Manager at Southwest Airlines & ...

Vince Papale

Former NFL Player & Inspiration for the Movie "Invin...

Bill Capodagli

Author of "Innovate the Pixar Way: Business Lessons ...

Sheila C. Johnson

Entrepreneur, CEO of Salamander Hotels and Resorts, ...

Montel Williams

Emmy Award-Winning Talk Show Host Best Known For "Th...

Farrah Gray

Celebrity Entrepreneur & Bestselling Author of "Real...

Shawn Harper

Former NFL Football Player, Successful Businessman &...

Brian Holloway

Five-Time NFL All-Pro; Motivation & Team Building Ex...

Chris Gardner

CEO, HappYness; Entrepreneur; International Best-Sel...

Carey Lohrenz

First Female F-14 Fighter Pilot in the U.S. Navy, T...

Howard Putnam

Former CEO of Southwest Airlines

Terry Jones

Digital Disruptor, Author & Venture Capitalist
More like Mathew