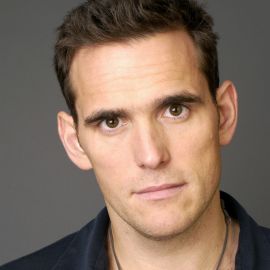 Matt Dillon
American actor who has appeared in numerous films such as There's Something about Mary, You Me & Dupree, Wild Things and others
Matthew Raymond "Matt" Dillon (born February 18, 1964) is an American actor and film director. He began acting in the late 1970s, gaining fame as a teenage idol during the 1980s, appearing in films such as Little Darlings (1980), My Bodyguard (1980), Tex (1982), Rumble Fish (1983), The Outsiders (1983), Drugstore Cowboy (1989), Singles (1992), Beautiful Girls (1996), There's Something About Mary (1998), Wild Things (1998), Herbie: Fully Loaded (2005), Crash (2005),You, Me and Dupree (2006), and Armored (2009). In 2013, he will appear in the comedy film The Art of the Steal as an art thief alongside Kurt Russell.
In 1990, he won the Independent Spirit Award for Best Male Lead for Drugstore Cowboy and in 2006 won the Independent Spirit Award for Best Supporting Male for Crash and the San Sebastin International Film Festival Donostia Lifetime Archievement Award. "Crash" won the Academy Award for Best Picture in 2005.
In 1978, Jane Bernstein and a friend were helping director Jonathan Kaplan cast the violent teen drama Over the Edge when they found Dillon cutting class at Hommocks Middle School in Larchmont. Dillon auditioned for a role and made his debut in the film.The film received a regional, limited theatrical release in May 1979, and grossed only slightly over $200,000.
Dillon's performance was well-received, which led to his casting in two films released the following year; the teenage sex comedy Little Darlings, in which Kristy McNichol's character loses her virginity to a boy from the camp across the lake, played by Dillon, and the more serious teen dramedy My Bodyguard, where he played a high-school bully opposite Chris Makepeace. The films, released in March and July 1980, respectively, were box office successes and raised Dillon's profile among teenage audiences.
Another of Dillon's early roles was in the Jean Shepherd PBS special The Great American Fourth of July and Other Disasters. The only available copies of this film are stored at UCLA, where a legal dispute makes it unavailable to the public.
One of his next roles was in Liar's Moon, where he played Jack Duncan, a poor Texas boy madly in love with a rich banker's daughter. In the early 1980s, Dillon also had prominent roles in three adaptations of S. E. Hinton novels: Tex (1982), The Outsiders (1983) and Rumble Fish (1983). All three films were shot in Tulsa, Oklahoma, Hinton's hometown. The Outsiders and Rumble Fish had Dillon working with Francis Ford Coppola and Diane Lane. He followed those up with The Flamingo Kid in 1984. He made his Broadway debut with the play The Boys of Winter in 1985.
Dillon did voiceover work in the 1987 documentary film Dear America: Letters Home from Vietnam. In 1989, Dillon won critical acclaim for his performance as a drug addict in Gus Van Sant's Drugstore Cowboy.
Dillon continued to work in the early 1990s with roles in movies like Singles (1992). He had somewhat of a career resurgence when he played Nicole Kidman's husband in To Die For (1995), as well as starring roles in Wild Things (1998) and There's Something About Mary (1998), for which he received an MTV Movie Award for Best Villain. In 2002, he wrote and directed the film City of Ghosts, starring himself, James Caan and Grard Depardieu. In 2005, he starred in Factotum, a film adaptation of an autobiographical work by Charles Bukowski. Two years later he received critical praise and earned a Best Supporting Actor Golden Globe along with Oscar nominations for his role in Crash, a film co-written and directed by Paul Haggis.
In 2005 Dillon co-starred in Disney's Herbie: Fully Loaded and on March 11, 2006 hosted Saturday Night Live, in which he impersonated Greg Anderson and Rod Serling in sketches.
Dillon starred in the comedy You, Me and Dupree, opposite Kate Hudson and Owen Wilson. The film opened on July 14, 2006. On September 29, 2006, Dillon was honored with the Premio Donostia prize in the San Sebastin International Film Festival.
Dillon contributed his voice as the narrator, Sal Paradise, in an audiobook version of Jack Kerouac's novel On the Road. In 2006, he narrated Once in a Lifetime: The Extraordinary Story of the New York Cosmos. Dillon appeared in several music videos during his career.
He made a cameo appearance as a detective in Madonna's Bad Girl music video which also stars Christopher Walken. Dillon appeared in 1987 in the music video for "Fairytale of New York" by the Irish folk-punk band The Pogues playing a cop who escorts lead singer Shane MacGowan into the drunk tank". In 2007, the band Dinosaur Jr. hired Dillon to direct the video for their single "Been There All The Time" from the album Beyond. That year, he starred in The Simpsons episode "Midnight Towboy".
Videos
---
News
---
Matt Dillon Brings Needed Attention To Plight Of Rohingyas
It has only been recently that most Westerners have even heard of Rohingya Muslims, and it's only because all eyes were on the sinking ships of refugees in the Mediterranean fleeing from the African continent to Europe that we noticed ships of Rohingyas floundering in the Bay of Bengal, a world away, fleeing from violence in Myanmar...
Related Speakers View all
---
Don Cheadle

Actor, Activist & Author; Known for "Iron Man 2" & "...

Ralph Smith

Managing Director, The Campaign for Grade-Level Reading

Melissa Leo

Academy Award-Winning Actress

Denise Lee Yohn

Brand-Building Expert & Author, What Great Brands Do

Rob Dyer

founder of Skate4Cancer

Juliette LaMontagne

TED Fellow, Founder of Breaker.

Carla Gugino

American Actress; Known for Lead Role in Spy Kids Fi...

Howard Cure

Managing Director and Director of Municipal Research...

Leslie Jones

Stand-Up Comedian & Actress; Former Cast Member on "...

Shannyn Sossamon

American actress. She starred in the films A Knight'...

Omar Epps

Actor Best Known for the Conspiracy Thriller "SHOOTE...

Matt Damon

Actor, Screenwriter & Producer; Co-Founder of Water....

Diane Lane

Actress and Humanitarian Known for "Unfaithful" and ...

Cameron Diaz

Actress, Model & Author of "The Body Book;" Best Kno...

JoAnna Garcia Swisher

Actress; Best Known for Her Roles in "Reba" and "The...

Common

Award-Winning Artist, Actor, Producer, Musician & Wr...

Ian Somerhalder

Actor Known for "The Vampire Diaries;" Animal & Envi...

Rebecca Romijn

Actress and Former Supermodel

Melissa Joan Hart

Writer, Television Director, Entrepreneur & Actress

Mariska Hargitay

Emmy Award-winning Actress & Philanthropist; Known f...
More like Matt